Living in Canada has many great benefits, but it can also be very expensive in some places. In particular, home prices are quite high in most cities around the country, which can make becoming a homeowner difficult for many consumers. While everyone knows Toronto and Vancouver have expensive homes, even home prices in Guelph and many other smaller cities have been on the rise in recent years.
Thankfully, mortgages in Guelph help ease the burden of buying a house and allow residents to fulfill their homeownership dreamers.
How to Compare Mortgage Offers
Whether you are looking at mortgages in Guelph or another city in Ontario, there is a good chance there are several mortgage providers who will be happy to work with you. However, not all mortgage offers are created equally. Each lender and agreement will have its own unique terms, rules, and conditions. So how do you compare one mortgage offer to another to figure out which works best for you?
Of course, the big thing to consider when looking at mortgage offers is the interest rate. The interest rate you pay will have a huge impact on how much the mortgage will cost you over the entire amortization period. Even a single percentage point difference in your interest rate can represent thousands of dollars by the end of your mortgage. So be sure to shop around and find a good interest rate.
However, in addition to a good interest rate, there are several other things to compare and consider. These include:
The length of the term

Potential pre-payment options or penalties

Amortization period

Fixed or variable rate

Closed or open mortgages
All of these are important details all consumers should consider when choosing the best mortgage for their needs. Different people will have different wants and needs, some will want a longer mortgage with smaller payments and a variable rate, while others will want a shorter amortization period with a fixed interest rate. There is no such thing as the "right" mortgage offer to consider, it all comes down to your wants and needs.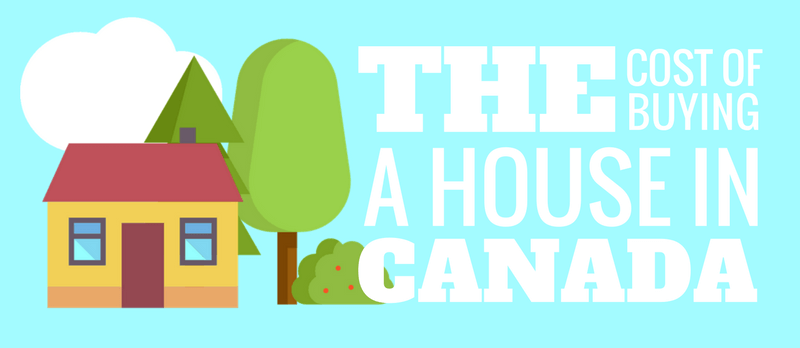 Interested in the cost of buying a house in the rest of Canada?
Click here
.
How to Save For a Down Payment
No matter where you get your mortgage in Guelph from or which provider you work with, you'll be required to have a down payment. The amount you will put toward a down payment will depend on what you can afford. Generally, most down payments are between 5% and 20%. The larger your down payment, the cheaper your mortgage will end up being.
Not only will having a large down payment mean you need to borrow less, but it could also save you from having to pay mortgage default insurance. If you put 20% down or more, you will not be responsible for paying mortgage insurance, which can often add up to thousands of dollars. While it's not always viable to be able to afford 20% down, it is a goal you should strive for if you're able, as it will save you more in the long run.
Now that you know how much to save for a down payment, how can you go about saving for one? There are many different things you can do to help save for a down payment, including:
Pay off any high-interest debts as soon as possible

Reduce your monthly bills or payments if at all possible

Work extra hours or find other ways to make money on the side

Set up automatic transfers into a savings account if you have trouble saving

Borrowing from your RRSPs
By doing all of these things, you will be well on your way to building up a significant down payment for when you want to buy a home.
Everything you need to know about getting a down payment in Canada, click here.
Credit Score Required for a Mortgage in Guelph
Any time you borrow money, for a home, car, or simply a personal loan, your credit score will come into account. Your credit score is a snapshot of your overall credit situation. Credit scores range from 300 to 900. The higher your credit score, the more likely you'll be able to borrow money. Not only that, but a higher score will often get you access to better deals, better terms, and a better interest rate.
As you could image, your credit score could play a large role in getting a mortgage in Guelph. A high score will prove to a potential mortgage provider that you are able to pay off your debts successfully. But just what sort of credit score is required in Guelph and the rest of Canada to get a mortgage?
Generally, a credit score of around 640 is required to get a mortgage in Canada, but depending on your lender, anywhere from around 620-680 may suffice. Of course, the rest of your finances and financial situation will have a bearing on whether you get approved or not. Things your income and debt levels might have an impact, too.
Check out
this infographic
for more information about credit scores.
If your credit score is low and you'd like to build it up before applying for a mortgage in hopes of getting approved, that is entirely possible. There are many different things you can do to improve your credit score, such as:
Making all of your payments in full and on time

Using credit responsibly

Keep your balances low

Don't constantly apply for new credit

Keep old credit accounts open
While these won't lead your credit score to skyrocket overnight, they will certainly have an effect over time. It can be a lengthy process to improve your credit score but is certainly worth it.
Avoid these common mortgage application mistakes.
Mortgage Options for Bad Credit Consumers
While all might seem lost if you have bad credit and are looking to get a mortgage, that's not the case. There are options for those with bad credit to still be able to get mortgages in Guelph. One of the best and most common options is to use a cosigner. Having a cosigner basically means that they agree to pay the loan if you are delinquent and miss your payments.
Getting a mortgage with a cosigner can provide you access to better rates and terms, but there is also a lot of risk for the cosigner, so normally only close friends or family members will be willing to co-sign a loan for you. However, it is important to be careful when getting a cosigner. If you take advantage of their kindness and helpfulness, it could potentially ruin a relationship. So if you have a cosigner, work as hard as you can and do all you can to always ensure you pay your bills.
Also, there is the option of using a bridge loan. A bridge loan is a short term solution that aims to help you improve your credit and get access to better loans in the future. These are often provided by private lenders and are great for those who were unable to get loans or mortgages from a standard bank.

To learn more about bridge loans, take a look at
this infographic
.
Hidden Costs of Buying a Home in Guelph
When purchasing a home, there are many large costs we are aware of. This includes your mortgage, your down payment, and the interest rate. However, these are far from the only costs that you are responsible for. Many of these are costs we don't think about, even though we should.
These types of costs include:
Various taxes including property, school, land transfer and others

Home inspection costs

Moving costs

Cost of potential renovations

Maintenance

Mortgage insurance (if you need to pay it)

Hook-up fees

Potentially new furniture and other household items
Without thinking about these aforementioned costs and others like them, you might not have a good or accurate idea of how much your home will cost. If you don't account for these costs, you could find yourself in deep financial trouble for a long time. While the mortgage itself is obviously the biggest cost, there are many other "hidden" costs that should be in your mind when deciding how much you can afford.
If you are in need of a mortgage in Guelph or want to learn more information about lenders in your area, be sure to reach out to Loans Canada. We are confident that we can help you out and answer any question or concern that you might have.
Posted by
Kale Havervold
After dipping his toes into freelance writing while still enrolled in school, Kale decided to pursue freelance writing as his career after earning his Bachelors degree from the University of Regina. In his six-year career as a professional writer, Ka...