From Richmond to Vancouver, to Victoria, British Columbia is becoming a hotspot for businesses. Entrepreneurship is alive and well in the province and new businesses are being started frequently.
Regardless of what type of business you have, there is one thing most enterprises have in common, the need for money to purchase materials, pay employees, and cover the cost of daily expense. But another thing that most businesses need is equipment. This can be anything from huge machines for manufacturing companies, to computers, desks, and chairs for digital marketing companies.
Because most businesses don't have the funds (at least initially) to afford all of this equipment, companies in Richmond and the rest of Canada often rely on equipment loans to get what they need.
Learn how to increase your business's cash flow, click here.
Benefits of Choosing Equipment Financing
Why do consumers go with equipment financing instead of just getting a standard loan for what they need? Well, the answer is that equipment financing can provide benefits that most standard loans just don't.
When you choose to use equipment financing, you will work directly with experts and lenders who understand the industry you are a part of. As you can imagine, this provides you with a handful of benefits. The first is that they will be able to help you come up with a budget that makes sense for what you need. Or, if you have a budget, they will be able to help you find what is right for your needs and price range alike.
Next, by working with these experts, they will be able to help save you time and get back to work quicker than waiting around for a standard loan to be approved. Your lender will also understand your business needs, which is a nice bonus. Many of these equipment financing providers also offer customized repayment plans, which is great for businesses with unpredictable or seasonal cash flow.
Want to know what you need to get a small business loan? Find out here.
These are all benefits you won't get if you simply go with a standard loan. So not only does equipment financing get you the money you need, but will get it to you faster and ensure you get exactly what you need.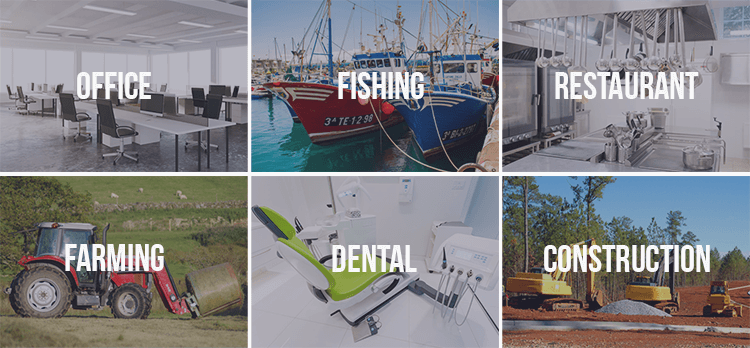 Types of Equipment That Can Be Purchased
So now that you know the benefits of an equipment loan, what sorts of equipment can be purchased using one? Well, the good news is that nearly any sort of equipment can be purchased using an equipment loan. This includes:
Farming equipment (combines, tractors, etc…)

Transport vehicles (work trucks, forklifts, etc…)

Construction equipment (saws, hammers, materials, etc…)

Restaurant equipment (chairs, tables, ovens, etc…)
Of course, when purchasing equipment for your business, it is important to make intelligent purchases. When you're just starting out, it makes sense to only buy a few pieces of equipment instead of purchasing everything you need at once.
Also, make sure you know exactly what you need and how much you can afford. Getting a huge loan for a lot of equipment you don't necessarily needs can cripple your businesses finances before you really get started.
Trying to deal with your small business debt? Read this for some solutions.
Use Your Equipment to Borrow in Richmond
While you can use borrowed money to purchase the equipment you need, you can also use equipment that you currently own to borrow money. This is great for those situations where you have all of the equipment you need but require a little extra capital for other business expenses.
In these cases, a secured loan (with a piece of your equipment as collateral), makes a lot of sense. This type of loan can be used to do a wide variety of things, including:
Hire more employees

Expand your operation

Open up a new location

Invest more in marketing

Make larger purchase orders

Offer additional services or products
These secured loans are often cheaper than traditional financing, as there is less inherent risk present for the lender. If you don't pay off your loan on schedule, they can sell off the collateral to make the money back. Because of this, the interest rates on secured loans can be more affordable depending on the lender you work with.
Of course, if you are going to put up some of your equipment as collateral, be sure that you can pay off the loan you borrow on time. If not, you could potentially lose your equipment, which could cause serious problems for your business.
Do you know what your business credit score is? Learn more here.
Great Equipment Loans for Your Needs
Interested in purchase new equipment for your business in Richmond? If so, don't hesitate to reach out to Loans Canada. We will be able to assist you in finding a great loan for all the equipment you need to operate your business.
Posted by
Kale Havervold
After dipping his toes into freelance writing while still enrolled in school, Kale decided to pursue freelance writing as his career after earning his Bachelors degree from the University of Regina. In his six-year career as a professional writer, Ka...