While it still costs significantly less than other places like Vancouver and Toronto, the cost of living in Victoria is on the rise. Many individuals may make enough to be able to afford these high costs, but others will struggle to make ends meet every month. For these people, one of the most readily available options for additional cash is payday loans.
Payday loans are small short term loans that can often be applied for an approved incredibly quickly. Because they are so easy to get and quick to approved, they often come with high interest rates fees.

For even more information about the payday loan cycle of debt, click here.
What is the Payday Loan Cycle?
If you utilize payday loans, it's a good idea to be aware of the payday loan cycle. The payday loan cycle is a cycle of debt that you can easily get trapped in by using payday loans and not being careful. The payday loan cycle follows a very clear path.
The cycle begins when you find yourself short on cash due to something like an emergency, surprise bill, or other expense.

You need money quickly, and a payday loan is the only option quick enough for you.

Because payday loans are easy to be approved for, you get one and have the money you need.

While you have reached the date of your next payday from work, you are still recovering from that initial emergency or expense, or have to use the money on things like rent or food.

As a result, you have very little money left and cannot afford to pay the high fees and the interest rate on your initial payday loan.

You take out a second payday loan to cover the cost of the first one.
As you can see, getting stuck in this cycle for months and sometimes years is definitely possible and unfortunately quite common. This can make it incredibly hard to make any progress or reach any financial-related goals.
Need some debt relief for payday loans? Read this.
Is a Payday Loan Ever a Good Option?
While the payday loan cycle should definitely be avoided, it is unfair to say that payday loans are always a bad idea. While we wouldn't suggest that everyone in need of some extra cash take out a payday loan. If you can 100% guarantee that you'll be able to repay the loan in full on your next payday, this type of loan could work for you and is often less expensive than using a credit card, but of course this is only if you repay you the loan on time.
You should never use a payday loan for the following reasons:
When your bills already take up most of your income, as you won't have much left to pay back the money you borrowed

When you need cash for something that lacks importance such as a new video game or that new pair of expensive shoes

When your income is unstable
If you use a payday loan for these reasons, it simply doesn't make financial sense and could do much more harm than good. If you are concerned about whether a payday loan makes sense in your situation or not, typically it's better to steer clear of them.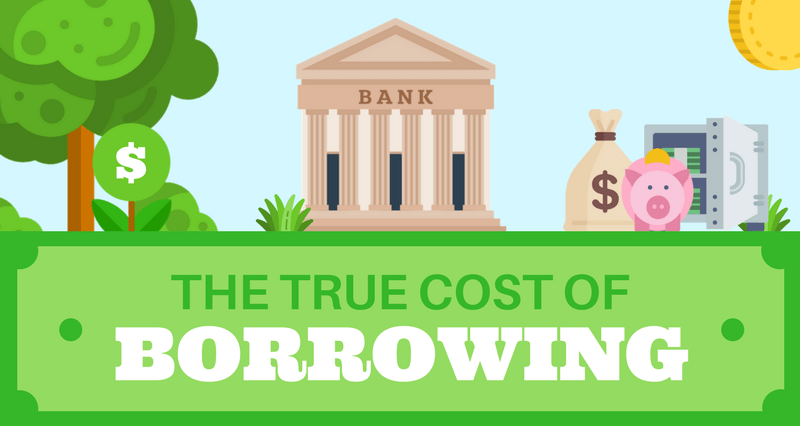 Take a look at this infographic to learn all about the true cost of borrowing.
Payday Loan Alternatives in Victoria
So as you can see, there are both good and bad times to use payday loans. If you feel that payday loans might not be for you, don't worry. There are several other options that you can utilize to get the cash you need. These include:
Getting a standard installment loan. Sure, it may take longer to be approved for and you won't get your money as quickly, but it will be much cheaper for you.

Borrow money from friends or family members if you are able to.

Use credit cards. But be aware, that these aren't much better and could be expensive if you miss payments.

You could get a vehicle title loan if you own your vehicle.

In a similar vein, you could get a HELOC if you have equity in your home.
Wondering how you can build home equity in Canada? Find out here.
Is a Payday Loan Really Right for You?
Considering a payday loan to get yourself out of trouble? If so, be sure to weigh all your options before moving forward. Loans Canada can help match you with an alternative option to meet your needs.
Posted by
Kale Havervold
After dipping his toes into freelance writing while still enrolled in school, Kale decided to pursue freelance writing as his career after earning his Bachelors degree from the University of Regina. In his six-year career as a professional writer, Ka...