Living in Ontario come with a lot of benefits, but it also one of the most expensive places to live in Canada, especially if you live in commuting distance to Toronto. Homes, vehicles, education, and dozens of other costs often lead many people to spend a large portion of what they make. And while some people make enough to comfortably pay for the lives they live, others aren't so lucky.
For example, rent in Hamilton has been rising rapidly and many people are struggling to keep up. This can lead to residents of the city to borrow in order to keep up with their payments and lifestyle. For many people who can't get a standard loan, the only option to make ends meet from time to time is using a payday loan in Hamilton.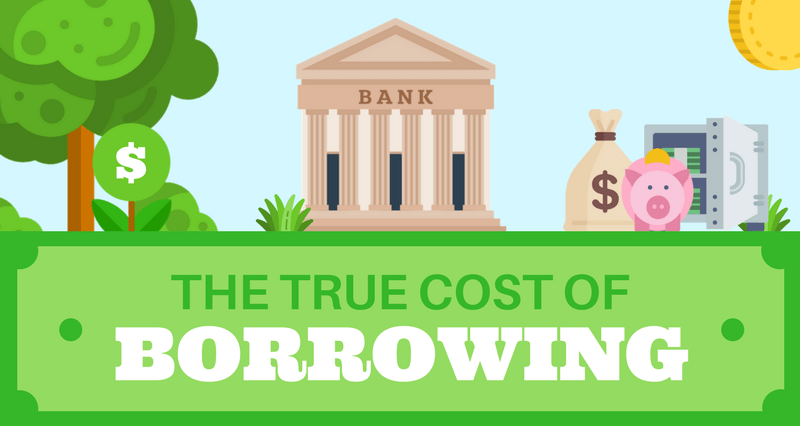 Do you know the true cost of borrowing? Take a look at
this infographic
.
What is a Payday Loan?
So what exactly are payday loans in Hamilton? A payday loan is a small loan with a short-term that is usually used if someone needs to borrow money until the next time they get paid. Normally, applicants can get approved for anywhere between $500 and $1,500. Although some payday loan lenders will offer smaller or larger amounts. A payday loan term is two weeks, with the full amount plus interest and fees due on the borrower's next payday.
The rates can differ depending on your situation and your provider, but can often be a few hundred percent on a high end. Interest rates are so high because of the risk that a lender takes on. You may be wondering why anyone would ever get a payday loan with such high interest rates, but for some, it is their only option.
If you need money quickly, and a standard loan won't cut it or you can't qualify for one, a payday loan might be your only option. Payday loans are incredibly easy to be approved for, and you will often get your money very quickly, which is a bonus. In addition to that, most payday loans providers do not take your credit score into consideration, which is how most lenders judge how risky you are. Instead, many payday lenders will only need to know that you have a bank account and steady employment. Once they can verify those things, there is a good chance that they will be willing to offer you a loan.
10 questions everyone should ask before taking out a payday loan, click here.
What is the Payday Loan Cycle of Debt?
However, it is incredibly important to be careful when utilizing payday loans in Hamilton or anywhere else. Using them once in a while shouldn't do too much damage, but if you start to rely on them too often, you can find yourself getting stuck in the payday loan cycle of debt.
The payday loan cycle of debt is shown as follows:
Some sort of issue, emergency, or other unforeseen event leaves you needing money quickly.

No other form of borrowing or assistance is able to cover your costs as timely as you need them to.

This leads you to get a payday loan as it is very quick and easy to be approved for, and is your last option.

The time comes to pay the loan back, but you haven't quite recovered or the interest has made the repayment unaffordable.

So you take out another payday loan to pay for the first one, and the cycle continues.
Unfortunately, people can find themselves stuck in these cycles of debt for months and sometimes years. Finding a way out of this cycle can be difficult, but thankfully there are some things you can do to relieve your debt accumulated via these payday loans.

Check out
this infographic
for more information about the payday loan cycle.
Debt Relief for Payday Loans
Debt, whether from payday loans in Hamilton or otherwise, is incredibly common. As a result, there are many different types of debt relief solutions available in Canada to help people get back on track. These include:
Debt consolidation

Debt settlement

Consumer proposal

Bankruptcy
Some people can get out of debt on their own, but many people struggle to do so. Which is why these debt relief options are so helpful.
Also, the method you choose to use will depend on how much debt you have, how much money you make, and your financial situation as a whole. If you are confused about which type of debt relief is right for your unique situation, be sure to reach out to an expert in your area.
Looking for debt relief from predatory lenders? Check out this article.
What are Some of the Warning Signs of Predatory Lenders?
While payday loans in Hamilton can provide some value for certain people at certain times, the possibility of falling victim to a loan scam is also high. Loan scams are unfortunately quite common and look to take advantage of people with nowhere else to turn. While you might think it's clear and obvious when you are being sold a loan scam, this isn't actually the case.
In an effort to help you protect yourself from predatory lenders here are some warning signs to watch out for:
Extremely high-interest rates

Add-on costs and additional services that you don't need

They try to rush you to sign the paperwork without reading it

They are lying or try to convince you to lie

They claim they can guarantee approval

It just seems too good to be true for your situation
While these are some of the most common warning signs to be on the lookout for, not all predatory lenders or loans will show these signs. Sometimes it is impossible to know if a lender is predatory ahead of time. As a result, it is important to remain vigilant and if something seems too good to be true, it probably is. Also, be sure to read any contract from front to back in full before agreeing to them or signing anything.
Borrowers in Ontario are having trouble breaking the cycle of debt, learn more here.
Alternatives to Payday Loans in Hamilton
While not all payday loans are scams, you are often better off looking elsewhere for your borrowing needs. Thankfully, there are several alternatives to payday loans that most people can utilize. Examples of these better alternatives are:
A standard installment loan

Borrow money from friends and family members if they offer

Credit cards (while not much better, they will work in emergencies)

If you own your vehicle outright, you could use a vehicle title loan

If you have

equity in your home

, you can use a home equity loan or home equity line of credit to get the funding you need.
The reason most of these are better options than payday loans are because they are more affordable, often by a large margin. If you think you won't be approved for any of these or they won't work for you don't give up hope. Speak to the loan providers themselves as well as experts in the area before you give up and go with a payday loan.
Interested to learn about how credit scores are calculated? Take a look at
this
.
Good and Bad Times to Use Payday Loans
In an effort to further help you understand payday loans in Hamilton and the right time to use them, we have decided to go over some of the good and bad times to utilize payday loans. As far as situations where payday loans are the right choice, they are limited. Really, the only time you should be using a payday loan is when you find yourself without the money you need, don't have a credit card, but know you will have the money to pay it back. This will ensure you don't get stuck in the cycle of debt.
However, there are many situations where a payday loan simply doesn't make sense. For example, when your regular bills end up costing most of your income, you don't want to use a payday loan as you may struggle to pay it back. Also, if you simply want something, but don't need it, getting a payday loan is not a good option. Lastly, if you have an income that is unstable and hard to pin down, payday loans can be bad as you simply may not make enough in the next few weeks to be able to pay it back.
As you can see, and as we've been saying, payday loans are rarely the right choice for people who are struggling financially. It simply isn't worth it to borrow such a small amount of money for a few weeks and have to pay it back almost instantly plus a significant amount of interest.
Thinking about taking out a payday loan? Click here to learn all about your rights.
Know Your Alternatives to Payday Loans
While situations may call for payday loans in Hamilton, usually, there is a better option at your disposal. If you are curious about your alternatives, Loans Canada can help match you with the right solution based on your unique needs.
★
★
★
★
★
Rating of 5/5 based on 1 vote.
Posted by
Kale Havervold
After dipping his toes into freelance writing while still enrolled in school, Kale decided to pursue freelance writing as his career after earning his Bachelors degree from the University of Regina. In his six-year career as a professional writer, Ka...