New Immigrants: Establishing Credit
By

Caitlin in Credit
Building a good credit score is one of the best ways to build a strong financial profile. One of the most common ways of building wealth is to purchase a home, and to be approved for a mortgage on the home you want to buy a good credit score is a requirement. However, even if you own your own home, if ever you are in search for cash for whatever the reason (a car loan, a student loan, a business loan), establishing a good credit score will help you obtain the loan you need.
You can't convert previous credit history built in another country to Canada credit history. In other words, you need to establish your credit history and build your credit score in Canada. Although your foreign credit score may be reviewed, most financial institutions only consider your Canadian credit score.
1. Understanding credit scores
The first thing you need to know is how credit scores are calculated. This will help you prepare the right strategy to build your credit up fast.
| | |
| --- | --- |
| History of Payments 35% | 35% |
| Debts 30% | 30% |
| Credit Length 15% | 15% |
| New Inquiries 10% | 10% |
| Diversity 10% | 10% |
| | |
| --- | --- |
| History of Payments | 35% |
| Debts | 30% |
| Credit Length | 15% |
| New Inquiries | 10% |
| Diversity | 10% |
For more information on
how your credit score is calculated
, click
here
.
2. Establish your credit history
The best way to establish credit history is to obtain a secured credit card (read up on building your credit with secured credit cards here). A secured credit card works like this: you leave a deposit (of 300-1000$) and borrow against that amount. You can use your secured credit card just like a regular credit card, the only difference is that in case of default your creditor is covered by your initial deposit.
This is a great way to build your credit score because your credit provider doesn't take any risk, and you can use your secured card every month to slowly establish your credit history. A secured credit card also does not required any prior credit history.
3. Build your credit score
To build your credit score, start with your secured credit card and slowly move on to other credit products such as regular credit cards and other loans. Once your credit starts to build, you will qualify for small loans (such as car loans or furniture loans). The more diverse your credit profile is, the more your credit score will build.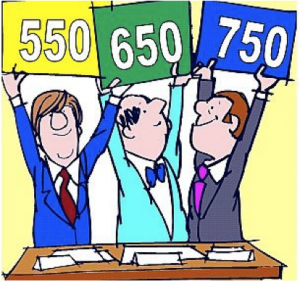 The most important thing is that you do not over extend yourself. Make sure you borrow within your means. There is no point in taking on a lot of debt to build up your credit score if you start missing payments. Missing your payments will leave a mark on your credit profile, and it will damage your credit score. It is important to practice good and responsible credit habits. Read yesterday's blog post to see how missing payments affects your credit score.
We recommend that you read this guide here as well. It outlines the top 10 mistakes people make when trying to improve their credit score.
4. How long does it take?
How long does it take to build your credit score as a newcomer to Canada? Well, financial institutions usually like to see 18-24 months of good credit history before approving a loan. Of course, loan qualification depends on other factors as well: your assets and security, your income, your tendency to save, your repayment capability. However, establishing a good credit score is key to a healthy financial future and will definitely increase your chances of being approved.
---