One of the most difficult parts of living in Mississauga is the current normalization of excessive debt. The debt to income ratio in the country is sky-high, as is the loan to income ratio.
With most of us spending a lot each month paying off loans, mortgages, and credit cards, we may not be able to save that much. While this is fine for a while, if emergencies happen, we may not have the cash on hand to handle them. In these cases, short term loans can be a lifesaver.
Want to know how your credit score can affect loan approval? Take a look at this infographic.
How to Get Approved for a Short Term Loan in Mississauga
So just how do you go about getting a short term loan if you have an emergency to deal with?
Double Check Your Credit
Well, the first step is to get your credit in check. You should pull a copy of your credit report to ensure everything is accurate and there are no mistakes. If there are errors, you should report them.
Check out the Top 5 most common errors found on credit reports.
Also, the better your credit, the better the rate you will get, so try and improve your credit before applying for any sort of loan. This can be done by paying off any overdue debt, using your credit responsibly, and ensuring you don't miss any payments. This can sometimes take a while depending on how bad your credit is, but it is well worth it in order to get better rates and a cheaper loan.
Find The Right Loan and Lender
Once your credit is in a good spot and your credit report is accurate, you should begin to shop around for the right lender. Each lender will have their own requirements, interest rates, and terms, so be sure to look around. The more places you check out, the better the chances that you will find the right deal for you. In addition to speaking with each lender, be sure to look them up online to see what their reputation is and if anyone has listed any issues or problems they have experienced with them.
Once you have found the right lender and have applied for a short term loan, be sure to have a budget in place to ensure you can keep up with the payments. If you know much you have coming in and going out each month, it will make it much easier to handle the payments.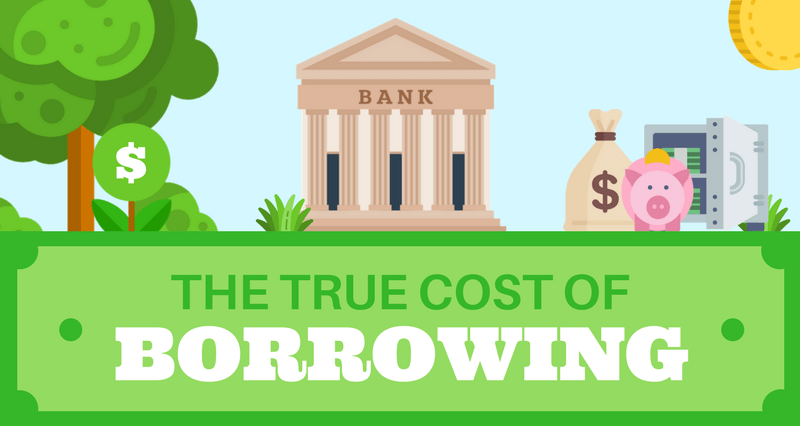 Ever wonder what the true cost of borrowing is? Click here to find out.
What Can I Use a Short Term Loan For?
The great news about short term loans in Mississauga is that there are no restrictions about what they can and can't be used for. As a result, the answer to this question is anything. Of course, there are a few certain things that most people use them for. Some of the most common uses for short term loans are:
To build up your credit effectively

To cover the cost of an emergency such as an

accident

, car troubles or injury

To pay for unexpected travel (visit an injured relative, job interview, etc…)

To make

large purchases

To go on vacation
However, while you can use a short term loan for anything, you should still use them responsibly. You still need to pay back the loan in full (plus interest) so be sure to only take out a loan you can afford. If not, the interest will continue to pile up and you will be on the hook for a lot of money.
Click here to see how a short term loan can help you tackle your expenses.
Pros and Cons of Short Term Loans
Short term loans definitely have their benefits and are a good option for many consumers in Mississauga. However, before you decide whether to use a short term loan or not, it is important to know both the pros and the cons.
Pros
They have a much shorter term than loans like mortgages or

car loans

, so will be "off the books" much quicker

There is generally a quicker and easier application and approval process

You will get your money more quickly

Generally, lenders are more willing to work with those who have

bad credit

when it comes to short term loans
Cons
The

interest rates

on short term loans are normally higher due to their shorter terms

Because of the high rates, it can be easy to get caught in a cycle of debt where you need to take out a new loan to pay off the previous one

Payments for short term loans can also be more frequent
Read this to find out how you can get an online loan with affordable monthly payments.
Short Term Loans at Your Fingertips
Are you in need of some cash quick in Mississauga? If so, don't hesitate to contact Loans Canada. We will help you secure a short term loan in your area quickly and at an affordable rate. Whether you need money for house repairs or to cover an emergency, rest assured Loans Canada will be able to help.
Posted by
Kale Havervold
After dipping his toes into freelance writing while still enrolled in school, Kale decided to pursue freelance writing as his career after earning his Bachelors degree from the University of Regina. In his six-year career as a professional writer, Ka...