How to Get Student Loans For Bad Credit Approved in Canada
Post-secondary education in Canada can be extremely expensive, costing students well over $50,000. In fact, full-time students in Canada paid approximately $16,600 in university expenses for one year in 2014-2015. This is a significant amount of money and many students and their families simply don't have the necessary fund to afford that kind of expense. Most full-time students may not have time to attend classes and hold down a job, even a part-time one. This is often even more true for students in highly competitive and demanding programs. With pressure to excel in school, keep up with extracurricular activities, continue with everyday activities, and have a social life it can be overwhelming and sometimes impossible to maintain a job while in school. This makes financing a necessity for most students.
Are you a parent? Should you help your kids pay for school?
Thankfully, the Canadian Government provides students with loans and bursaries to help them get through financially difficult times. For those students who are unable to get student loans on their own because of bad credit or other financial issues, we've compiled all the information you need to to find an alternative way to help pay for post-secondary schooling. Depending on where you reside, the federal and provincial governments each have their own unique student loan programs to financially help students so they can academically succeed.

Federal Government of Canada
The Federal Government of Canada currently has two programs (click here for more information), which can help students finance their post-secondary education. The Canada Student Loan Program (CSLP) offers educational loans and the Canadian Student Grants Program (CSGP) offers grants to financially struggling students.
The Canada Student Loan Program (CSLP)
Students in Canada may be eligible for a subsidized student loan with the Canada Student Loans Program. Students can apply for a school loan using this program, despite whether they're a full time or part time student. As long as they meet the customary and necessary requirements for financial help, they could be entitled to receive up to half of the total cost of their tuition in federal loans. The government of Canada will pay the interest accumulated on the loan until graduation. Once students graduate, they're expected to pay back the original loan amount, with added interest to the government. In addition, payments aren't required until six months after the program ends, which gives sufficient time to find a job in order to pay back the outstanding balance.
The Canadian Student Grants Program (CSGP)
Applying for a grant from the Canadian Government is similar to the application process for the Canada Student Loan Program. Request for a federal grant and prove you are in need of financial assistance. If you qualify, you'll hopefully be accepted to receive grant money to help you pay for your degree. However, unlike the loan program, you do not have to repay the grant back to the government after graduation. There are also grants given to people who fall within specific categories, such as single parents attending school, students with disabilities and dependents, and women in certain fields of doctoral studies.
Student Life: The Good, The Bad and The Expensive. Read here.
Provincial and Territorial Governments of Canada
If you've been denied a federal loan or maxed out all your federal benefits, provincial and territorial loans provide support for students in their respective province. Depending on where you reside, you can receive financial support for post-secondary education purposes. Keep in mind there are different regulations and options for students depending on which province they live in.
Firstly, Students from Ontario, British Columbia, Saskatchewan, New Brunswick, and Newfoundland and Labrador can only receive

one single

integrated loan or bursary from the government. The government of Canada works with these provincial governments to provide financial assistance.
Secondly, students from Alberta, Manitoba, Nova Scotia, and Prince Edward Island are allowed to apply for federal student loans, along with provincial/territorial loans, depending on where they reside. This implies they can possibly receive more than one loan at a time.
Lastly, those university students in Nunavut, the Northwest Territories, and Quebec, cannot obtain federal student loans and grants. These provinces manage their own student loan programs and work within their own province.
The following explains each province and their individual student loan options:
Alberta: The Student Aid Alberta offers both federal and provincial student loan programs, which include scholarships, bursaries, and school loans along with financial planning resources.
British Columbia: The Government of Canada works with the Government of British Columbia to assist students with their financial struggles. Student Aid BC has a student loan package that offers integrated loans, scholarships, and grants. You can find all the details for these programs as well as information for students who have disabilities, dependents, use income help, or have other specific conditions.
Manitoba: In Manitoba, students can apply for a federal and provincial tuition loans, grants and bursaries using Manitoba Student Aid. If you're a medical student, look the distinct section for medical grants.
New Brunswick: The government of New Brunswick and Canada work collectively to provide students with integrated financial assistance. Using the New Brunswick Student Financial Services, you can apply as a full time or part time student and receive financial assistance with the use of loans, grants, and bursaries.
Newfoundland and Labrador: Newfoundland and Labrador Student Financial Services offers students financial aid by working with the government of Canada. While providing integrated loans and grants, you can start your full time or part time loan application for financial assistance.
Northwest Territories: The Department of Education, Culture, and Employment in the Northwest Territories help residents with their university expenses. Go to Northwest Territories Student Financial Assistance to find student policies, procedures, and applications for financial assistance. Keep in mind, the NWT operate their own student loan program and do not provide any federal student loans.
Nova Scotia: If you are a resident in Nova Scotia, visit the Nova Scotia Student Assistance department to explore your financial aid options. With information on financing, repayment, programs, and application procedures, it's easy to apply for a student loan. Additionally, residents in Nova Scotia have access to both federal loans and provincial student loans.
Nunavut: In Nunavut, Canadian federal loans and bursaries aren't accessible, because Nunavut manages its own student loan program. Visit Nunavut Student Funding to explore different student loan and scholarship options.
Ontario: The Government of Canada and the Government of Ontario work together to provide university students with integrated loans or grants to help pay for their post-secondary education. Go to Ontario Student Assistance Program (OSAP) to learn more about their educational support to its residents through loans, grants, scholarships, and bursaries. Whether you are a full-time or part-time student, you can be eligible for some sort of financial help.
Prince Edward Island: Go to Prince Edward Island Student Financial Services to apply for student loans, bursaries, grants, and rewards for both full-time students and part-time students. Residents can receive federal students loans and grants, along with provincial financial aid.  
Quebec: The Quebec Student Financial Aid website offers loans and bursaries to full time and part time students. Quebec doesn't provide any federal student loans, as it follows its own student loan program. Use the website to gather more information and sign up for your loan today.
Saskatchewan: The Government of Canada works with the government of Saskatchewan to provide university students with integrated financial aid. Go to Saskatchewan Student Loans website to explore your student loan options and learn more about the assistance with the Student Loan Handbooks. Then, apply for your student loan.
Yukon Territory: Check if you qualify for financial assistance from Yukon Student Financial Assistance. Go to Yukon Student Financial Assistance website to learn about student loans, grants, scholarships, and awards you can take advantage of to help pay for your post-secondary education. Keep in mind, federal students loans and territorial grants are only accessible to permanent residents of the Yukon.  
Budgeting 101 for students, click here.

Alternative Options
If you've used all your government assistance options, but still need more financial help, private loans and lines of credit from your local bank are an option. Obviously, these types options require good credit and this can be very difficult for many students as they haven't had time yet to work on or build their credit score. If this is the case you should consider getting a cosigner. A cosigner can be a family member or relative or a close friend that you trust, as long as they have a positive credit history.
If you yourself have good credit, you can sign up for these loans on your own. For instance, CIBC offers students an Education Line of Credit, which offers students who attend Canadian universities access to finances in order to cover tuition, textbooks, transportation, and other school related expenses. If you're a student obtaining a professional degree in either medicine, accounting, dentistry, law, business, pharmacy or other programs, you may be entitled to a larger student loan or line of credit due to the increased price of these programs. CIBC, for example, offers the Professional Edge Student Program, which is a line of credit that includes repayment that fits your budget.
Looking for more information about your credit and student loans? Read this.

Bad Credit Student Loans Q&A
If I have bad credit, what are my student loan options?
If you need a student loan but have bad credit, the federal government provides student loans and grants for students who meet certain criteria. Sometimes, your credit score isn't significant for these government loans and grants. You can also get a private loan from your local bank, but this will require you to have a cosigner.
How can I get a student loan if I have bad credit and no cosigner?
If you don't have a cosigner to help you get a private loan, look for a loan from your government. For instance, apply for the Canada Student Loan Program. These loans don't require a cosigner and usually offer a low-interest rate, along with reasonable payment terms.
Are there any private companies that offer student loans to those with bad credit?
If you have a bad credit history, it is recommended to use federal and or provincial student loans, which don't require a cosigner or good credit score. However, it is possible to find a private lender that will offer you a loan as a student, just be prepared to pay an extremely high-interest rate. You're better off applying for a federal loan while working on improving your credit score.
Why is it difficult to find a private student loan for students with bad credit? 
Private lenders are less likely to lend money to students with no credit history and/or low credit score due to the increased risk of not getting their money back. If you don't have a credit history, you are seen as a financial risk. Most banks will require you to have a cosigner who has good credit.
---
★
☆
☆
☆
☆
Rating of 1/5 based on 7 votes.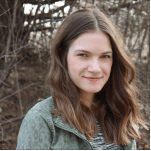 Posted by
Caitlin Wood
in
Loans
Caitlin graduated from Dawson College in 2009 and completed her Art History degree from Concordia University in 2013. She started working as a freelance writer for Loans Canada right after University, eventually working her way up to Chief Content Editor. Her work has led to a large expansion of the company's content department and she manages a staff of talented writers who are passionate about educating Canadian consumers about credit, debt, and all things personal finance. With over five ...
---