Pawning Your Stuff: An Easy and Accessible Way to Get Small Secured Loans
By

Caitlin in Loans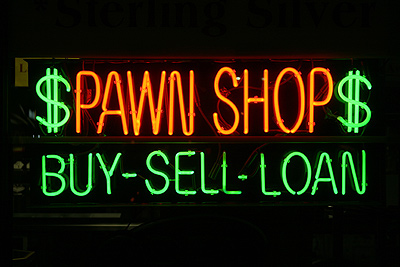 It can happen, sometimes you might find yourself short on cash that you just so happen to need right away. Your credit cards are maxed out, your friends and family are strapped for cash to lend you, and taking on a loan from the bank isn't feasible. You think about putting up some valuables for sale, but you'll have to take time posting up ads and waiting on buyers, never mind the haggling and negotiations. But hold on – you can do something else with those valuables, right? You remember that pawn shop you always walk by every morning. "I'm not going to pawn my stuff," you think to yourself…
Popular media has always related pawn shops with some degree of disparity. Their association with gambling and other addictive habits adds fuel to the fire. However, for many it can present a very easy and accessible option for a quick secured loan.
How does it Work?
The idea is simple: a pawnbroker offers you a loan for a period of time with a certain amount of interest in exchange for an item which will act as collateral. In some cases, the loan period can be extended, but if it is not, and you have not paid back the loan with interest, your item can be offered up for sale.
You will begin by bringing in your item in for assessment. The items are tested for functionality, inspected for condition, and the marketability and value is determined. When it comes to how much they are willing to loan you, the lower end will usually be the wholesale value, which is the amount they can sell the item in batches to a wholesale merchant in the case it doesn't sell. The high end will usually be a little less than the item's market value which is how much they can sell it for as an individual item, or the pawnshop's retail value. Pawnbrokers will usually consult a blue book to determine a market value. For security reasons, you will be required to provide a piece of ID and a holding period will be placed on the item. Pawnbrokers require this in order to mitigate the risk and responsibility of handling stolen items.
What Else do I Need to Know?
Keep in mind that one of the many advantages of pawning your valuables is that pawnbrokers do not report a defaulted loan on your credit report because they have your item as collateral. Pawning items can also be an easy way to clear up items you don't need. Just keep in mind to read the fine print and understand the terms and conditions. Certain aspects of pawnshops are not dictated by law or regulation and can vary substantially. So be careful to understand the penalties and fees if you are unable to pay back the loan. Do some quick investigating to figure out the market value of your item, and don't be afraid to take it to multiple shops for appraisal. Most importantly, make sure to look into municipal and provincial regulations and laws that apply to pawnshops.
---