Loans, Credit, Mortgages and Financing in New Brunswick
By

Caitlin in Geo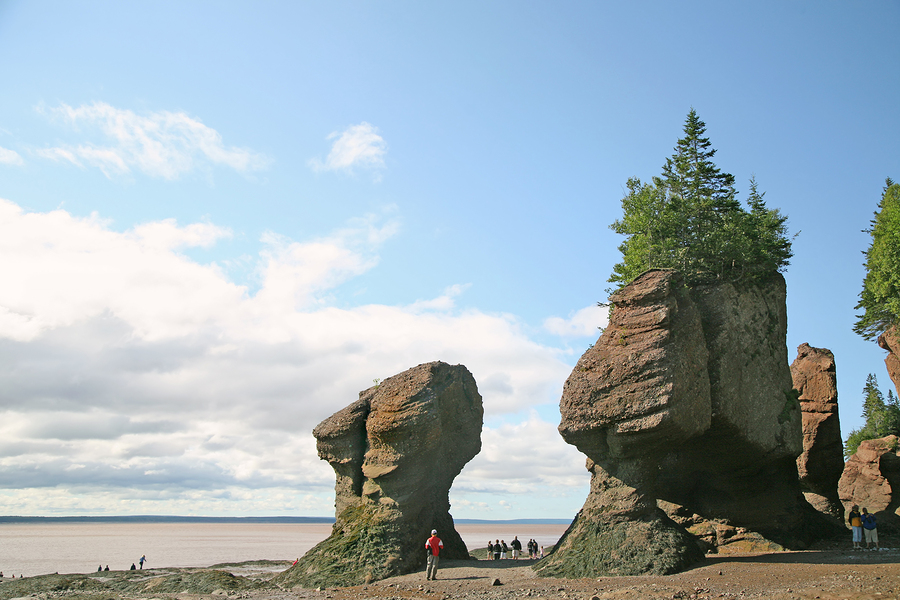 Of Canada's three Maritime Provinces, New Brunswick is the largest and is the only province in the country that is legally bilingual. Tourism is one of the leading economic resources as the province is home to some of the top must see destinations for nature lovers, including the Bay of Fundy where you can witness the world's highest tides. If you're visiting the province during the autumn season you'll more than likely see a few leaf peepers. As New Brunswick's natural beauty is so well known it's no surprise that its economy is comprised mostly of natural resource industries, including the forestry, fisheries, mining and farming industries. New Brunswick is also home to McCain Foods and produces one third of the world's French fries.
Fun Facts
The longest covered bridge in the world in located in Hartland New Brunswick. It was built in 1901 and is 390 meters or 1282 feet long.
There are roughly 15 different species of whales in the Bay of Fundy. Whale watching is available from Grand Manan Island and St. Andrews.
Every year there are over 500,000 Christmas trees harvested in New Brunswick. It makes sense as 80% of the province is forested.
Mount Allison University located in Sackville, New Brunswick is home to the highest number of Rhodes scholars (51 so far) per capita of any university in the Commonwealth.
Statistical Analysis
| | |
| --- | --- |
| Population | 753,914 |
| Average Family Income | $ 67,340 |
| Average Price of House | $159,756 |
| Provincial Income Tax | 9.68% on the first $39,973 of taxable income |
| | 14.82% on the next $39,973 |
| | 16.52% on the next $50,029 |
| | 17.84% on the amount over $129,975 |
| Provincial Sales Tax | n/a |
| Unemployment Rate | 10.1% |
| Insolvency Rate | 7.2% |
New Brunswick Housing market
The New Brunswick housing market is at a standstill despite the increasingly low mortgage rates and a slowly improving employment rate. During the 2008 financial crisis the province's key industries including natural gas and pulp and paper were heavily hit and it has been a slow recovery. This coupled with the difficulty that the province has had creating jobs has made the housing market less than desirable for sellers. If sales continue to be few and far between it will likely create many opportunities for buyers to get both an affordable mortgage and home.
How to be a Responsible Consumer
Protecting yourself from consumer fraud, credit scams and identity theft should always be a priority. By learning how to be a responsible and conscientious consumer you'll be able to arm yourself with the information you need.
Keep an Eye on Your Credit Report. Your credit report contains all your financial and personal information. Including your employment record, credit card use, previous and present debts and marital status, this is all extremely valuable information and you should always make sure it is up to date.
Maintain a Healthy Credit Score. Maintaining a healthy credit score will give you the financial freedom to pursue all your life goals. A high credit score will make applying for loans all the more easy and could potentially afford you more favourable interest rates.
Responsibly Manage Your Credit, Debts and Loans. Always pay your bills on time, especially credit card and loan payments. Only borrow money that you need and can afford to pay back. And If you're having difficulty keeping up with your bills get in contact with your lender or creditor right away.
Consumer Services in New Brunswick
The New Brunswick Financial and Consumer Services Commission works with citizens of New Brunswick to educate them about their rights and responsibilities as consumers so they can be better equipped to make the best possible choices for themselves. For any questions you may have concern your consumer rights, protecting your credit, financial literacy or fraud of any kind visit the Financial and Consumer Services Commission website.
Financial and Consumer Services Commission
Kings Place (King Tower)
440 King Street
Fredericton, New Brunswick E3B 5H8
Telephone: 506-453-2659
Toll Free : 1 866 933-2222
Fax: 506-444-4494
Email: info@fcnb.ca
Website: www.fcnb.ca
Protecting Your Personal Information
Always keep all of your personal information private; never share more information than you need to. Keep an eye out for strange charges on your credit accounts or errors on your credit report. If you think you might be the victim of identity fraud or a credit scam get in contact with the two major Canadian credit reporting agencies (Equifax and TransUnion).
Equifax Canada Inc.
Toll-free: 1-800-465-7166
www.consumer.equifax.ca/home/en_ca
TransUnion of Canada
Toll-free: 1-800-663-9980
www.transunion.ca
---