Life comes with many recurring expenses, especially in Victoria, where the cost of living has been slowly increasing along with the city's popularity. Although your such costs can often be dealt with using cash or credit cards, sometimes they can be too large to handle with conventional means. Now and again, an alternative form of financing is required to cover high-cost items with an affordable payment plan.
If that's the case for you, a personal loan might be the perfect solution. Interested in learning more about these loans and how they can help you? Then just keep scrolling.
Need an urgent cash loan? If so, check this out.
How Can I Acquire a Personal Loan in Victoria?
One of the best things about personal loans is that you can find them through many different lenders throughout Victoria. Generally, they are available with both prime lenders, such as banks and credit unions, as well as subprime lenders, like alternative, private, and bad credit institutions.
The amount you can get approved for is typically based primarily on your income, net worth, credit health, and the value of your assets (if you offer any). Your personal loan should be deposited as a lump sum directly into your bank account. Typically, this happens several business days following the approval of your application, although wait times will vary from lender to lender.
Looking to refinance your personal loan? Click here first.
How Do I Pay My Personal Loan Back?
Before you receive your money, you and your lending professional will need to draw up an appropriate plan for you to repay the funds you've borrowed. Again, the state of your plan will mainly be based on your financial situation. However, personal loans are installment-based, meaning you will pay back your money in equally divided segments, including an interest rate as compensation for your lender's services. While many borrowers choose to pay on a monthly basis, many lenders will give you the option of paying in weekly, bi-weekly, or accelerated installments.
What Do Lenders Look For During The Application Process?
Like most credit products, you'll need to go through a brief application process before you can be approved for your personal loan. Again, the overall nature and details concerning the process will be different depending on what kind of lender you're applying with. For instance, banks and credit unions usually have more strict approval standards than many subprime sources.
Is it possible to get guaranteed approval for a personal loan? Find out here.
In the end, it comes down to your "creditworthiness", meaning your ability to adhere to your payment plan and return your borrowed funds in full by your designated due date. Before they fork over any cash, lenders need to confirm that you have the necessary means to do so.
Approval factors may include (but aren't limited to):
A steady source of employment and income

A solid job history

A decent looking credit report and credit score

Your ability to provide loan security

Your ability to provide a

cosigner
Although providing security is usually optional, it can be helpful if you're applying for a significant amount of money or you don't have good credit. When you offer up an asset, such as your house or vehicle, or when someone with strong finances co-signs your application, it lessens the risk for your lender. In the case of collateral, they would have something to sell if you default on your loan. As for your cosigner, they would agree to take over your payments if you can't afford them. When less risk is imposed, your lender should be more willing to offer you a larger loan amount with a lower interest rate.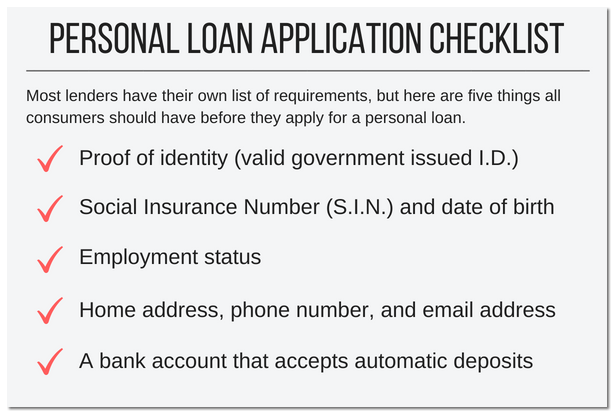 Do I Need Perfect Credit to Be Approved?
Again, this depends mainly on the lending institution you're borrowing from. As we said, the average bank might reject your application if you have bad credit, a low income, or no collateral. On the other hand, a private, alternative, or bad credit lender might not. There are even some lenders that don't check your credit during the application process, wherein your income and employment status would be more important.
Read this article before you apply with a bad credit lender.
That said, it is always possible that your lender will pull your credit report to see how trustworthy you would be with the money you're borrowing. Your credit score would also be included in the report. Both of these display your creditworthiness and, of course, the healthier they look, the better your odds of approval and interest rate will be.
Your Credit Report
Compiled by Canada's two major credit bureaus, Equifax and TransUnion, a credit report is a detailed personal profile that every credit user has. Within the report, you'll find records of all your credit-related transactions over a set number of years. It also contains the credit ratings for every active account you have. If you have a credit history filled with good payments and all the ratings on your accounts are high, the results for your personal loan approval will be positive. However, the opposite effect will occur if you have a bad credit history and low credit ratings.
Your Credit Score
Your three-digit credit score is a more simplified way of showcasing your creditworthiness. Ranging from 300 to 900, your score fluctuates according to your credit habits. When you make a timely/full payment, your score goes up, and vice versa. While it's tough to gain a perfect score of 900, most lenders will approve your application and give you a decent interest rate when your score is 680 or above.
How Can a Personal Loan Make My Credit Better?
Another great thing about a personal loan is that they can be used to improve your credit. This is an important practice if you plan to use credit on a regular basis. Not only does maintaining good credit earn you a larger loan amount, but the lower interest rate you get will also actively save you money over time.
Additionally, you can ensure that your credit increases and remains within the "good" range by promoting healthy financial habits, such as:
Set up

automatic deposits

, so you never miss a payment date.

Make sure your lender is a legitimate business that reports your payments properly to the credit bureaus.

Don't request more money than you can comfortably afford.

Ask your lender to confirm any and all costs associated with the loan, including the interest rate and administrative fees, before you sign any contracts.

Avoid any unnecessary debt throughout your payment plan. Remember, any payment you default on will damage your credit score!
Searching for more ways to improve your credit score this year? Check this out.
When is it Better to Use My Credit Card?
A credit card qualifies as "revolving" credit. So, rather than having a predetermined amount of installment-based money, you'll have a revolving credit limit that you can withdraw from whenever you need. Similar to a personal loan, you're typically given the option of making payments on a monthly basis. However, there are situations where the benefits of your credit card will outweigh those of your personal loan (and vice versa).
A credit card might be a better option when you:
Have recurring costs (gym membership, utility bills, internet plan, etc.)

Want the option of minimum payments when you can't afford full balances

Want to build credit faster by making more than one payment per month

Are looking for travel insurance or other perks that come with some specialty cards

Are just starting to use credit and need some basic experience

Only want to pay interest on the amounts you've withdrawn
Trying to choose the best credit card for your needs? Look at this.
A personal loan might be a better option when you:
Want to diversify the types of credit accounts listed in your credit report

Have singular costs that are larger than the average credit card limit

Would like to access lower interest rates than many credit cards have

Are trying to consolidate high-interest debts

Would like some practice managing a loan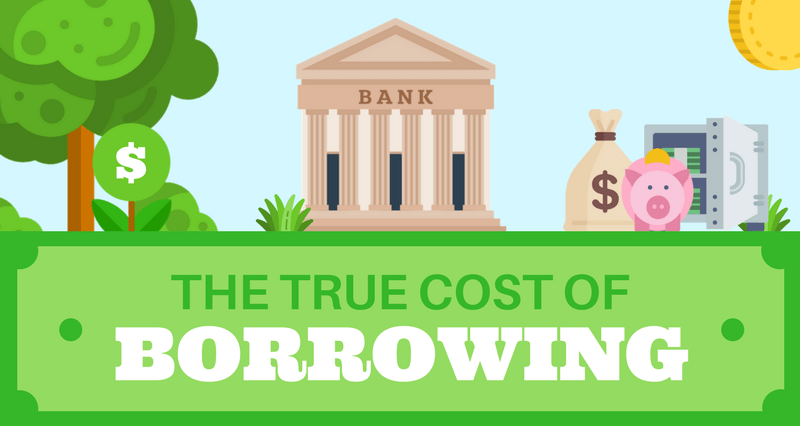 Do you know what the true cost of borrowing is? Click here to find out.
Any Recommended Uses For a Personal Loan?
You can use a personal loan for almost any expense. That said, remember that any loan is a serious responsibility. Therefore, it's best to only use your personal loan for essential things, rather than smaller unnecessary costs.
Examples of essential costs (recommended):
Home repairs, car accidents, or other financial emergencies

Voluntary surgeries or other health costs not covered by medical insurance

Unexpected travel

Paying your property taxes and home insurance

Groceries and/or household supplies

Tuition, textbooks, and other educational expenses
Examples of non-essential costs (not recommended):
Cigarettes/alcohol

Restaurants or take-out food

Cable TV, streaming services, and other subscriptions

Concerts, movies, and other outings/events

Clothes and other consumer goods
Click this link to learn how you can get the best personal loans in 2019.
Need a Personal Loan? Let Us Know!
If you're looking for the right source of personal loans in Victoria, don't worry, because Loans Canada can help you find it. We're committed to getting you the best deals possible. Contact us today for more information or apply below when you're ready!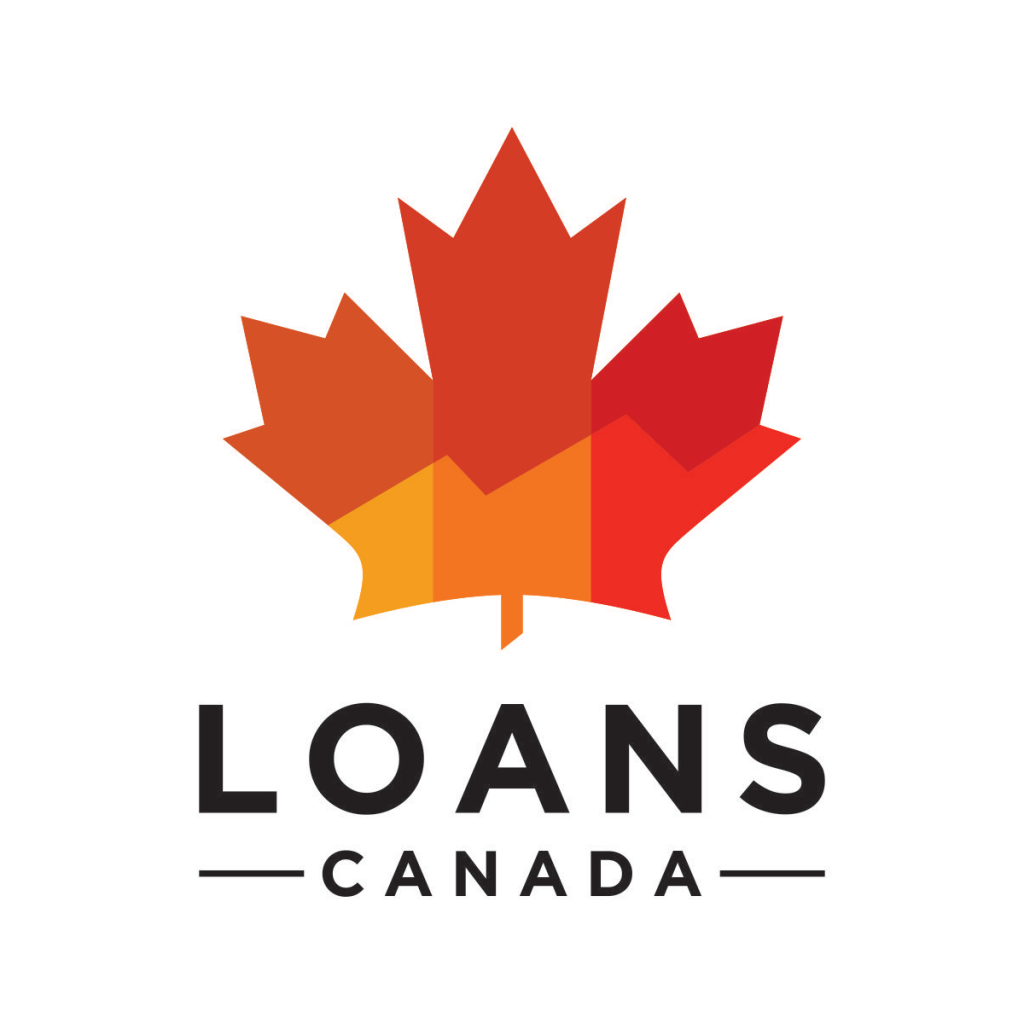 Posted by
Bryan Daly
Bryan completed the Cinema, Video, and Communications program in Dawson College and holds a Bachelor's Degree in English Literature & Creative Writing from Concordia University. Bryan covers a wide range of topics for Loans Canada, including cred...