The Metro-Vancouver area, including Richmond, is among the most indebted areas in all of Canada. While credit cards are a big part of this problem, so are the number of loans people take out. Loans without a doubt serve an important purpose, but it is important to be responsible when using them. If not, you could be stuck making payments you can't afford.
Read this to if you're looking for a loan online with affordable monthly payments.
What Can a Personal Loan be Used For?
The first part of using loans responsibly is knowing what they can and should be used for. The good news for most people is that personal loans can essentially be used for anything you could imagine. This includes:
Unexpected travel

Emergencies

Medical bills

Large purchases

Household repairs
While technically personal loans can be used for many different things, it is important to use them responsibly. If you really don't need something immediately, perhaps consider saving up for it instead of taking out a loan. If you do take out a personal loan, be sure it is only for an amount you can afford to pay back. Not only will you be responsible for paying back the amount you borrower, but also the interest.
Once you are approved for the loan, most lenders will simply give you the money through direct deposit. Of course, each lender might have their own rules or procedures when it comes to how they pay you, so be sure you know how you will be paid before working with any lender.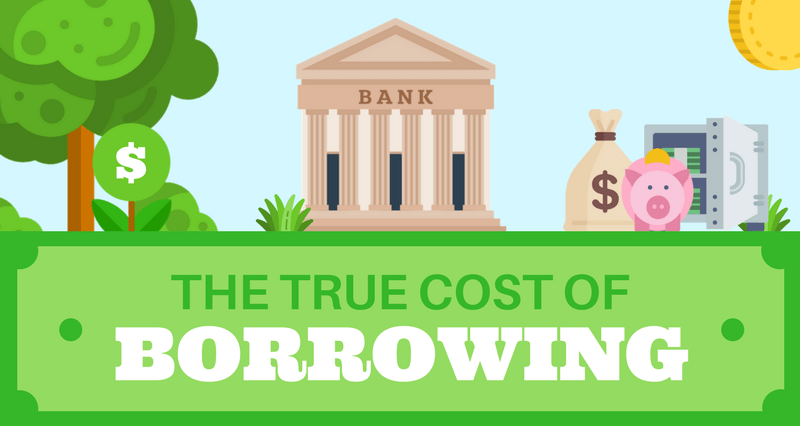 Do you know what the true cost of borrowing is? Check out this infographic to learn.
What do Lenders Look for When Approving a Personal Loan?
Speaking of working with a lender, what exactly do lenders look for when approving a personal loan? There are a number of different factors that can make you a good candidate for a loan.
Stable Employment
Most lenders will want to see that you have stable employment, as paying back a loan with no job can be tough.
Need a loan without employment verification? Check this out.
Consistent Income
In addition to a stable job, consistent and adequate income is typically required. Simply put, loans need to be paid back via regular payments, this means a borrower needs to be making enough money to reasonably afford a loan.
Good Credit
While not all lenders check credit, some will. In Canada, credit scores range from 300 on a low end to 900 on a high end. The higher your credit score, the less risky you are in the eyes of the lenders. Also, the higher your score, the better the terms of your loans are likely to be.
Click here to see more benefits of a good credit score
How to Improve Your Chances of Approval
If you feel as though you won't get approved for a personal loan, you need to look to correct one (or many) of the above criteria to make you a less-risky individual to work with. One of the best, and simplest, ways to make yourself a better applicant is to increase your credit score and build credit. There are a variety of different ways to build your credit including:
Making payments on time

Use credit responsibly

Keep old credit accounts open

Don't constantly apply for

new credit

Make sure there are no

errors

on your credit report
Also, while you might be surprised to know this, one of the best ways to build up your credit in Richmond is to actually use a personal loan.
Learn more about what affects your credit score, click here.
Using a Personal Loan to Build Your Credit in Richmond
That's right, you can actually use a personal loan to build up your credit. Remember, making payments on time and not missing any can give you a huge boost to your credit score. As a result, taking out a small loan and paying it off in full and responsibly could boost your credit score.
Now, the loans you are getting if your score is below average will likely have a higher interest rate than standard loans. However, as long as it is a small and relatively short term loan, this higher interest rate will be worth it for the boost that you will see in your credit score.
Of course, for this to work, you need to work with a lender that reports to the credit bureaus. If the lender doesn't, you will not see any rise in your credit score as the bureaus will not be made aware of the payments. As a result, it is important to look around for the best lender before making any decisions.
Comparing lenders in Canada? Read this first.
The Right Personal Loan for You
Need help finding the right personal loan? If so, be sure to reach out to Loans Canada for help. We have helped thousands of people find great loans and are confident we can help you too.
Posted by
Kale Havervold
After dipping his toes into freelance writing while still enrolled in school, Kale decided to pursue freelance writing as his career after earning his Bachelors degree from the University of Regina. In his six-year career as a professional writer, Ka...