As the years pass, you're going to accumulate (and hopefully pay off) various kinds of debt, especially if you're a credit user. In Burnaby, the cost of housing alone can be quite substantial. While some borrowers can handle their bills just fine, others struggle to keep up with them.
When your debts get ahead of you, that's when bad credit can become a real problem, as it can prevent you from being approved with lots of different lenders. But don't worry, even with bad credit, it's still possible to get a loan.
Need some debt management tips? Check this out.
Why is Bad Credit Such a Problem?
When you activate your first credit product, the lender you were approved by should report your payment activity to Canada's two main credit bureaus; Equifax and TransUnion. Afterward, both bureaus will build you a credit report and credit score, both of which can represent your health as a credit user.
Credit Report
Your credit report is a detailed personal profile that contains a history of all your credit-related actions over the past decade or so. Every credit product you activate gets listed on the report, then receives its own account and credit rating.
Whenever you apply for a new product, your potential lender can check your report to judge how worthy of credit you are. If they see decent credit ratings and a credit history that's filled with complete payments, your chances of approval will be better. However, if you've defaulted on a lot of payments, they may deny you because there's too much risk on their part.
Want to learn how to read your credit report? Click here.
Credit Score
Your credit score is a 3-digit number ranging from 300 to 900. Since it summarizes your health as a credit user, lenders may also look at it when you apply for new credit, saving them from having to read your entire credit report. The range your score falls within can have a major influence on the outcome of your credit product.

Good Credit (660 – 900): A score within this range typically means you've been a responsible credit user thus far, so potential lenders will consider you more creditworthy. As a result, you'll have an easier time getting approved for larger credit products, lower interest rates, and better payment plans.
Fair Credit (560 – 660): If you've defaulted a couple of times in recent months or experienced some other kind of financial problem that's caused you to deviate from your payment plans, your score will slowly descend into the 'fair' range. At this point, lenders will start considering you riskier, meaning you'll be approved for less credit at a higher interest rate. That said, approval itself still shouldn't be too hard to obtain.
Bad Credit (300-590): This is where the real problems will arise because, for most lenders, a bad credit score is a sign that you have trouble making payments. Although this could be due to other factors, prime lenders like banks will be even less likely to approve you because of their tighter borrowing restrictions. While you can still be approved by a private, alternative, or bad credit lender, the product you get will be smaller and more expensive.
Click here to learn what bad credit lenders look at when assessing loan eligibility.
How Else Can Bad Credit Happen?
Unfortunately, a bad credit score might not be caused solely by your unwillingness to follow your payment plan. Actually, there are a number of situations that can lead to both defaulted payments and bad credit in general.
Bad credit may also be due to:
Errors

within your credit report

Reduced hours/income at your workplace

Car accidents, funerals, or other financial emergencies

An injury or another event that results in you becoming unemployed

Fraud or identity theft

A lack of credit history
Whatever the cause of your bad credit is, it's important to take action and avoid letting things drag out. The longer you wait to fix the situation, the less likely you'll be to get approved for new credit products (especially larger ones) in the future.
What Factors Impact My Credit Score?
If you're looking to improve your credit, it's helpful to break down your score and get to the root of the problem. While both credit bureaus have their own system, there are 5 elements that they typically use to calculate your score.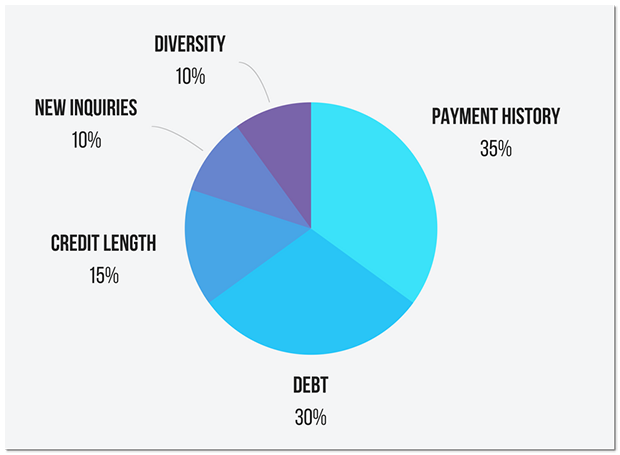 History of Payments (35%)
The largest percentage of your score's calculation is based on your payment history. Simply put, the more payments you complete, the further your score will rise. Your payment history is also one of, not the main factor that lenders look at when deciding to approve or deny your applications.
Outstanding Debt (30%)
The money you owe plays the second largest role. If you have a lot of unpaid debt spread across several accounts, your score will decrease drastically. This effect is particularly visible for products with revolving credit limits, such as credit cards. In that case, the closer you are to maxing out your available credit, the further your score would fall.
Length of Credit (15%)
A longer credit history is also good for your score, as long as you're paying all your accounts on time. For example, a credit card that you've been using responsibly for several years is healthier than applying for a new card every few months. A good history also shows prospective lenders that you're experienced in handling credit products.
New Credit Applications (10%)
Another reason why you shouldn't apply for new credit frequently is that every time your lender checks your report, a 'hard inquiry' gets listed in your credit history and decreases your score by a few points. On top of that, constantly applying for and cancelling credit accounts makes you look less responsible.
Credit Diversity (10%)
The types of credit accounts on your report can also impact your score. While having one credit card is still a good way of building credit, adding an installment-based product (like a loan) and/or an open product (like a line of credit) to the mix is even better. Again, this is only true if you're handling all your accounts responsibly.
What Are My Loan Options With Bad Credit?
A loan is a lump sum of money that gets deposited directly into your bank account after your application is approved. You'll then have to pay it back through installments. As we mentioned, the worse your credit score is, the less credit you'll be approved for and the more expensive said loan would be overall.
Don't panic, there are still plenty of lenders out there that won't hassle you, even if you have bad credit. However, you will probably have to look outside of banks, credit unions, and other prime lenders where approval is harder to obtain.
What's the difference between a bank and a credit union? Find out here.
The good news is that while a bad credit loan will cost you more and come with less favorable conditions, any responsible payments you make should elevate your credit score to the point when more traditional credit products will one day be within reach.
Loan Types For Bad Credit Borrowers
No Credit-Check Loans –

Believe it or not, there are some lenders that don't even look at your credit score when you apply. Instead, they'll base your approval on factors such as your income and source of employment.

Secured Loans –

While large amounts of credit are harder to obtain, securing the loan with

collateral

, such as your car or another asset might do the trick. Because your lender will have some security, they should be more inclined to approve you for more credit at a lower rate. You must be careful, however, because defaulting on too many payments could result in the loss of your asset.
Cosigned Loans –

Since bad credit can make a lender skeptical of your ability to make payments, having a stronger candidate to take responsibility for them if you default can also act as a form of security. Nonetheless, your payments can put your cosigner in a tough position financially, so make sure they're fully aware of that before you apply together.
What is a Loan Scam?
Before you apply for a bad credit loan, it's essential to do lots of research and compare lenders all over Burnaby, not just for the sake of finding the best loan conditions but to make sure you don't end up getting scammed.
Although it's not as much of an issue with big-name lenders like banks, smaller subprime lenders are popping up everywhere and are much harder to regulate, especially online. Unfortunately, scammers, fraudsters, and identity thieves take advantage of this situation by setting up fake lending portals.
What's worse, people with bad credit are prone to desperation and become susceptible to their traps. After all, the notion of easier approval would be a welcome relief for someone that's been rejected all over town. Without thinking things through properly, unsuspecting borrowers fork over their financial information and the trap is sprung.
Here are some signs that a 'lender' is trying to scam you:
They don't have have a physical location you can visit or report to the police

You can't find any reliable credentials or reviews about them

They can't be found in the Better Business Bureau database

They demand '

loan insurance

' before your loan is deposited

They refuse to tell you all the conditions of your loan, including the overall costs

They charge more than 15% interest ($15 per $100 borrowed), which is the legal limit for a loan product in British Columbia

Take a look at this infographic to see how bad credit affects your daily life.
Are There Other Credit Improvement Products?
If you need credit improvement but have decided that the risks associated with a bad credit loan are too great, there are a few other options available in Burnaby, even if you have bad credit. Prior to applying, it's best to consult a financial advisor so you end up with the right product or program for your situation.
Alternative credit improvement products:
Credit counselling

Secured credit card

Credit rehab savings program

Guarantor loans
Need a Bad Credit Loan in Burnaby?
If you have bad credit, it can be harder to get approved for a loan or other credit product in Burnaby. Don't give up! At Loans Canada, we cater to clients with all levels of financial health and can set you up with the right lender for your situation. Contact us today or apply below when you're ready to get started.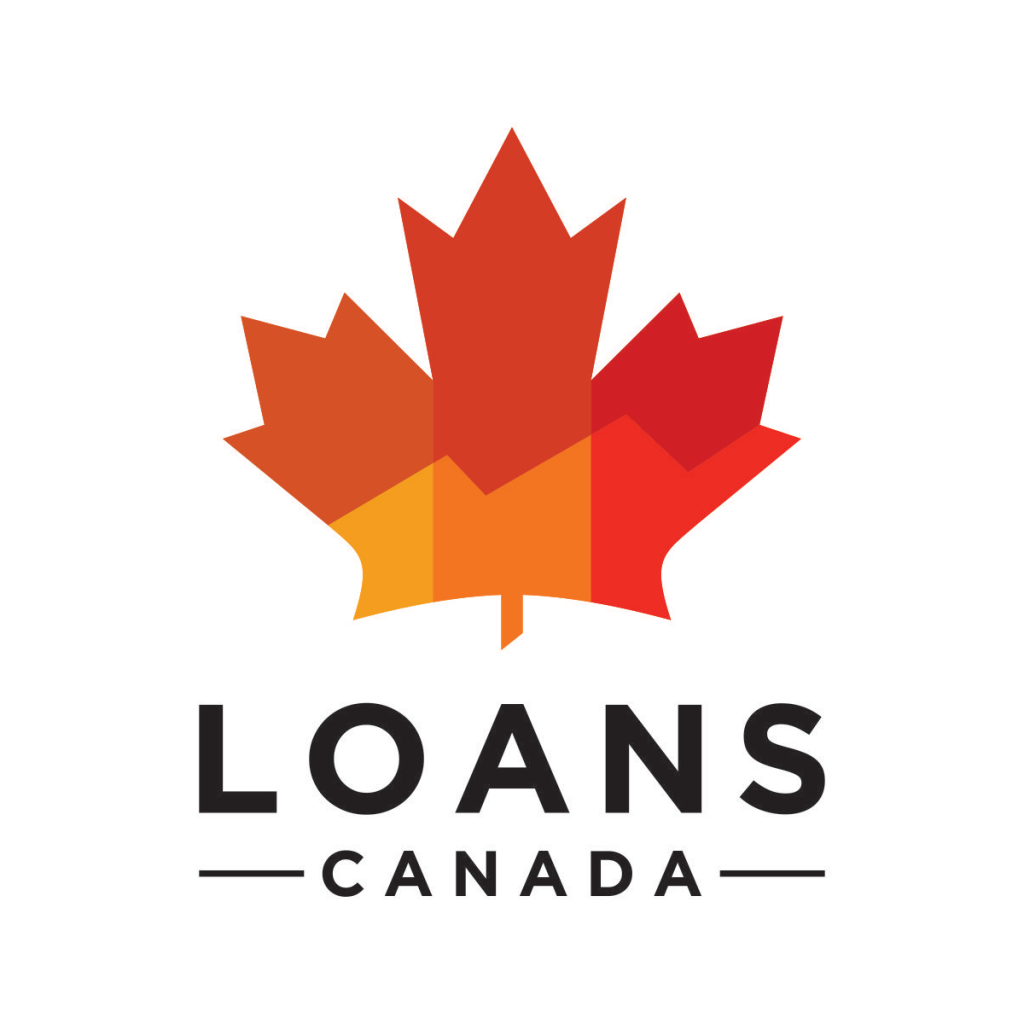 Posted by
Bryan Daly
Bryan completed the Cinema, Video, and Communications program in Dawson College and holds a Bachelor's Degree in English Literature & Creative Writing from Concordia University. Bryan covers a wide range of topics for Loans Canada, including cred...