Why Getting Your Credit Report Might be Better than Just Getting Your Credit Score
Credit scores are important. We don't deny this and we understand why a lot of Canadians want to know what theirs is and what affects it and why it goes up sometimes and down other times. These are all smart questions to ask and important information to know. We've said it a hundred times and we'll probably continue to say it over and over again, your credit health is the backbone of your financial life, whether you like it or not and whether you think it's fair or not. But do you know what we've also said a hundred times? That your credit score is not the most important thing in your life or even your financial life, confusing right?
When it's that way, it does sound really confusing, but at the end of the day it boils down to this. Your credit score is important especially if you're looking to do business with a bank and want to take out a larger loan, like a mortgage, with them. But if you have no interest in doing business with a bank, you shouldn't be obsessing over your credit score and potentially rack up a lot of debt just to try to guarantee yourself a high credit score.
Here's What we Want You to Take from this Article
While not everyone absolutely needs to be obsessing over their credit score, everyone definitely should be interested in the information contained in their credit report.
Why is everyone telling me I should know what my credit score is?
Well, the short answer to that question is because that three digit number represents how responsibility or irresponsibly you manage your credit, i.e. your credit cards and loans. If you want to apply for a mortgage or a loan or a line of credit from your bank then you should probably know what's going on with your credit score. Furthermore, if you're looking to build your credit or improve it, then you definitely need to know what you're working with and how much effort you're going to need to put in to get your credit score to whatever level you desire.
Credit scores are without a doubt a useful tool, for both you, the consumer, and for any of your potential future lenders. But, putting aside all other financial goals or potentially damaging other aspects of your financial life or future just to see an 800 pop up when you pull your credit, is something the majority of us need to stop being fixated on.
What does your credit score tell you?
Your credit score tells you what your credit score is. You get your three digit number and that's about it. You'll know whether you have good credit, if the number sits around 700 or higher, or whether you have bad credit, if it's coming in at less than 600 (that's a pretty basic rundown of good and bad credit, if you're interested in more information about this, read this article).
Your credit score sort of also tells you what your chances of getting approved for a new loan are, but only in a very general way. Basically, people with higher credit are more likely to get approved for certain types of loans and financial products that require a credit check, but keep in mind that most approval processes are not based solely on your credit score. A high credit score doesn't guarantee anything and a low credit score doesn't doom you to be credit-less for the rest of your life.
What does your credit report tell you?
On the other hand, your credit report tells you quite a lot. It's a comprehensive report that compiles together information pertaining to your credit usage. Your credit card accounts are there as well as any loans, lines of credit, or mortgages you might have. It's not simply a list of all the credit accounts you currently have open, there is information from as far back as 10 years (how long does information stay on your credit report? Find out here), as well as specific information about each of your credit accounts. Each of your accounts is given a two-part rating, a letter, which represents what type of account it is and a number that represents the standing the account is in.
Reading your credit report can also help you spot any errors that may be affecting the calculation of your credit score. As well as help you make sure that you aren't the victim to any type of fraud. Your credit report is like your high school report card, but for your financial life instead of math and gym class. It shows you what you're doing right, like keeping up with your payments, and shows you what you can improve on; maybe you have an account in collections.
The Bottom Line
Your credit score is your grade, and sometimes that's very important, but your credit report is the explanation, and that's always important. Both credit scores and credit reports are financial tools that all consumers should be aware of and use to their advantage. But, if you're credit score obsession is taking over your financial life, you need to rethink your goals.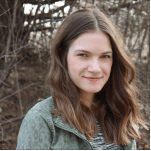 Posted by
Caitlin Wood
in
Credit
Caitlin graduated from Dawson College in 2009 and completed her Art History degree from Concordia University in 2013. She started working as a freelance writer for Loans Canada right after University, eventually working her way up to Chief Content Editor. Her work has led to a large expansion of the company's content department and she manages a staff of talented writers who are passionate about educating Canadian consumers about credit, debt, and all things personal finance. With over five ...
---