Improve Your Credit Series: Secured Credit Cards
Everyone can improve their credit; no matter what credit score you have there is always room for improvement. Credit improvement is without a doubt one of, if not the most asked about financial issue. Your credit score is like your financial lifeline, it can and will affect all aspects of your life, so it makes perfect sense that you'd want to improve it.
One of the most effective ways to improve your credit is through a secured credit card. Below we're going to take you through all the information you need to apply for, get approved and use a secured credit card to improve you credit score.
How to Get Started
Before you can start improving your credit you need to apply for and get approved for a secured credit card, these types of cards are relatively easy to get but there are still a few steps you'll need to follow.
Find the right card for your financial situation. The first step you should take is finding out what your current credit score is, this will give you a better idea of which secured credit cards you should apply for. Depending on how high or how low your credit score is will affect what type of card you'll be approved for. Knowing in advance what your score is will help you narrow down your choices and save you time.
Shop around. Now that you know what your credit score is you can shop around for the best secured credit cards. Compare interest rates, grace periods, penalties and fine print. Choose the ones best suited for you and apply.
Make your deposit. Secured credit cards require a deposit which acts as your collateral. Typically you can expect to pay a deposit of $200 to $500. This is why secured credit cards are generally speaking easier to get and great for building credit, your collateral lessens the risk for the credit card company.
Spend responsibly within your limit. Now that you have your new secured credit card you should use it, this is how you'll build your credit score. Just make sure you know what your limit is and spend responsibly. The point is to improve your credit, not make it worse.
Secured Credit Cards Are Great For…
Secured credit cards are a pretty great option for anyone, but there are definitely certain financial situations that would greatly benefit from the help of a secured credit card.
Those who need to stick to a budget. A secured credit card usually has a low limit so it's perfect for those who need to stick to a strict budget.
First time credit card users. If you've never used a credit card before then a secured one is great way to help you get comfortable with using credit to purchase things.
Parents. Secured credit cards can be very helpful for parents who want to teach their children how to manage money with credit but don't want to give them a credit card with a high limit and no collateral.
Living debt-free. If you're trying to live debt free but know that you still need some type of credit history then a secured credit card is probably your best option.
Improving credit score. If you've had debt problems in the past and are trying to improve you credit score but don't want a regular credit card or can't get approved for one then a secured credit card might be exactly what you're looking for. Your limit will be low so the chances of your over spending are low, but your credit activity will still get reported so your score will improve over time.
The Pros and Cons
As with any financial tool there are pros and there are cons, here's what you should expect from a secured credit card so you can make the right decision for your financial situation.
Pros
A secured credit card is a real credit card. You'll be able to use your secured credit card anywhere that accepts major credit cards. Yes you need to put a deposit down but that simply covers the risk for your credit card company. If you use your secured credit card and manage it properly you'll get your deposit back and won't be able to tell the difference between it and an average credit card.
It can help you rebuild your credit. Because a secured credit card is a real credit card your credit actively will be reported to all of the major credit bureaus. This is what will allow you to improve your credit score.
Is usually easier to qualify for. It's not guaranteed that you'll be approved but the chances are slightly higher. The requirements and qualifications are less strict than those associated with average credit cards.
Cons
Small credit limit. Unfortunately your limit will be small; it's usually the same as your deposit. The point of a secured credit card is not to have a huge limit but to slowly and safely build your credit score over time.
Fees. Depending on which secured credit you go with the fees can start to add up. But don't be discouraged, if you do your research you'll more than likely be able to find a card those fees are much more affordable.
How to Positively Affect Your Credit Score
Your credit score will not magically start to improve once you get approved for a secured credit card. It will take time and hard work on your part. The most important thing you can do when shopping around for the right secured credit card is make sure that your credit activity will be sent to the two major credit bureaus (Equifax and TransUnion). If your credit activity is not reported then there is no way for you to improve your credit score.
If you're trying to improve your credit you need to treat your secured credit card like a financial tool, not like cash to be spent. You'll need to always without fail make your payments on time. Your credit utilization ratio should also not go above 25% and less than that is better. This means that you shouldn't carry a balance that's above 25% of your total limit. So if your credit limit is $300 then your balance shouldn't go above 75%.
While you shouldn't over use your secured credit card when trying to build your credit score, you also shouldn't under use it. Don't be afraid to charge a few things every month and then pay off your balance when it's due, this is exactly what you should be doing to improve your credit.
Why Choose A Secured Credit Card?
With a secured credit card your financial history, or lack of one, won't be held against you. You'll have the opportunity to improve your credit score and create a credit history. Secured credit is one of the smartest and easiest ways to get your credit back on track. Do some research, shop around and find the one that's best suited for your situation and start working towards a healthier financial future.
Learn how your credit score is calculated here, or watch the video.
---
★
★
★
★
★
Rating of 5/5 based on 1 vote.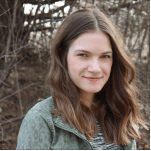 Posted by
Caitlin Wood
in
Credit
Caitlin graduated from Dawson College in 2009 and completed her Art History degree from Concordia University in 2013. She started working as a freelance writer for Loans Canada right after University, eventually working her way up to Chief Content Editor. Her work has led to a large expansion of the company's content department and she manages a staff of talented writers who are passionate about educating Canadian consumers about credit, debt, and all things personal finance. With over five ...
---