What Happens when your Co-signer Declares Bankruptcy?
If your credit isn't so great or if you don't have credit at all getting a co-signed loan is one of the best ways for you to start building your credit and borrow the money you need. A co-signed loan opens up so many doors that were closed to you in the past, allowing you to get a loan that wouldn't have been an option before. A co-signed loan can get you the car you need, the home you've always dreamed of or a personal loan to help with daily financial needs.
While being approved for your first loan is an exciting landmark in your life it's of the utmost importance that you choose your co-signer wisely. A co-signed loan could be exactly what you need to build your credit and show future lenders that you're financially reliable, a co-signer who is having their own financial difficulty could ruin it for you.
Yes, most banks and private lenders only approve co-signers that have good financial histories but in reality it's hard to tell what will happen in the future based on a few numbers. The co-signer you choose now might be in a great financial situation but they could lose their job, get sick or have a financial emergency. This is why it's extremely important that you both choose your co-signer with care and be prepared and able to make all the loan payments on your own.
The Loan
A co-signer is meant to lessen the risk of the loan for the lender and allow you to get the money you need. A co-signer is not there for you to fall back on when you've spent too much of your paycheque on unnecessary things. If you got a co-signer for the right reasons in the first place then you should be able to make all your payments without any difficulty even if your co-signer files for bankruptcy.
A co-signer shouldn't be used to get out of making payments, so if this is why you're thinking about getting a co-signer then don't. And if your current co-signer has filed for bankruptcy and you were relying on them to make half of the payments then you need to get a new co-signer or call your lender and figure out what you can do to make all the payments yourself.
You're on Your Own
Once your co-signer files for bankruptcy they are no longer obligated to help you with payments if you aren't able to make them yourself. While this could potentially be an issue for you, it completely depends on your own current financial situation. Your lender might become worried that you won't be able to make the payments by yourself because you no longer have a "safety net". The most important thing you can do is to continue to make your payments on time and in full, this way your lender will see that they can trust you, and your credit score won't suffer from missed payments.
Your Credit Report
What can happen is that the loan will show up on your credit report as being a part of a bankruptcy because your co-signer has filed for bankruptcy. But the good news is that this won't affect your credit score so you'll be able to continue to build your credit standing with the loan. Keep an eye on your credit report and score just to be sure that nothing out of the ordinary is happening. Keep in mind that while the fact that your co-signer filed for bankruptcy isn't an ideal situation you are not the one that filed, so don't panic.
If You Can't Make the Payments
Unfortunately in the event that you're unable to make the payments your credit score will be negatively affected. If you were using the loan to pay for a car then it could be repossessed or your lender could sue for the amount you owe them. The reason for this is because your co-signer is no longer responsible for the loan if you can't make the payments, when your co-signer files for bankruptcy you became the sole person responsible for the loan.
If you're thinking about getting a co-signer to help you get approved for a loan so that you can build your credit or purchase something it's important that you choose a good co-signer. As we discussed above a co-signer is meant to lower the risk of the loan for the lender and isn't there to actually make any of your payments. A loan is a serious commitment so not only should your co-signer be in good financial standing your own financial situation needs to be on point. Take your time, do your research and you shouldn't have any difficulty using a loan to improve your financial health, even if your co-signer files for bankruptcy.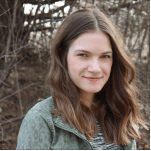 Posted by
Caitlin Wood
in
Bankruptcy
Caitlin graduated from Dawson College in 2009 and completed her Art History degree from Concordia University in 2013. She started working as a freelance writer for Loans Canada right after University, eventually working her way up to Chief Content Editor. Her work has led to a large expansion of the company's content department and she manages a staff of talented writers who are passionate about educating Canadian consumers about credit, debt, and all things personal finance. With over five ...
---