Tips for Renovating a Home
By

Caitlin in Mortgage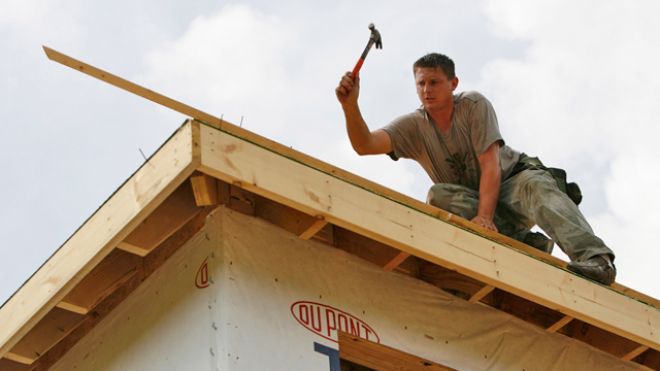 Whether an individual wishes to sell their current home or just make it a better place to live, home renovation should be considered. By making necessary updates, improving curb appeal, and renovating rooms like kitchens and bathrooms, it is possible to increase a home's value.
Necessary Updates
Adding value to a home may be as simple as upgrading all major systems in the house. Old or outdated wiring, central heating or cooling systems, or plumbing may require frequent repairs or be costly to operate. By renovating these major systems, a home owner may increase the value of a home, as well as decreasing regular operating costs. Older roofs should also be considered for renovation. An older roof is more likely to leak, decrease heating and cooling efficiency, or even collapse. By completing these necessary updates, an owner may increase the value of a home.
Curb Appeal
How a house looks from the street impacts the first impression a potential buyer develops, impacting the value of the home. Increasing curb appeal may be as simple as applying a fresh coat of paint. The paint should be in a visually appealing color and not extremely bright or garish, since bright or garish colors may be a turn-off for many potential buyers. Adding easy to care for plants, such as perennials or plants that don't require much maintenance, also improves the curb appeal of a home. Furthermore, homes that have walkways or driveways should keep the concrete clean and clear of weeds. Dirty, weed-infested driveways send a negative signal to a potential home buyer. If the outside of a home is not cared for, a potential home buyer will imagine that the inside of the house will be equally unkempt, regardless of truth.
Kitchen Renovations
Kitchens are frequently cited as one of the rooms that increases a home's value. Therefore, renovation of a kitchen may be a way to improve a home's overall value. Things that make a kitchen functional, such as a lot of counter space and cabinets, may be improved to increase the value of a kitchen. Counters should be made of material that is easy to clean, and cabinets should be large, while aesthetically pleasing. Also important to the value of a kitchen are the appliances. Stainless steel is popular due to its durability and how easy it is to clean. Any appliances should be coordinated to match. Another feature that may add or detract from the value of a kitchen is the lighting. If a kitchen has a single, dim light fixture, it may detract from the kitchen's value. To improve a kitchen's value, consider installing brighter light fixtures, which makes a kitchen seem more open.
Bathroom Renovations
Renovating a bathroom is also a good way to increase the value of any house. When renovating bathrooms, it is important to update the appliances. Outdated toilet, sink, or shower fixtures makes a bathroom seem much less appealing. By simply replacing sink fixtures, showers, and toilets, the quality and value of the bathroom may be improved. An outdated or plastic shower should be replaced with ceramic or glass. This creates greater aesthetic appeal, as well as a sense of durability. Another option to consider when renovating a bathroom is to replace the flooring. Bathrooms that have wood or linoleum flooring are not ideal. Wood and linoleum are less able to deal with large amounts of water, are harder to clean, and may develop mold. To increase the value of a bathroom space, consider ceramic tile flooring. Ceramic tiling not only makes bathrooms more aesthetically pleasing and easy to clean, but may also increase the bathroom's value.
Money-Saving Tips
There are several ways that an individual may save money while renovating a home. For instance, consider ordering lighting or sink fixtures online. With a little research, it's possible to find great deals over physical stores when buying items like lighting fixtures, tiles, or sink fixtures. However, it's important to keep shipping costs and delivery time in mind when ordering online. This will prevent overpaying for an item or potentially delaying a renovation when fixtures don't arrive on time.
For those who don't wish to buy online, saving money may also be accomplished in person. For instance, when buying in bulk, ask for a volume discount. Oftentimes, the store owner may have discounts to offer for buying in bulk. Furthermore, may home improvement or hardware stores offer a price match guarantee. By shopping around, it's possible to get renovation supplies for less through taking advantage of price match offers.
Overview
Home renovation may be expensive. However, by doing the research, it is possible to save money. Furthermore, by updating a home's major systems, kitchen, curb appeal, and bathrooms, it is possible to easily increase the value of a home through renovation without breaking the bank.
---