Loans, Credit, Mortgages and Financing in Kingston
By

Caitlin in Geo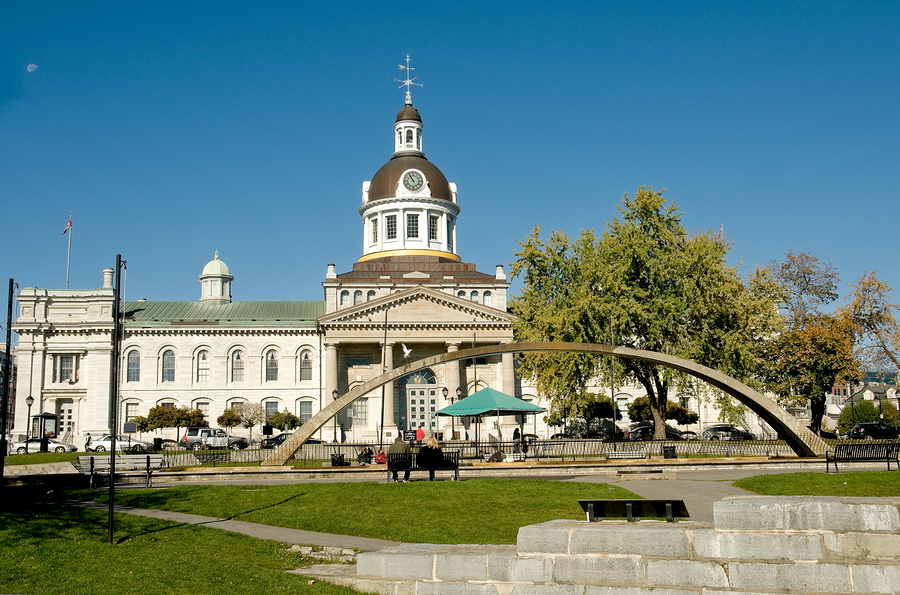 Kingston is located in eastern Ontario and is the halfway mark between Toronto and Montréal. It became a trading post in the 17th century so that the European settlers and traders could be closer to the Native settlements. Fort Frontenac was founded in 1673 and became an important settlement in Canadian history. Today Kingston is an education hotspot and an extremely important centre for research into health and environmental sciences.
Fun Facts
Between 1841 and 1844 Kingston was Canada's first Capital City.
It is the home of Canada's first Prime Minister, Sir John A. Macdonald.
Canada's oldest newspaper, The Kingston Whig-Standard, is produced in Kingston.
Kingston is Canada's third oldest city after Halifax and Quebec City.
Statistical Analysis
| | |
| --- | --- |
| Population | 123,363 |
| Average Family Income | $80,800 |
| Average Price of House | $287,800 |
| Provincial Income Tax | 5.05% on the first $40,922 of taxable income |
| | 9.15% on the next $40,925 |
| | 11.16% on the next $68,153 |
| | 12.16% on the next $70,000 |
| | 13.16 % on the amount over $220,000 |
| Provincial Sales Tax | 8% |
| Unemployment Rate | 7.1% |
| Insolvency Rate | 4.0% |
Kingston Housing Market
The housing market in Kingston can be described in two words, balanced and solid. It's a great time to own a house in this region. The housing prices have continued to rise over the past couple of years in both Kingston and Eastern Ontario as a whole stimulated by a very stable employment rate. While Kingston's housing market may seem rather boring compared to the housing market in Toronto, this makes it a great place to invest in real-estate.
How to be a Responsible Consumer
Protecting yourself from consumer fraud, credit scams and identity theft should always be a priority. By learning how to be a responsible and conscientious consumer you'll be able to arm yourself with the information you need.
Keep an Eye on Your Credit Report. Your credit report contains all your financial and personal information. Including your employment record, credit card use, previous and present debts and marital status, this is all extremely valuable information and you should always make sure it is up to date.
Maintain a Healthy Credit Score. Maintaining a healthy credit score will give you the financial freedom to pursue all your life goals. A high credit score will make applying for loans all the easier and could potentially afford you more favourable interest rates.
Responsibly Manage Your Credit, Debts, and Loans. Always pay your bills on time, especially credit card and loan payments. Only borrow money that you need and can afford to pay back. And If you're having difficulty keeping up with your bills get in contact with your lender or creditor right away.
Consumer Protection in Kingston
Consumer Protection Ontario works with both consumers and sellers to help regulate the marketplace solve any issues that might arise, investigate complaints and enforce legislation. For all the information you need on consumer issues in the city of Kingston contact Consumer Protection Ontario or visit their website.
Consumer Protection Branch, Ministry of Consumer Services
5775 Yonge Street, Suite 1500
Toronto, Ontario M7A 2E5
Telephone: 416-326-8800
Toll Free: 1-800-889-9768
Phone (TTY): 416-229-6086
Phone (TTY) 2: 1-877-666-6545
Fax: 416-326-8665
Email: consumer@ontario.ca
Website: www.ontario.ca/consumerprotection

Protecting Your Personal Information
Always keep all of your personal information private; never share more information than you need to. Keep an eye out for strange charges on your credit accounts or errors on your credit report. If you think you might be the victim of identity fraud or a credit scam get in contact with the two major Canadian credit reporting agencies (Equifax and TransUnion).
Equifax Canada Inc.
Toll-free: 1-800-465-7166
www.consumer.equifax.ca
TransUnion of Canada
Toll-free: 1-800-663-9980
www.transunion.ca
---