How much of your money should go to your mortgage?
Buying your first home is an exciting and often overwhelming process. Of course you are thrilled to find the elements of a home that excite you and that you've always dreamed of having, but you're also a bit scared of the associated costs that come along with home ownership. You've probably asked yourself many times by now if you can really afford to purchase a home; the good news is that with the housing market still in a major slump, this is a great time to buy. Mortgage rates are low and incentives are high. Mortgage brokers are uncommon in Canada, but you should look into finding one you trust to help guide you through this process if you're not sure what to do.
How much can I afford?
The largest mistake a home buyer can make is to overspend on the mortgage only to find it's not truly a feasible amount, which can lead to barely scraping by and possibly even losing your house. When in doubt, err on the side of caution.
There are many schools of thought that go into determining how much money you can afford to borrow for your mortgage. Many will tell you to plan on spending a third of your monthly income on housing; however, this can be short sighted advice as it does not take into account your other ongoing monthly debts and obligations.
The best way to determine mortgage size is to compare your gross monthly income with your total debt. Look at how much money you have at your disposal after paying other debts such as auto loans, education loans, or credit debt. Try using an online calculator to factor in taxes and other associated fees of the areas you're shopping in to find out how much of your income is left over to be spent on the mortgage.
How much should I have saved?
While there is no hard and fast number on the amount of money you should have acquired prior to starting your home purchase, it is generally true that the more you have, the better. You will be able to borrow more from the bank if you have more of your own funds available for a down payment, and you can have a safety net in case something goes wrong and your income drops.
Don't forget rule number one though: don't over-borrow. Just because the bank is willing to give you a lot of money, don't feel obligated to take it. Know your own financial limits and stay well within them to avoid bad situations.
How much should I put into a down payment?
A good rule of thumb is to have a 20% down payment. This saves you the cost of private mortgage insurance and yields you lower interest rates. In this way, saving up before you buy will save you tens of thousands of dollars over the life of your mortgage loan. Unlike American banks, most Canadian banks will be fairly similar on loan terms, but you'll still want to double check the fine print.
20% is not a requirement, however. You can secure a mortgage with as little as a 5% down payment and still lock in relatively low interest rates. In some rare cases you may even be able to purchase a home without a down payment. Remember though, this is not advised and will wind up costing you a lot in extra insurance and interest premiums.
Now that you're armed with the basics of informed and mature mortgage knowledge, you're probably ready to talk with a banker. Make sure you shop around for the the lowest rates and find a lender that you trust. This is likely a long-term relationship you're starting, and it is important that you feel comfortable with the terms and company you choose to work with. Remember, this should be an enjoyable process and very exciting time in your life, and it can be a wonderful decision if you do your homework.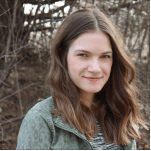 Posted by
Caitlin Wood
in
Posts
Caitlin graduated from Dawson College in 2009 and completed her Art History degree from Concordia University in 2013. She started working as a freelance writer for Loans Canada right after University, eventually working her way up to Chief Content Editor. Her work has led to a large expansion of the company's content department and she manages a staff of talented writers who are passionate about educating Canadian consumers about credit, debt, and all things personal finance. With over five ...
---