Mortgage Affordability
By

Caitlin in Mortgage
A house or property purchase is often the biggest transaction people make in their lifetimes. The mortgage size people usually qualify for is often 3-5 times greater than their annual incomes. Not only that, home prices in Canada have seen steady growth over the last decade. All of this might seem daunting at first. Home purchases are indeed expensive. The question is, how much can you afford?
When evaluating a prospective home purchase, you have more than just a few factors to consider. Undoubtedly the price of the property is highly important, but just as important is your credit score, your down payment, the mortgage rate, the term of the loan, your income level and your budget (you don't want to be house-poor!).
To be house-poor means you can make your monthly mortgage payments and even cover your other utility and tax bills but your budget doesn't have any leeway for unexpected expenses.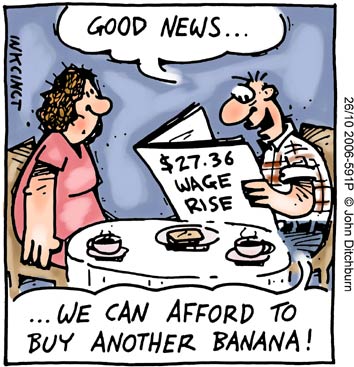 Because nobody wants to be this guy!
To evaluate your mortgage affordability, the first thing you need to do is determine what percentage of your yearly income would be used to pay down your mortgage loan. If this portion exceeds 40 or 50% of your total income, then you are treading risky ground. It is recommended that this ratio maintains at about 30% of your income.
The next ratio you need to consider is your debt to income ratio, also known as the DTI. This will determine the income you require to pay down your debt. You should include your credit cards, car loans and any other debts in this calculation. Loan professionals recommend that this ratio stay below 36%.
Your down payment will influence your monthly mortgage payment amounts as well as your mortgage rate. It works like this: the larger your down payment, the smaller your mortgage, the lower your monthly payments will be. And of course, the opposite is true as well. Moreover, you will have to pay CMHC mortgage insurance if your down payment does not hit 20% of the value of the property you want to purchase. CMHC insurance is an extra expense, added to your mortgage payment, and so it should be considered when you evaluate your mortgage affordability.
The next thing you will want to consider is your lifestyle. Putting money towards a mortgage will take a big chunk out of your monthly budget. Are you prepared for this? You need to evaluate your situation and see if the a new home is worth the sacrifice.
Lastly, buying a home goes beyond paying down a mortgage and property taxes. There are many costs that come with owning a home (and when calculating your mortgage affordability you should be allocating a budget to cover these expenses). Tthese costs include:
– Utility bills (i.e. heating, internet)
– Maintenance costs (i.e. roof repairs)
– Renovations/home expansions
– Furniture & appliances
When you make the decision to purchase a new home, make sure you take all of these factors into account.
---