12 Scams to Avoid This Holiday Season
By

Caitlin in Money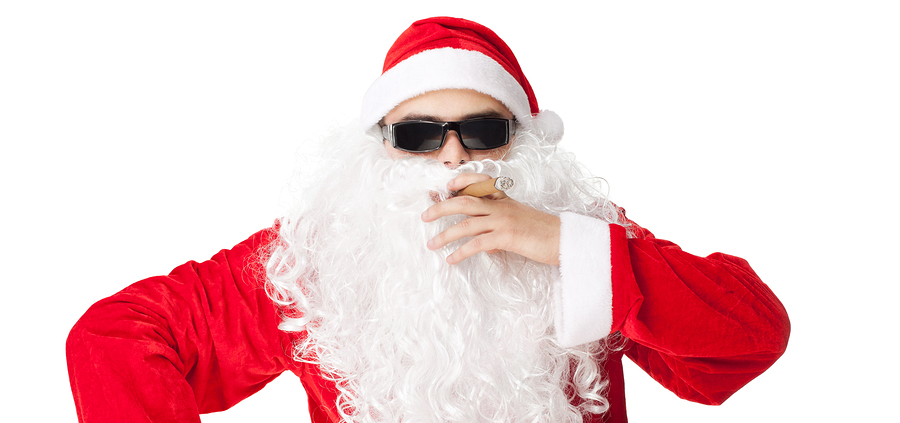 The holidays are a time for family, friends, joy, happiness and apparently scams. Unfortunately this time of the year seems to attract the worst kind of ill-intentioned people who try to take advantage of the hectic and rushed nature of the season. To help you avoid these scammers and criminals here are the 12 scams of Christmas straight from the top authority on all things sketchy, cybersecurity firm McAfee.
1. Email Scams
You probably get inundated with emails all year long but during the holiday season it sometimes gets out of hand. Dozens if not hundreds of emails pour into your inbox on a daily basis throughout the month of December, do you ever stop to think about whether or not you know who they're from and why you're receiving them? Most of us know what spam mail looks like but it's the emails disguised as advertisements for sales and updates on your online shopping orders that you need to be extra careful about. Make sure you protect yourself by double checking the authenticity of an email.
2. Misleading Advertising
Holiday shopping is all about getting the best deal and finding the perfect price for that perfect gift and retailers and scammers alike know it. There are countless deals, promotions and giveaways that are legitimate but for every real one there is at least one that is fake. Make sure you know what's going on before you hand over your hard earned cash, name or address this holiday season.
3. Fake and Dishonest Charities
Everyone wants to be charitable during this time of the year and it's no wonder that scammers and criminals have started to capitalize on this fact. Fake charities and organizations who aren't being honest about where your donation is going are one of the biggest scams during the holiday season. If donating to a charity is a holiday tradition of yours make sure you do your research and choose a well know and legitimate one.
4. Data Breaches
The holiday "data breach" seems to have become a new holiday tradition. Large retailers are being targeted during the holidays for their customers personal and financial information. Yes, there isn't much you can do to stop this type of scam from happening but you should try to protect yourself as much as possible. Check your online statements and all your banks accounts and credit cards on a regular basis, once a day during this time of year is your best bet. This way if there is any suspicious activity or fraudulent charges you'll be able to catch them right away and prevent the damage from getting out of hand. Bonus points if you make this year round tradition.
5. App Scams
Apps are great and they can help make the holidays just a little more pleasant by streamlining and organizing the chaos. Just make sure you download with caution, having a hacked or virus infected phone during this time of the year is the last thing you'll want to deal with.
6. Getting Carded
You'll probably receive a cute sing-a-long holiday themed e-card from at least one of your relatives this year, but aside from the cards that you are expecting you'll also probably receive a couple of fake ones. These fake holiday e-cards could contain viruses so make sure you don't open any that you weren't expecting and definitely don't provide any personal information to open the card.
7. Holiday Travel
Holiday travel is stressful enough without having to worry about being scammed and taken advantage of, but unfortunately there are many risks involved with traveling during this time of the year. If you're looking to save some money this year then you're probably going to be looking for some kind of a deal or discount. Legitimate travel deals do exist but you should do your research before you decide to hand over any cash, some deals might not be quite as good as you're led to believe.
8. Over the Phone Scams
If you're unfortunate enough to be a part of a data breach or credit card scam this year then you'll probably get contacted by your bank or credit card provider. Scammers have grabbed onto this information and are now contacting people and pretending to be bank and credit card representatives when there has been no breach or scam. The deal is, they'll try and get you to give them your information so they can help "fix" the fake problem for you. No real bank or credit card provider will call you and ask for you to give out personal information over the phone, make sure you double check before you provide anyone with any personal information.
9. ATM Fraud
ATM skimming isn't a new scam or even one that's particular to the holiday season but it's still a real threat. Criminals will attach devices to ATM and copy your personal financial information from your debt card and then use that information to steal your money. Always take a moment to check out an ATM before you withdraw cash and always make sure no one can see your PIN number while you enter it.
10. Year in Review Traps
"Year in review" article and videos have become increasingly popular over the last couple of years and for good reason, it's really nice to reflect on the events and issues of the last 12 months. But of course, as with anything that becomes very popular criminals have started to use the "year in review" idea to scam innocent people. Watch out for emails from unknown senders that use the title "year in review", they could contain any number of scams and viruses.
11. Lost Smartphones, Laptops and Tablets
Losing one of your devices this holiday season could end up being more a hassle than you thought. No one wants to have to replace an expensive smartphone or tablet especially when all their money is going towards purchasing gifts for others. On top of the replacement cost your lost device could end up in the hands of someone who's up to no good and you could have to pay in other ways is they get a hold of your personal information. Make sure your devices are protected by taking the appropriate security measures.
12. Free USB Drives
Everyone loves to get free gifts during the holidays but did you know that it could potentially be a virus in disguise? USBs are pretty commonly added to gift baskets and are often given as free gift with purchase. These USB drives could have malware or viruses on them, since they aren't that expensive to buy it your best bet to pass on the free ones.
The most important information you should take from this list is to be cautious and to double check anything that seems too good to be true. Remember, not everyone is out to steal your financial information but if you keep an eye out then when a scam does present itself to you, you'll be prepared to act accordingly.
Related Articles:
---