SCOTIABANK BUYS ING
By

Caitlin in Finance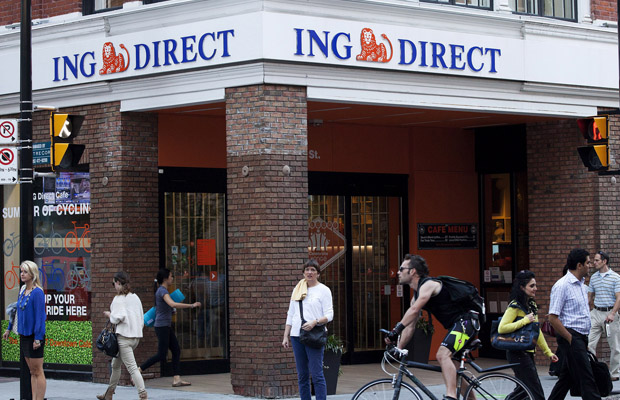 The all-cash deal was announced yesterday: Scotiabank is buying ING for $3.1 billion. ING, owned by ING Groep in Holland, with around 1.8 million customers and over $40 billion in assets, ranks #8 in Canada's short list of large banks.
ING is famous for its TV commercials depicting the large banks in a dark light and advising customers to save their money. ING entered the Canadian financial market in the 1990s as an online-only bank, with no brick and mortar branches. Through this strategy ING has been able to offer better rates on deposits than other banks. However with the introduction of online banking by other major banks the value of ING's online technology has diminished.
ING Groep has been facing financial challenges for months now. It previously sold its insurance operations in Latin America. Today's deal has been speculated for months, with bids from various buyers predicted.
Scotiabank has stated that this change in ownership will not be noticed by customers as the bank has made the commitment to let ING continue to run independently. Most analysts praise Scotiabank for this move as it is said that it will give a boost to Scotiabank's sluggish retail operations (as compared to other banks).
The deal is expected to close by December after all regulatory conditions and approvals are passed.
What does this mean for consumers?
Like with most mergers, Scotiabank's acquisition of ING Bank of Canada takes competition away from the market. ING was sitting as Canada's eighth largest bank, while Scotiabank sits in third place. This acquisition is a strategic and intelligent move for Scotiabank, but ultimately it is the consumers that lose.
Scotiabank is making a bold statement with this acquisition, displaying its continued leaning towards the status of THE Canadian banking power house. However, the acquisition also represents a branding issue for the bank. Scotiabank is licensing ING's lion for 18 months after which the bank will have to find another branding solution.
This move can also result in a loss of customers. A lot of people dislike large banks and ING offered a great alternative. But now that the leaner ING falls under Scotiabank's umbrella, a lot of customers may walk away. In fact, ING's advertising strategy always pushed an anti-big bank message and Scotiabank's acquisition challenges ING's historical stance in the market. These customers might leave and go for smaller banking alternatives such as credit unions and other similar institutions.
---