Ontario Debt Collection Laws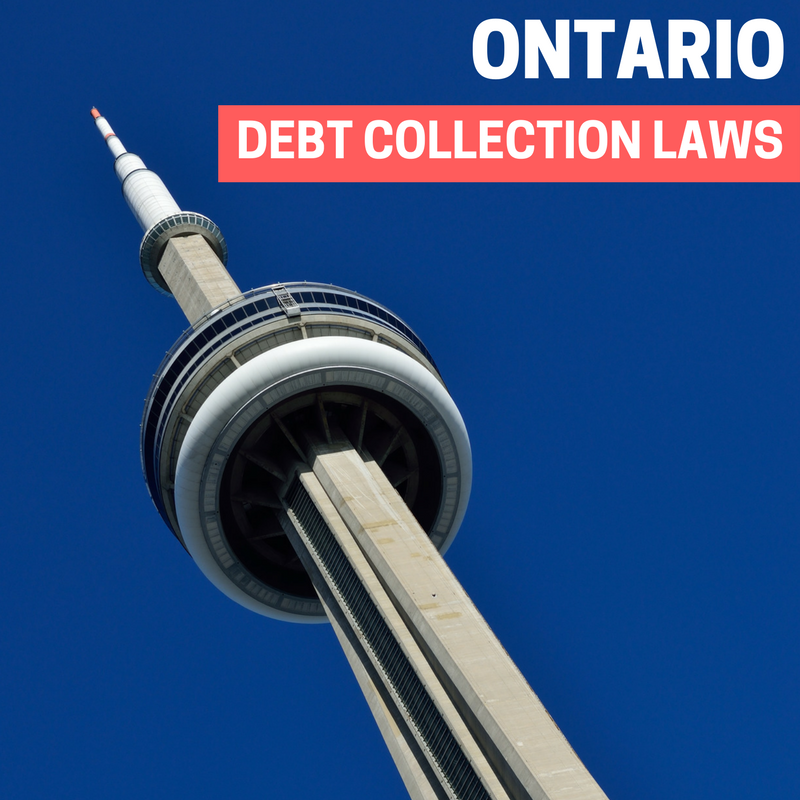 Loans are fantastic items that help millions of people across the country get the cars, homes, and educations of their dreams. However, if you are unable to pay back the loans you secure, you can be in for a world of trouble. If the bank, creditor, or lender that gave you the loan is unable to get you to pay back the loan, they will often enlist the help of a debt collection agency.
These agencies use much more aggressive and persistent tactics for retrieving the money that you owe. They may even pester you to the point when you finally pay the money back. If you don't pay, however, they can take legal action against you and, eventually, your wages could be garnished in order to pay off your debts.
To learn more about wage garnishment in Canada, click here.
Before we look at the rules and laws about debt collection in Ontario, we'll take a quick peek at the process of debt collection in Canada, so that you'll know what to expect if your debt ever goes into collections. This will also help you to figure out if your collection agent is being lawful and following the proper procedure.
The Process For Debt Collection
Your first contact with a debt collector will be a letter saying your account is now in collections and requesting that you pay off your debt. A few days after this letter arrives, the debt collector will call you and let you know that you owe a debt and that they will be trying to collect it. After this, they're required to send you another letter, this time informing you of how much you owe, who they are, what creditor held the debt and other such details. The next thing you should do is look into pay off the debt. If you do not, they will keep pressing you and may eventually resort to legal action.
For more information about the debt collection process in Canada, read this.
Now that you know a bit about the process of dealing with a debt collector, you might be thinking to yourself, "how is this legal"? Yes, it is quite aggressive, but it is indeed legal for them to call you a lot. However, some rules and regulations do exist that debt collection firms and agencies need to follow in order to stay within legal grounds. Knowing and understanding the ins and outs of debt collection can be difficult, especially because each province in Canada has their own rules, regulations, and laws. With that in mind, let's take a closer look at the debt collection laws in Ontario.
What Are The Debt Collection Laws in Ontario?
As mentioned earlier, a debt collection agency must let you know via writing before they are allowed to contact you and only after 6 days have passed can they reach out to you. However, there are a number of other different rules for debt collectors that focus on things they can and cannot do. In an effort to lay things out as simple as possible, we will first look at some of the tactics they can use, then look at the ones they cannot.
Tactics a Debt Collector Can Use in Ontario
Call you to ask you to pay your debts.

There are, however, rules about how and when they can call you, which we'll look at in the next section.

Call your friends and family.

However, they can only do this in order to get your address or phone number if they are unable to reach you.

Call your workplace.

Once again, they can only do this in order to get your employment information and should not tell your employer any information regarding your account.

Pursue legal action.

If enough time passes and they give you a written warning of impending legal action, the debt collection agency can indeed sue you if they see fit.

Be very persistent.

While there are rules about being too aggressive or harassing, they will be much more persistent than you may be expecting and will get quite annoying very quickly.
Tactics a Debt Collector Cannot Use in Ontario
Contact your friends or employer and ask them to pay the debt or let them know you even have any debt in collection.

Charge you any extra fees of any kinds. The only fees you are responsible for are the interest on the debt and any other late fees the original lender may have given. The debt collection agency cannot add any more.

Use unreasonable pressure on you, threaten you, or use excessive/threatening language. They are allowed to be persistent but must keep it civil.

Contact you on a holiday, between 9 PM and 7 AM. On Sundays, they can only call you between 1 PM to 5 PM. Also, they can only call you at numbers you have provided for them.
For a full list of the debt collection laws in Ontario, be sure to check out the Collection and Debt Settlement Services Act. This will give you all the necessary information about anything you could ever need to know about the legality surrounding debt collection laws in Ontario.
How to Handle a Debt Collector in Ontario?
Generally, it is a good idea to work out a plan to get your debt paid back as soon as you first hear from a collection agency. This is because they won't simply go away and will often get more persistent the more you ignore them. Thankfully, many collection agencies have multiple ways available for you to pay off your debts. You can either decide to pay it off in one lump sum, come up with a payment plan, or even work out a settlement which could end up with you paying less than you would have had to otherwise.
Click here to learn how to qualify for debt settlement.
Of course, it's best to ensure that the debt collectors really are who they say they are and ask for proof of debt before sending them any money. Thankfully, it is required for the debt collectors to give you all this information up front, so this should have been covered in the opening phone call or letter. However, sometimes, debt collectors do not always follow the rules and as a result, you should be aware of what to do if a debt collector is breaking the law or is going too far and is harassing you.
For information about debt collection scammers and how to deal with them, look here.
What To Do if a Debt Collector Is Breaking the Law in Ontario
If you feel that a debt collector is going too far and breaking the law, you can do something about it and don't have to sit idly by while it happens. The first thing you should do is send the agency a letter that tells them what they did wrong and that you expect them to follow the law.
If nothing happens and they continue to break the law, then you can file a complaint with the government. Remember, you will need proof and supporting documents to back up your statements, so be sure to include those. These could be digital call recordings, letters, photographs, or letters from your employer, friends or family. Most of the time, these debt collection agencies know the laws and abide by them, but you never know, so it's good to be safe and learn what to do in the instance they abuse their power.
In conclusion, be sure you are aware of the debt collection laws in Ontario, if and when you find yourself dealing with a debt collection agency. If you are unaware of these rules, it can be tough to know whether a company is overstepping their boundaries or not. While working with debt collection can be a scary and overwhelming experience, hopefully, this article has made you a bit more comfortable and prepared to deal with it.
Written by
Kale Havervold
in
Debt
After dipping his toes into freelance writing while still enrolled in school, Kale decided to pursue freelance writing as his career after earning his...
---