Rent vs Buy: Which is better?
By

Caitlin in Mortgage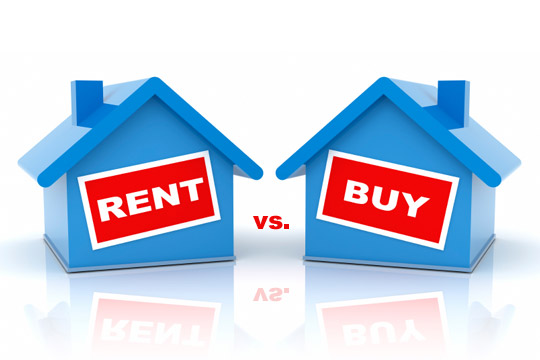 Most individuals, young or old, rent at some point in their lives. The question is, at what point does it make sense to start paying for a home instead?
It is common knowledge that many landlords rent out their properties to pay off their own mortgage loans. As a tenant you are most likely helping somebody pay down their debt or providing them with a secondary source of income. Wouldn't you be better off doing this for yourself? In so doing you would be building your own home equity and increasing your own self-worth.
The costs of owning a home go beyond just paying down a mortgage and paying your utility bills, you will be responsible for paying hefty property taxes and the maintenance expenses of your new home. It is no walk in the park; however the benefits of home ownership are astounding.
As a home owner it will be easy for you to obtain future loans. This would come in handy in the event of an emergency or if you would like to purchase a car or another expensive asset. Home loans tend to be provided at low rates whereas personal loans (for cars and other things) are often handed out at double the rates of a home or more. Also, if you find yourself with a lot of credit card debt in the future you can leverage your home equity and obtain what's called a debt consolidation loan (a large, low interest rate loan to pay off your high interest rate debt).
Real estate is known to increase in value over time. In Canada home prices are skyrocketing so getting your hand on some property is an excellent financial move. Furthermore, mortgage rates are at a record low and we have seen them drop more and more over time this year. Buying a home today is a smart way to start building wealth for tomorrow.
Lastly, as commonly iterated by advocates of home ownership, at the end of your rental period you end up with nothing. On the other hand, if you are working towards a mortgage, at the end of your loan term you will own a property – and on your way to home ownership you will be developing home equity. It's a no brainer!
You can use our mortgage calculator below to check your mortgage affordability.
Lastly, it is worth considering that you can find common ground between the two. You can always rent to own! Learn more about our renting to own services here.
---