The Top Budgeting Apps for Canadians
Today we use our smartphones for everything: from checking e-mails to reading books.We can even constantly monitor our heart rate through our phones. So it only makes sense that we can now manage our finances on the go from our smartphones. Whether you're trying to get yourself out of debt, trying to save up for a specific purchase or just trying to keep a firm grip on your finances, here are some of the best budgeting apps you should look into.
Mint.com Personal Finance
Mint.com is rather prominent in the world of online budgeting and within the past few years their app has grown to match their online popularity. With Mint, you can connect all your accounts to the app so you can track all the withdrawals and deposits from your accounts. You can also track and label your spending, pay your bills, check your spending and double-check your budget before making any large purchases. There are also several different notifications you can enable to notify you of upcoming payments or if your account balance falls below a certain point.
What does the average Canadian budget look like?
Bloomberg
Financial apps don't exclusively have to be used for tracking your own finances. Being financially savvy doesn't begin and end with your own banking; it's also a great idea to keep track of what's going on in the business world. This app is considered one of the best news-related apps out today. Through the app you can learn about what's going on in Canada's financial markets or current events in global economy. This app is also a must if you have stocks as, through the app, you can follow how they're doing on a daily basis.
Receipts
Given the title, it should be no surprise what this app does: it allows you to file all of your receipts. Whether they're for home or work, Receipts will help you manage and track your spending. One of the most impressive and useful features allows you to take a photo of your receipt and the app will immediately enter and store all the relevant information. Receipts will record the amount, the date, and location of the purchase and will categorize all your entries. The app could be considered a digital filing cabinet for receipts except, in this case, you can search, print, and e-mail whatever information you need. If you don't have an Apple device, then you can get a similar app such as SmartReceipts Pro.
Debt Minder
Debt Minder is geared more towards people struggling with debt or who simply want to manage their debt or mortgage payments as effectively as possible. With this app you set up how much you owe for your home mortgage, credit card debt, student loans (anything really), then you use the app to set up a payment plan for yourself. A great feature is that you can organize your debts based on their interest rates, so you can prioritize which payments you should be making first.
Debt Manager
This app uses what you would call the "Debt Snowball" method in order to manage your debts.  All you have to do is enter your loans and payment information and set priorities for each one. Debt Manager allows for you to set hypothetical scenarios. For example what if your interest rates were to rise or if you were to start increasing monthly payments on your car loan. The app also allows you to see how much interest and time you're saving if you were to make certain payment changes. Above all, it aims to keep you motivated in the process of charting your progress.
iExpenselt
This budgeting app would be considered the Rolls Royce of budgeting apps, one with all the bells and whistles. Some of its additional features include using a variety of currencies, tracking your spending trends and even incorporating vehicle mileage. Another time saving feature is that when you need to claim expenses, you can send that data to a CSV or HTML file which can include a digital copy of the receipts.
TD Bank
We highly recommend that you download you bank's app, they all run similarly and can help you manage your accounts. If you're a customer of TD Bank then you, without a doubt, need to download their app, it's by far one of the best financial apps out there. The TD Bank app has many of the same features that most budgeting apps have. But what makes it even better is that you can make transfers, pay bills and even make investments.
Using an App to Your Advantage
So there you have it. These are just six of the most note-worthy financial apps out there. Once you've chosen one that best suits your financial and budgeting needs you can start making it work for you. Enter all the pertinent information and then set aside a bit of time each week to take a look at your app. You can also verify your balance before making a purchase and make sure there is no strange activity. The great thing about a budgeting app is that you actually keep an eye on your accounts, spending and saving which makes it all the more easy to start to see results, whatever your goals are.
---
★
★
★
☆
☆
Rating of 3/5 based on 8 votes.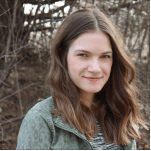 Posted by
Caitlin Wood
in
Money
Caitlin graduated from Dawson College in 2009 and completed her Art History degree from Concordia University in 2013. She started working as a freelance writer for Loans Canada right after University, eventually working her way up to Chief Content Editor. Her work has led to a large expansion of the company's content department and she manages a staff of talented writers who are passionate about educating Canadian consumers about credit, debt, and all things personal finance. With over five ...
---