18 Ways to Save During the Holidays
By

Caitlin in Money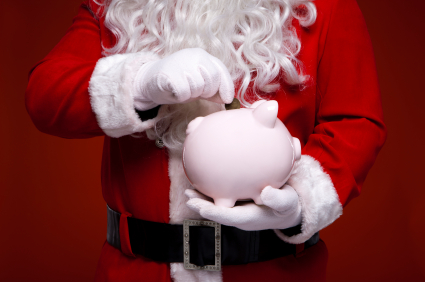 The holidays are upon us and with them comes a full list of gifts, events, and parties to attend, together with holiday dinners to plan, and much more. All this is normally translated into huge expenses that can put a big dent in our finances. You may have wondered more than once if it's even remotely possible to get through the holidays without spending what can only compare to a king's ransom. Fortunately for those of us on a tight budget, financially surviving the holidays is possible by applying a few simple tricks.
Budgeting your budget – If you already have a budget for living expenses, include one for gifts and other additional expenditures this month. After all, nothing can put a hamper on holiday happiness as a huge bill in January.
Make a list, or two, or three – Your list should include the names of all the people you will be giving gifts to, as well as what you plan on giving them. This will help you set a specific goal without going overboard and spending money you don't want to spend.
Stick to your list – If something is not on it, you don't need it, so don't buy it. Try to make a beeline for the things on your list and don't spend more time at the store than is absolutely necessary, or you might end up with a ton of stuff you got on impulse.
Take time to find the best price – An item may be priced differently at various stores, so shop around for the best available price. Don't forget to search online, as the internet can be your best friend when you are looking for the lowest prices.
Coupons and more coupons – Coupons are a great way to save money on holiday gifts, so clip, clip, clip!
Take advantage of the sales – You don't necessarily have to wait until November or December to buy the perfect Christmas gift. If something catches your eye in August, and it happens to be on sale, go for it!
Speaking of sales – Most stores hold wonderful clearance sales on holiday items right after Christmas. This is the perfect time to stock up on Christmas cards, wrapping paper and other items that may not be helpful right away, but are sure to save you a large sum next year, and you never know, you may find the perfect gift for Aunt Mildred at an extremely reduced price.
Be creative – Nothing says "I love you" more than something you have made yourself. If you have a special talent for macramé, or canning, or even painting, there are many cool things you can make without spending too much money. Cook up a batch of delicious jams, decorate the lids, and put them into a basket with a cute bow, and you will make grandma a very happy woman. The internet has a world of ideas you can use to create some of the most memorable gifts you have ever given, so take advantage of your talent, and let's get busy!
Cut down on decorations – Yes, you really can over decorate at Christmas, and in most cases, less is more. Instead of placing so many things together that you can't actually enjoy viewing them, you can place the focus on some of your most special decorations, while allowing them to tell a story on their own.
Exchange gifts – At a time when our list of gifts grows, but the economy dwindles, it is a good idea to plan on a gift exchange or Secret Santa, where you only have to give one gift, instead of many. This works well at office parties, or casual reunions with acquaintances, and will allow you to budget more for the members of your family.
Cut down on holiday lighting – It really isn't necessary for you to light up the sky with all the holiday lights, and nobody is going to pay for your electric bill, except you, so cut down on the lights and help out the environment while you are at it, not to mention your check book.
Mission: Black Friday – If your local stores hold a Black Friday sale, you may find some of the best prices of the year, so get up early, put on your shin pads, and go shopping!
Make your gifts personal – Size and price don't matter when a gift comes from the heart. This is especially true of gifts that are well thought out and useful to the recipient, so put some extra time into planning your gifts and they are sure to be a huge success, regardless of how inexpensive they may be.
Partying is not an obligation – If you are invited to more than a few parties, you can skip one or two, especially if you will see most of the same people at all of them.
Christmas dinner should be a team effort – Christmas dinner is a very large expense that should not be absorbed by a single person (mainly, you), and by asking everybody to bring a covered dish of their own to add to the table, you will be able to save time and money.
Craft and deliver your holiday cards – There are many ways to make your own holiday cards by using recycled materials, some colors, and a large dose of imagination, which makes them unique and special. Craft some for those who live in your same area and add a personal touch by delivering them yourself.
Give to charity – Let your friends and family know that instead of giving gifts this year you will make a donation in their name to a special charity. Add a copy of the donation to their Christmas card, and put your money to work by giving to those in need.
Take a break – The holidays can be the most hectic time of the year, but being stressed and feeling overwhelmed will not help you save money, and you will certainly end up spending more than you had planned, so get some sleep, and take care of yourself before you head out to face the holiday crowds.
---