How To Improve Your Credit Score: Meet Borrowell's Credit Coach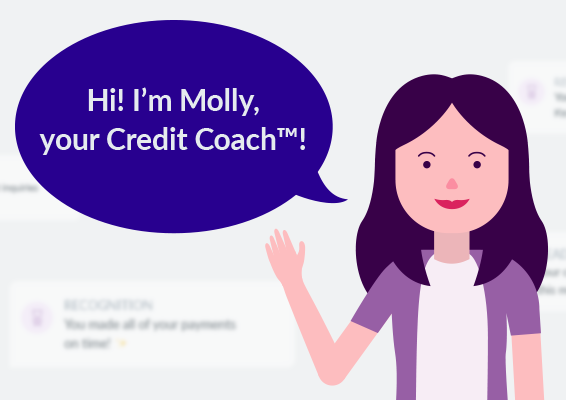 Guest-written by Borrowell

You probably know that having a good credit score is a vital aspect of your financial well-being. But do you know why it is the way it is – or what you can do to improve it? Enter the new Borrowell Credit Coach: the first free AI-powered Credit Coaching tool in Canada!
Meet Molly, The Borrowell Credit Coach
Your credit score is a three-digit number that typically ranges from 300-900 and is a measure of your financial health in the eyes of banks and lenders. The higher your credit score is, the better!

A good credit score is an indication that you're creditworthy and you'll likely pay back credit. Having a good credit score also makes it easier to access the best financial products and helps you get favourable interest rates on mortgages, insurance, or on personal loans. Credit scores can affect other parts of your life that you may not realize, like you're ability to lock down a rental apartment. It's a good idea to monitor your score and learn the ways to improve it – and Molly helps you do just that.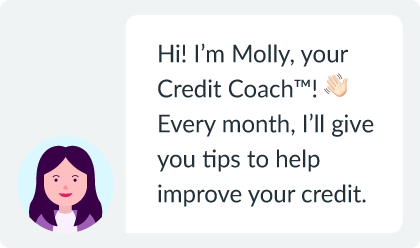 How To Improve Your Credit Score With The Credit Coach
Molly offers three main features to show you how to improve to your credit score. She tracks your credit score and report for you, provides you with monthly credit updates, and gives you helpful tips and reminders to improve your credit score.
Credit monitoring and tracking
Each month, Molly provides you with your new, refreshed credit score and will analyze your report for you, essentially doing all the hard work. She also tells you how your score compares to the rest of Canada, but don't get too caught up on that – be sure to focus on improving your credit score.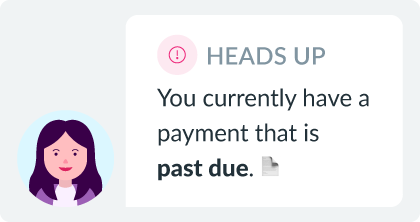 Relevant credit updates
Molly also gives members quick, simple updates that describe what's changed on their credit report since the previous month. For example, Molly let you know your credit utilization is a little high or she'll let you know if you have a new credit inquiry.

Molly also tracks your credit utilization month over month so you can see how you're improving. Credit utilization is one of the main factors that contribute to your credit score. Your credit utilization is how much credit of the total amount available you've used – and it makes up 30% of your credit score.

Calculate your ratio by dividing your total credit card balances by your total credit card limits. For your total credit utilization, just add up all of your cards and lines of credit, including home equity lines of credit and divide them by your total credit limit. Banks and lenders like to see your utilization ratio under 30% because it demonstrates you're responsible with credit.
Tips to improve your credit score
What's really exciting about Molly is that she tells customers exactly what's impacting their credit score. This helps to answer common credit questions like, "Why did my score drop?" or, "Why is my score the way it is?" Molly can tell you what factors are impacting it, such as a past due payment, or that pesky credit utilization ratio.

You'll find product recommendations in this section as well, letting you know what financial products could help you improve your credit score or financial well-being in general.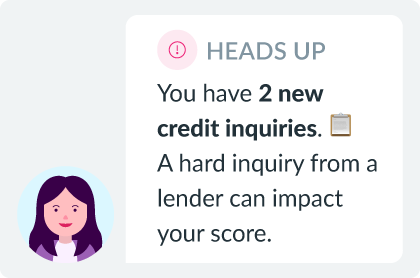 The best part about the Credit Coach? It's free.
It's important to us to help Canadians make great decisions about their credit, which is why the Credit Coach is completely free.

We hope that in providing accurate and concrete information, that people will feel confident in making the proper changes and see sustained credit improvement. Does the Credit Coach sounds like a tool that could help improve your financial well-being? Check your free credit score with Borrowell navigate to the Credit Coach on your credit dashboard to get started.

Borrowell helps people make great decisions about credit. With its free credit score and report monitoring, automated credit coaching tools, and AI-driven financial product recommendations, Borrowell empowers customers to improve their financial well-being and be the hero of their credit.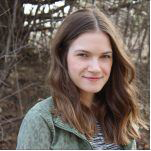 Posted by
Caitlin Wood
in
Credit
Caitlin graduated from Dawson College in 2009 and completed her Art History degree from Concordia University in 2013. She started working as a freelan...
---