Whether you live in Richmond, BC, Fredericton, or anywhere in between, there is a good chance you're happy to call Canada home. While people are generally doing well, people aren't made of money, which can make buying homes and cars difficult for most. Thankfully, there are a variety of different loans available to help people out, from mortgages to car loans.
How to Increase the Chances of Getting Approved
However, in order to get these loans, you need to be approved. The approval process for a loan will vary from lender to lender, but there are a few constants. When approving loans, lenders will look at things like how much debt you currently have and your credit score before approving or denying your loan.
Not sure which debt you should pay off first? Find out here.
While we all want to be approved for every loan we apply for, many of us will face at least a few denials. Thankfully, there are a few different things you can do to increase the chances of you getting approved for a loan. These include:
Pay down any other debt you have. This will show the lender that you aren't "biting off more than you can chew" and can handle the additional payment.

Ensure your credit score is in a good place. If not, work on

improving your credit score

for a few months before applying.

When applying, fill it out in its entirety and be sure you are honest. Any lies found on your application will almost surely get it denied.

Provide all of the information the lender requests, as long as it makes sense to you.

Providing

collateral

can potentially get you approved for a better loan with more favourable rates.

If you are worried you will be denied, you should consider working with a

co-signer

as that can potentially get you a better deal or get you approved.
While these won't guarantee you approval, they can certainly help your case.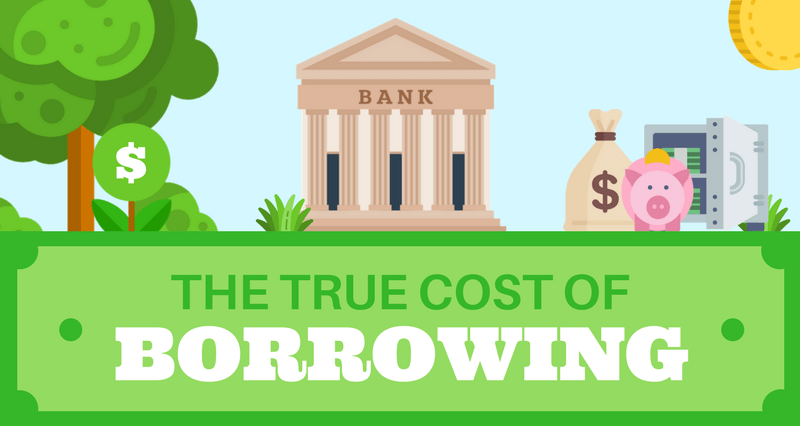 Do you know what the true cost of borrowing is? Check out this infographic to find out.
Interest Rates
When getting a loan, one of the most important things to focus on is the interest rate you will get. Your interest rate will dictate how expensive or cheap your loan will be over its entire life. While interest on loans for a year or two might only be a few dollars, interest rates on decades-long mortgages will cost you thousands. As a result, you want to get the cheapest interest rates possible.
In order to get the best interest rates, there are a few different things you can do. The first thing to do is make sure that you shop around with the various lenders in your area. The more lenders you visit, the higher the chances that you will be able to find one offering an attractive interest rate.
Another way to get a better interest rate is to increase your credit score. The higher your credit score (and the better your credit), the less risky you'll seem to most lenders. If you are less of a risk, many lenders will provide a lower interest rate and even more favourable terms.
Check out this list of more ways to secure a loan
Secured vs. Unsecured Loans in Richmond
While there are many different kinds of loans (car loans, personal loans, mortgages, etc.), all of these loans fall into one of two categories, secured or unsecured. A secured loan is a loan that has some form of collateral. This means that you will use something you own, such as your car or home, as security to get approved for the loan. If you stop making payments and default on your loan, your lender will legally be entitled to take possession of the asset in order to get back the money they lend you.
While this is quite risky, secured loans are often easier to get and will come with better interest rates, as there is less risk absorbed by the lender. The most common types of secured loans are mortgages and car loans.
As you might have been able to guess, an unsecured loan is one that is not secured by any sort of collateral. While more expensive, these loans won't put any of your property at risk. Common types of unsecured loans are personal loans and student loans.
Want to know how secured personal loans work? Look at this article.
Finding the Right Loan For You
Interested in a loan in Richmond, BC or anywhere else in Canada? If so, be sure to reach out to Loans Canada, as we are confident we can find the best loan for your needs.
Posted by
Kale Havervold
After dipping his toes into freelance writing while still enrolled in school, Kale decided to pursue freelance writing as his career after earning his Bachelors degree from the University of Regina. In his six-year career as a professional writer, Ka...