Investing is a major part of many Canadian's financial profiles. However, not everyone can afford to purchase high-valued stocks, which can lead to a lack of growth and returns when it comes to their stock portfolios.
That's one of the main reasons why fractional shares exist. Read this and find out how and where you can buy fractional shares in Canada.
A fractional share allows you to purchase a small fraction of a full share in a particular company's stock, that you can buy and trade. While most stock splitting is done intentionally by a broker, fractional shares may also be created inadvertently, as is common with mergers and dividend reinvestment plans.
If you're an investor that enjoys trading at a premium and at high valuations, fractional shares can help diversify your portfolio because they let you buy into well-performing companies across a variety of sectors. Plus, they're more affordable than full shares, which can cost hundreds, even thousands of dollars if they're from popular companies.
There are a couple of highly-rated investment platforms in Canada where you can buy and trade fractional shares online.
Wealthsimple Trade
Wealthsimple Trade officially became the first Canadian investment brokerage to give clients a way to buy fractional shares of companies in Canada and the United States. Investors can now use the Wealthsimple Trade platform to trade fractional shares of more than 500 Canadian and U.S. stocks and ETFs.
Fractional Shares You Can Buy On Wealthsimple Trade
Airbnb
Alphabet
Amazon
Apple
Canadian National Railway (CNR)
Coinbase
Facebook/Meta
Microsoft
Netflix
NVIDIA
Shopify
Royal Bank of Canada (RBC)
Toronto-Dominion Bank (TD)
How To Buy Fractional Shares On Wealthsimple?
You can purchase fractional shares on Wealthsimple Trade using these simple steps:
Log Into Wealthsimple Trade – Open or download the Wealthsimple app on your computer or mobile device. If you don't already have one, make sure to create your account, after which you can log in and click on "Fractional Trading".
Select Your Fractional Share & Dollar Amount – Next, pick the stock you'd like to buy fractional shares of and enter the amount of CAD or USD you want to invest. You'll then be able to see the approximate number of shares you may get.
Receive Your Execution Price – If you're happy with your order, all you have to do is confirm it. Once it's sent to market, you'll get a total share execution price. According to Wealtshimple, orders for fractional shares are traded twice per day.
How To Sell Fractional Shares On Wealthsimple?
Selling fractional shares involves a similar process. Start by selecting "fractional sell" (rather than the default "market sell" order) and enter the number of shares you'd like to get rid of (these can be divided down to the decimal). Wealthsimple will then display the estimated total value of your shares and it's your choice whether to sell them or not.
New to investing, check out the beginner's guide to investing.
Interactive Brokers
If you're an advanced, active or professional trader, Interactive Brokers may be perfect for you. They offer a variety of trading tools, as well as low trading fees and two different platforms; IBKR Lite for casual investors and IBKR Pro for experienced traders. You can also use IBKR to trade fractional shares of stocks listed on several U.S. markets.
Fractional Shares You Can Buy On Interactive Brokers
AMEX
ARCA
BATS
NASDAQ
NYSE
OTC
How To Buy Fractional Shares With Interactive Brokers
At IBKR, you can buy fractional shares with as little as $1 using this easy process:
Subscribe To Fractional Share Trading – Log into your client portal account, go to "Settings", followed by "Account Settings" in your taskbar. Select the gear icon next to "Trading Experience & Permissions", then expand your stock section and click the checkbox labelled "United States (Trade in Fraction)".
Start Trading – Once fractional shares are enabled on your account, you can invest in multiple US companies and markets with any cash quantity you have in your account. Just enter the amount you'd like to invest and receive an approximate fractional share value, then submit your order if you're satisfied.
If the price of your chosen stock ever increases, the number of fractional shares you can buy will be reduced. However, you won't pay more than you originally specified in the quantity field and, if you have an IBKR Lite account, your stock commission is $0.
Loans Canada Lookout
LOOKING OUT FOR YOUR BEST INTEREST
---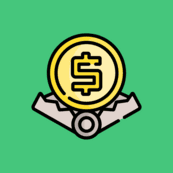 Investing in fractional shares is a beneficial trading practice in a number of ways:
It's More Affordable – Fractional shares are far cheaper than full shares. For instance, a full share of Amazon stock now costs well over $3,000, but with fractional shares, you can still purchase a fraction of the stock.
You Can Buy Stocks Of Big Companies – The affordability of fractional shares means you may be able to purchase a small slice of multiple popular businesses.
It's A Good Way To Begin Investing – If you're a new investor, fractional shares allow you to enter different stock markets without having to spend a lot of money.
Dollar-Cost Averaging Is Possible – This technique lets you systematically invest equal amounts into different fractional shares, which can lower volatility.
Dividend stocks are a way to reinvest your dividend payments into more shares, so that you can gradually increase the number of shares you own. This gives you an opportunity to create wealth via dividend payouts and capital gains. You can also buy blue-chip dividend-paying stocks to make passive income and long-term compounded gains.
If you don't have enough dividends to purchase a full share, most dividend reinvestment plans allow you to invest fractional shares. You can even add them up to create full shares over time.
A stock split is when a company separates its shares to promote liquidity and create more shares. Although splitting stocks doesn't add to their value, it can significantly decrease share prices and increase the number of fractional shares you have.
The availability of fractional shares in Canada is limited, but there are alternative investments that can help grow your portfolio, including:
Exchange-traded Funds (ETFs)
An ETF is basically a basket of different stocks and securities. It works a lot like a mutual fund where it lets you access a diversified fund using a single purchase order. Moreover, like a stock, an ETF can be bought and sold on the stock exchange.
Mutual Funds
Similar to ETFs, mutual funds allow you to buy a range of stocks and/or bonds from many different companies using a single fund. They're also like fractional shares, because you can own small portions of big-name businesses.
On the other hand, mutual funds often have higher fees because they're actively and professionally managed. Plus, they can only be traded once a day after the stock market has closed, whereas you can trade ETFs throughout the day like stocks.
Can I still get dividends if I buy fractional shares?
Yes. Whenever dividends are declared and paid out on your stocks, you can gain dividends according to the size of your fractional shares.
Does Questrade offer fractional shares?
Questrade is another
online trading platform
that a lot of Canadians use today but, unfortunately, they don't currently have the option of buying fractional shares. For now, Wealthsimple Trade and Interactive Brokers are the only platforms that offer fractional shares in Canada.
Which stocks can I get fractional shares of when using Wealthsimple?
According to their webpage, Wealthsimple offers fractional share trading for more than 500 different Canadian and U.S. stocks, including major companies like Amazon, Apple, Facebook/Meta and Microsoft.
Can I transfer fractional shares to another brokerage?
In Canada, most trading platforms won't allow you to transfer your fractional shares to or from other brokerages, which is the case with Wealthsimple Trade. So, if you want to transfer your account to another brokerage, you may have to sell your fractional shares beforehand or only move complete shares, which might be more of a possibility.
How are "dividend reinvestments" treated with fractional shares?
As mentioned, dividend reinvestment plans are a good way to increase your equity over time because they let you reinvest your dividend payments into more shares. If you don't have enough dividends to buy a full share, you'll receive a fractional share. Then, once you've bought many fractional shares, they'll add up to make a full share.
Bottom Line
Purchasing fractional shares can be a great way to own little pieces of major companies for relatively affordable prices. So, if you're interested in buying fractional shares in Canada, there are two trading platforms that you can look into; Wealthsimple Trade and Interactive Brokers. Check out their respective web pages today for more information.