How to Date in Montréal on a Budget
By

Caitlin in Advice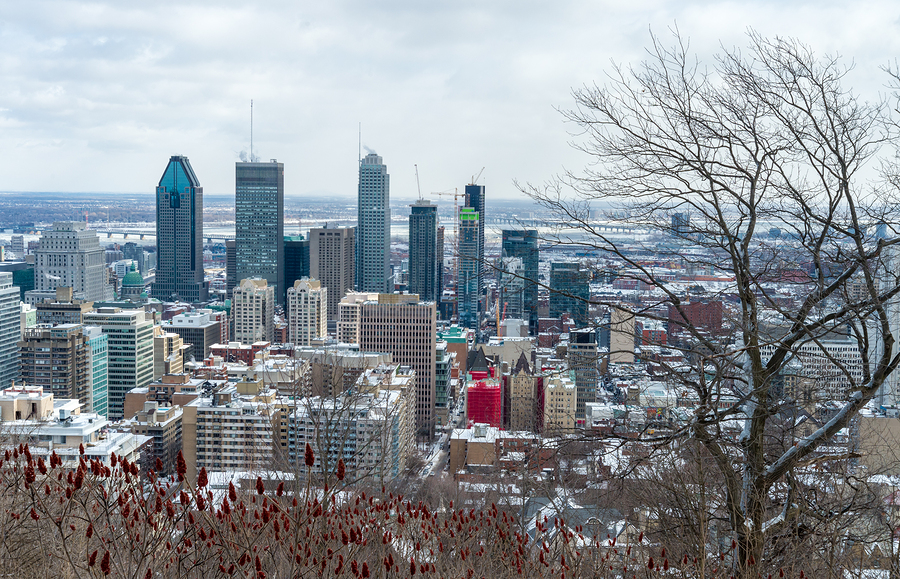 Although winter can sometimes be cold and unpleasant, it presents lots of opportunities and events that you can take advantage of, especially when it comes to dating. However, finding inexpensive winter activities can be a struggle. Skiing and snowboarding can cost you over $50 a person, driving up north requires a lot of gas, and most nice restaurants can be ridiculously expensive for two people.
This is why we made it our mission to come up with 50 romantic winter date ideas, specific to the city of Montréal, that you can use to impress that special someone. With events varying from free to low in price, the following ideas will allow you and your date to get to know each other in a playful fashion while staying within your budget. From playing winter sports and games to exploring the city, or just staying in and watching movies, this list will ensure something fun for everyone. Plus, not all dates need to be expensive and extravagant. Sometimes the best ones are simple and sweet. After all, the chilly, snowy weather will give you a good reason to cuddle up close to your date with some hot cocoa. Explore your options, use your judgment and budget to choose the best date idea for you and your date.
P.S. Keep an eye out in the coming months, your city could be next.
Sledding
This winter activity is absolutely free if you have a toboggan. If not, you can buy one for as cheap $4.50 from most discount stores. All you have to do is find a snowy hill in your area, and enjoy the thrill of sliding down the hill! This will even give your date the chance to put their arms around you.
Skating
This entertaining and inexpensive idea can make for a great date. While laughing at the other person fall flat on their bum, or creating your own skating games, this activity allows you and your date to get creative. If your date doesn't know how to skate, you can get close and hold their hand, show them the moves. Additionally, whether it's on a lake, or at your neighborhood skating rink, outdoor rinks are romantic, beautiful, and free if you have skates. If you don't own a pair, the Old Port of Montréal has an awesome skating rink that rents skates for $10 a person. Daily access is $7 for adults and free for children under 6 years old.
Hockey
If you have skates and equipment, play a free and fun game of hockey at your neighborhood rink, indoors or outdoors. This winter sport not only creates some competition but also generates enthusiasm.
Snowball Fight
This childish game is a great way to relieve tension and stress and allows you both to let loose. As you throw snowballs at each other, it's sure to bring some laughter and silliness to your date.
Snowman Competition
Put the snow to even more good use and have a snowman building competition with your date. Let your creative spirits run wild and create your very own snowman.
At-Home Dinner Date
An inexpensive, yet romantic way to get to know each other is by cooking dinner together. Standing side by side in the kitchen will allow for more meaningful conversations. Grab a bottle of wine, buy ingredients for a dish you know your date likes and cook it together. The $40 that you would have spent at a restaurant for one meal can give you multiple dinners at home.
At-Home Movie Date
Another cheap, cozy way to spend the evening together is to brew some hot cocoa and snuggle up under the blankets to watch a classic Christmas movie.
Be Tourists In Your Own City
Spend the day walking around downtown Montréal, visiting famous landmarks, or simply exploring neighborhoods you've never been too.
Make A Gingerbread House
Surprise your date with this sweet idea! Find instructions and pick up the ingredients needed for building your own gingerbread house. This will take time and patience but will give you more time to get to know each other.
Scavenger Hunt
Plan a fun scavenger hunt around your home. Set up clues, starting from the front door, going all the way around the house, until the last clue, which will lead to you. Where you are and what you're doing is up to you! You can either be waiting in the kitchen with dinner already made or in your bedroom with roses all over the floor.
Arcade Night
Visit an arcade downtown, and with a few dollars, you can play a variety of games throughout the night. Play against each other and run around like children again. This idea is fun and original.
Bonfire and S'mores
If you have a fireplace, build a fire and cozy up together in front of it. To add some sweetness, spend $10 and buy graham crackers, chocolate and marshmallows and make s'mores. It may get a little messy, but you can't go wrong with chocolate.
Play 21 Questions
Sit back and relax with a glass of wine, and enjoy learning about your date by playing 21 Questions. For those who don't know how to play, you ask someone 21 questions about themselves, so you can get to know them better. The questions can be light or intense, depending on your chemistry. This option is cheap, relaxing, and very personal, which can lead to a deeper relationship.
Play a Board Game
Sit down and play a good old-fashioned board game. Playing Monopoly can take forever, but will allow you to learn about your date's business skills. If not, try chess, checkers, Backgammon, or any other game, you both love. Don't be afraid to start a tournament!
Build a Pillow/Blanket Fort
There's no shame in acting like a child again, especially if it's by building a fort. Using objects in your house, build your own little nook to hang out in. Once inside, you can watch movies, play cards, or just talk.
Play Pool
Find a bar with pool tables, and teach your date how to play. If they already know how then a little competition can make for some amusement. A few places to play pool in Montréal are Shooters, Fats Billiards, Fitzroy, Sharx, Le Skratch and McLean's.
Karaoke Night
Mckibbin's Irish Pub offers free karaoke on Tuesday nights, and great prices for beers, about 7$ each. If your date is feeling too shy to sing on stage, watching others is can be highly amusing.
Walk on Mount Royal
A fun and healthy date idea can be taking a nice, long walk on Mount Royal. There's also the option going tobogganing, cross-country skiing, or skating on Beaver Lake.
Photography
If either of you is interested in photography, spend the day taking funny pictures together. Later you can print them out and make yourselves a scrapbook.
Coffee Date
If it's one of your first dates, grabbing a coffee at a cozy little coffee shop can be a good way to break the ice. There are tons of cafés in Montréal. There are also different types, like cat cafés or a book cafés.
Mini Putt
Another method of guaranteed fun is going to Putting Edge on Rue Guy. The glow in the dark mini putting will lead to laughter and competition. Plus, it's just plain cool!
Cabanes à Sucres (a.k.a. Sugar Shacks)
Winter means it's maple syrup season. Have yourselves a sweet date by heading out to one of Québec's very own sugar shacks.
Movie Theatre
You can never go wrong with a classic movie date. The cheapest way to do so is by getting a package deal coupon from Costco. It's $23 and includes 2 passes, a large popcorn, and 2 drinks. Most theatres in Montréal also offer Cheap Tuesdays, where ticket prices are a little over half-off.
The Biodome
Visit the Montréal Biodome, located at the Olympic Park. The facility contains exhibits pertaining to four different ecosystems found in North and South America. They includes: a Tropical Forest, the Laurentian Forest, the Saint Lawrence Marine Ecosystem and a Polar area. The Insectarium, Botanical Gardens (closed during the winters), and Planetarium are also located on site.
Montréal Festival of Lights
Montréal is well known for its variety of winter festivals. The Montreal Festival of Lights runs from February 23rd to March 12th and makes for a charming date. With fine dining, immersive activities based on light shows using the latest technology, onstage concerts and performances, and much more, a great time is guaranteed. Best of all, the performances and activities are free of charge.
Museums
Make your date interesting and educational by visiting Montréall's wide selection of museums. There are also several free museums to explore, such as the Montréal Museum of Fine Arts, the Redpath Museum, the Musée de Lachine, and the Cinematheque Quebecoise.
Chapters
Go to a Chapter's store for some coffee and interesting readings. With hundreds of books to choose from, Chapters can make a great, relaxing date to start things off.
The Montréal Science Centre
If you and your date are into museums, visiting the Montréal Science Centre can be a cool and interesting way to spend an afternoon. Admission to the permanent exhibitions is $15 per person. You can also buy combo tickets if you want to see an IMAX movie or one of the temporary exhibitions at the same time as your visit.
Sir Winston Churchill Pub
If you and your date don't feel like seeing a movie, have a drink at Sir Winston Churchill's Pub. They offer two-for-one drink specials every day from 5 pm to 8 pm.
The Comedy Nest
The Comedy Nest at the Old Forum. Voted #1 comedy club in Montréal, is a good way to start a date. The club always offers a variety of stand-up comedians and acts. Prices are 15$ a person on Saturday nights, and only 5$ a person on Amateur nights. The bar is also reasonably priced for drinks.
L'Gros Luxe
If you specifically want to take your date out for dinner, L'Gros Luxe is a trendy, hip, and reasonably priced restaurant to eat at. $5 for a 26 oz. mug of beer and snacks or meals range from $4 to $10.
Chez Serge
This downtown bar is tons of fun because you can watch people ride the mechanical bull. Drinks are well priced. Example: 5 shooters for $15.
Le Warehouse Restaurant
Another very cheap, delicious restaurant/bar to visit in downtown Montréal is Warehouse, where all food is $5, no matter what you order.
Old Montreal
Located in the neighborhood of Ville-Marie, taking a romantic stroll through the streets of Old Montréal and window-shopping can encourage some good conversation.
S.O.S. Labyrinthe
This option is slightly pricier but definitely worth it. Located in the Old Port of Montréal, the Labyrinth makes for an adventurous and exciting date. Get lost in a massive maze, so that you and your date will have as a team to make it out. Price: $16 for adults (aged 19 to 59).
St Joseph's Oratory
Visit St. Joseph's Oratory in Mount Royal, to examine and appreciate its architecture and religious heritage. With listening services, pilgrimage tours, and other celebration events, you can go to pray, or simply to observe the beauty of the Oratory.
Orange Julep
This fast food restaurant, located on Boulevard Décarie, is well known for its round, orange design that you really can't miss. They serve homemade orange juice and all of the food is delicious and reasonably priced. Highly recommended, especially if it's your first time in Montréal.
McGill's Schulich School of Music
Go watch a free concert, put on by McGill's Schulich School of Music. Tickets are available online, but be sure to check when the next free concert is.
Basilique-Cathédrale Marie-Reine-du-Monde
A scaled-down replica of Rome's St. Peter's Basilica can be found at 1085 Rue de la Cathédrale. Completed in 1894, the church replicates the Italian neo-renaissance style in almost every way, including the exterior statues, historical paintings, The Ciborium, the Chapel, and more.
L'Oasis Musicale at Christ Church Cathedral
Every Saturday at 4:30 PM, L'Oasis Musicale takes places at Christ Church Cathedral in downtown Montréal. These weekly classical music concerts are free and include some of the city's most talented and accomplished musicians.
Jean Talon Market
Stroll through Jean Talon Market for an array of the freshest fruits and vegetables you can buy in Montréal. They also offer samples for almost every food item, so you can basically have yourselves a free lunch.
Learn to Knit
The Internet can teach you how to do almost anything nowadays. Learn how to knit, then you and your date can make each other a hat and/or scarf for the winter.
Beading
Buy beads and thread, and make your own jewelry with your date. The fun part about this is getting creative and buying all the different kinds of beads.
Play Chopped
Spend anywhere between 15-30$ on groceries and have a cooking competition. If you've ever seen Chopped, replicate the show. If not, chose three to five food items, time yourselves, and use your imagination to create a delicious, extravagant dish.
Igloofest
One of Montréal's most exciting and popular winter traditions is Igloofest. This outdoor music festival features some today's hottest DJ's. It runs from January 12th to February 19th, and regular tickets start at 15$ a person. With the purchase of a ticket, you have access to other fun activities such as visiting the Nordik Village, which has actual igloos, a Nordik Chute with tobogganing tracks, and the Nordik Games.
Domesticle Party
This event includes a series of electronic music nights, showcasing the best DJ's Montréal has to offer. The Société Des Arts Technologiques [SAT], located on St. Laurent will be hosting parties from January 7th to February 25th. You must be at least 18 years old, and tickets start at $8. If you and your date love to have fun and listen to electronic music, this option should be perfect for you.
The Art Souterrain Festival
This event showcases the best of Montréal's underground art scene. From February 27th to March 20th, experience this unique festival, free of charge. If your date happens to be an artist, this is something they would love.
Montréal Cheese Festival
This festival is your go-to food festival in Montréal to sample local cheeses and to have a great time with your cheese-loving friends. It takes place from February 18th to February 20th and is celebrating its 10-year anniversary. Located at Complexe Desjardins.
La Fete Des Neiges
Parc Jean-Drapeau will be hosting Montreal's "Fête Des Neiges" from January 14th to February 5th, 2017. This popular winter festival is will help you enjoy the outdoors, with a variety of free and pay activities. This event is definitely not to be missed.
Netflix and Chill
Last, but not least, you and your date binge-watch the newest Netflix TV series. When there's a blizzard trapping you inside, you'll be stuck together for the rest of the night, cuddled up in blankets.
Looking to save even more money this winter? Check out this article.
---