There is very little that we can't do online. Not only are we shopping, communicating with others, and even monitoring our homes remotely via the internet, but we are also doing our banking online. And while traditional banks have their own online portals to add to the convenience for their clients, there are several banks that are entirely virtual.
People are becoming increasingly internet-savvy, and more and more consumers – particularly millennials and younger – prefer to do the majority of their banking via their laptop, tablet, or mobile phone, and online-only banks are catering to their needs and desires. No longer do you have to visit a bank teller to deposit a cheque, pay a bill, or even take out a mortgage. Right now, you can do that all virtually from the comfort of your home.
So, what are the best online-only banks that you should entrust with your money? Let's take a look.
Tangerine

Perhaps one of the best-known online banks is Tangerine. A subsidiary of Scotiabank, Tangerine is one of the original branchless virtual banks in Canada and has amassed a large clientele. The online bank is regularly offering promotions to attract new clients, and once you're in, you'll have plenty more great products at your disposal.
Although Tangerine doesn't have any physical branches, they do have Tangerine cafes in Toronto, Vancouver, Calgary, and Montreal where clients can chat with staff. There are also more than 3,500 ATMs that clients can access across Canada for free.
Tangerine offers just about every type of account and product that you'd typically see at a traditional big bank, including the following:
Savings Accounts:
Tax-Free Savings Account: 1.00%
Retirement Savings Plan: 1.00%
US$ Savings Account: 0.10%
Retirement Income Fund (RIF) Savings Account: 1.05%
Business Savings Accounts: Up to 1.50%
Chequing Accounts:
Enjoy zero fees for daily transactions, free Interac e-transfers, overdraft protection, and the following interest rates.
$0.00 to $49,999.99: 0.01%
$50,000.00 to $99,999.99: 0.05%
$100,000 or more: 0.10%
Tangerine Money-Back Credit Cards
Tangerine offers two different credit cards that allow you to earn cash-back rewards on your everyday purchases with no annual fee.
Already have a Tangerine credit card and looking to cancel it? See how here.
Money-Back Credit Card:
No annual fee
Earn up to 2% in money-back rewards in up to 3 categories
19.95% APR
World Mastercard:
All the benefits of the Money-Back Credit Card
Mastercard travel rewards
On-demand and subscription services
Rental car insurance
Mobile device insurance
VIP lounge experience
Ease your travel stress with these credit cards that offer airport lounge access.
Investment Accounts
Grow your money with a competitive interest rate with investment accounts from Tangerine, including the following:
Retirement Savings Plan (RSP)
Non-Registered Investment Account
Retirement Income Fund (RIF)
Loans
Tangerine offers a handful of loan options with low-interest rates:
Mortgages
Home equity line of credit (HELOC)
Line of credit
RSP loan
Simplii Financial™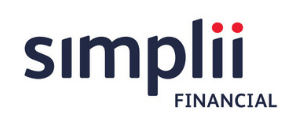 Simplii Financial is a popular online bank in Canada that offers plenty of banking products for those who prefer managing their money virtually. Simplii™ is the digital banking subsidiary of CIBC, therefore clients can access over 3,400 CIBC ATMs across the country for free.
Simplii clients have the following account types available to them:
High-Interest Savings Account
Simplii offers high rates with no minimum balance required and no monthly fees. Every eligible dollar deposited into a Simplii High-Interest Savings Account earns an industry-leading rate and the application process is completely digital.
New Client Offer
Earn 5.25% interest for 5 months on your first Simplii Financial High Interest Savings Account. Limits apply.
No-Fee Chequing Account
Perhaps Simplii's most popular product is its No-Fee Chequing Account which provides account holders with free daily banking. There are no monthly fees or minimum balance required, and you'll have unlimited withdrawals, debit purchases, and bill payments, all at no charge. You can also send Interac e-transfers for free, and enjoy no-fee cash withdrawals at one of over 3,400 CIBC ATMs across Canada. And if you still like to use cheques, you can enjoy unlimited cheques for free. Simplii Financial
Welcome Offer
Open a new Simplii No-Fee Chequing Account and earn $350*. Set up a minimum of 3 eligible direct deposits. Limits apply offer ends March 31, 2023.
Credit Card
The Simplii Financial Cash Back Visa Card is available to Simplii clients and comes with a low 9.99% APR on purchases for the first 6 months. After that, the purchase APR is 19.99% and cash advance APR is 22.99%.
For the first four months, you can earn a 10% bonus cash back at participating bars and restaurants up to $500. After that, you can earn rewards as follows:
4% cash back at eligible restaurants and coffee shops, up to $5,000 a year (0.5% after the $5000 limit is met)
1.5% cash back on eligible grocery, gas station, and drug store purchases up to $15,000 a year (0.5% after the $5000 limit is met)
0.5% cash back on all other purchases with no limit on earnings
Even More Benefits
No annual fee
Canada's richest cash back no-fee card for restaurants and food deliveries
Purchase security and extended protection insurance
Loans
Simplii makes borrowing money easy with a variety of loan options:
Mortgages
RRSP loans
Personal loans
Line of credit
Investment Accounts
Invest directly with Simplii with registered and non-registered accounts, as well as tax-free savings accounts.
Loans Canada Lookout
LOOKING OUT FOR YOUR BEST INTEREST
---
Do Credit Card Companies Take Advantage Of Canadian Consumers?
READ ARTICLE
motusbank

motusbank is one of the newer online-only banks to arrive in the digital banking sphere. It's owned by Meridian Credit Union, an Ontario credit union, and is also a CDIC member that insures deposits for security. motusbank's low-fee banking model passes savings onto clients to help them benefit from higher rates without the pesky monthly or transaction fees that are typical of big banks. Clients can withdraw cash for free at one of 3,700 ATMs across Canada.
motusbank offers a number of accounts, including the following:
Savings Accounts
motusbank savings accounts come with unlimited withdrawals and debit purchases, no monthly fees, no minimum balance, and automated savings features that let you round up your purchases to the nearest dollar to encourage you to save your extra change.
High-interest savings account: 1.55%
TFSA savings account: 1.75%
RRSP savings account: 1.55%
Already have an RRSP, but having trouble figuring it out? See why.
Chequing Account
Like their savings accounts, Motusbank's chequing account comes with no monthly fees. You'll earn 0.25% interest on your balance, of which there is no minimum to keep the account open. You can transfer funds through Interac e-transfer for free as many times as you like, and there are no limits on withdrawals, debit purchases, and bill payments. And if you still use paper cheques, you'll get the first 25 for free.
Loans And Investment Accounts
motusbank offers fixed and variable mortgages with rates as low as 2.39%, home equity line of credit at a rate of 2.75%, and GICs that payout as much as 1.90%.
EQ Bank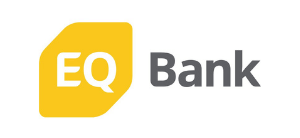 EQ Bank is Equitable Bank's online banking division and offers several types of banking products including, savings accounts, TFSAs, RSPs, and GICs.
The EQ Bank model is a truly unique one. Along with having no physical branches, there are also no ATMs, either. Instead, EQ Bank is accessible completely through its browser-based and app platforms. Clients can move their money between EQ Bank accounts and other linked accounts entirely online.
EQ Bank's Savings Plus Account
The EQ Bank Savings Plus Account comes with an impressive 2.50%* interest rate with no banking fees, no minimum balance, and free transactions.
Non-Registered & Registered GIC Accounts
Start investing with as little as $10 and earn up to 4.85%*, depending on whether you choose a registered or non-registered account and the term of the account.
TSFA Savings Accounts
Earn 2.50%* interest tax-free, no fees, no penalties, and set it all up online in the comfort of your own home.
RSP Savings Account
Help build your retirement savings with a rate of 2.50%* and no fees. Signup online and set up automatic contributions and watch your account grow.
*Interest is paid monthly and calculated daily on the total closing balance. Rates are subject to change without notice

Outlook Financial
Outlook Financial is a branchless arm of Manitoba-based Assiniboine Credit Union. Like EQ Bank, Outlook Financial offers a high-interest savings account and GICs that can also be used through accounts such as RRSPs, TFSAs, or RRIFs. Outlook Financial clients become members of the Assiniboine Credit Union and even have a voice in how the annual profits of the company are distributed.
The online bank's high-interest savings account comes with competitively high rates of 1.75%. There are no monthly fees or minimum balances, and you can write cheques and pay bills online like you would with a traditional chequing account.
Outlook's GICs offer rates ranging from 1.90% to 2.10%, depending on the term length. You'll have the option to withdraw your funds early and won't be subject to any monthly fees.
Overview of Top Canadian Online Banks
Tangerine
Simplii Financial
motusbank
EQ Bank
Outlook Financial
Savings Account
5 types – Interest ranging from 0.10% to 0.55%
High-Interest Saving Account 0.40% to 2.00% interest (5.25** for new clients)
3 types – Interest up to 1.75%
Savings Plus Account 2.50%* interest
High-Interest Saving Account 1.75% interest
Chequing Account
Yes. Interest up to 0.10%
Yes. Interest up to 0.10%
Yes. Interest up to 0.25%
No
No
Credit Card
Yes
Yes
No
No
No
Loans
– Mortgages
– HELOCs
– Line of credit
– RRSP loans
– Mortgages
– RRSP loans
– Personal loans
– Line of credit
– Mortgages
– HELOCs
– Mortgages
No
Investment Accounts
– TFSA
– RRSP
– Non-Registered RIF
Registered and Non-registered TFSAs
GICs
– GICs (registered & non-registered)
– TFSA
– RSP
GICs
*Interest is paid monthly and calculated daily on the total closing balance. Rates are subject to change without notice **conditions apply
Are Online Banks Safe?
Considering the sensitivity of the information floating around in cyberspace, it's understandable that some consumers might be a little hesitant to do all of their banking online. However, the banks that have been listed above are all associated with credible and long-standing banks and credit unions in Canada. Deposits (up to $100,000) made are insured by the Canada Deposit Insurance Corporation (CDIC) in the event that any one of these banks goes under.
These banks also use encryption to protect your data, and security breaches are unlikely. That said, it's always wise to choose a strong password to make hacking nearly impossible.
Pros And Cons Of Online Banks
Should you switch to an online bank? Before you do, it's important to understand both the perks and drawbacks of these types of financial institutions.
Pros:
Convenience
Perhaps the biggest benefit of an online bank is the convenience it offers. There's no need to physically make your way over to your bank and speak with a teller in person. Instead, all your banking can be done from the comfort of your home. That includes applying for loans, like mortgages and personal loans. Simply apply and get approved all from your computer.
Accessibility
Since you're not at the mercy of a bank branch's hours of operation, you can do your banking around the clock, 24 hours a day, 7 days a week. Plus, there's no need to line up behind anyone or try to fit in your banking with your busy schedule.
Products
As you can see from the above list of online banks, many offer all the products that you would normally find at your average bank. That includes savings accounts, chequing accounts, investment accounts, loan products, and credit cards.
Low Fees
Since there is virtually no overhead with online banks, they can pass those savings on to you in the form of low fees and higher interest rates.
Cons:
No In-Person Service
While this might suit many consumers just fine, some are still more comfortable speaking directly with a bank teller in person.
No Safety Deposit Boxes
If you use the banks to keep your valuables safe, you won't get that type of service with an online bank.
Should You Use An Online Bank?
At the end of the day, your decision to use an online-only bank comes down to your preferences. That said, if you like the idea of having 24/7 access to banking, appreciate low fees, and are comfortable doing all of your banking online, there's little reason not to use these platforms. They're safe, convenient, and offer superior customer service that you would expect from a bank. If you do decide to take the online-only bank route, be sure to choose a bank that offers the full suite of accounts and services that suit your needs.
*Interest is calculated daily on the total closing balance and paid monthly. Rates are per annum and subject to change without notice.