The older you get, the more important it is to make your last will and testament. Sure, it's morbid to think about but your Will essentially outlines what your beneficiaries receive and what happens to your estate after you die. While it can sometimes be expensive to create your Will, there are now free Will kits you can find all over Canada.
What Is A Will Kit?
Although the idea may sound basic, an official last Will & testament can be a complex legal document that takes serious consideration and professional management. So, if you're trying to simplify the process, a Will kit is a partially completed Will that allows you and/or your lawyer to fill in blank areas with required answers, such as:
Details about you, your beneficiaries, your dependents and their guardians
Details about your executor (the person who fulfills the terms of your will)
How your estate should be distributed (savings, assets, possessions, etc.)
Online Will Kits vs. DIY Will Kits
There are many places in Canada where you can get a Will kit, so it's best to do some prior research to find one that best meets your needs. That said, there are two main types of Will kits you can get:
Online Will Kit
Online Will kits are becoming popular because they're simple and convenient to fill out. While online Will kits do not require you to hire an attorney, it does offer you options for customization that you'd find with an estate lawyer. In fact, all the details, options and instructions are laid out for you, so you just need to find the right provider. Moreover, the entire process can be conducted online, you don't have to buy your kit at a physical store.
DIY Will Kit
Otherwise known as a "Blank Form Will", a Do-It-Yourself (DIY) Will Kit is what Canadians used to officiate their last Will & testament before the creation of online Will kits. Although it's a viable solution that people have been using for ages, the process may not be as simple or cost-effective as an online will kit.
Why DIY Will Kits May Not Be Your Best Option
While plenty of retailers can sell you a DIY Will kit for under $50, it's more advisable to hire a lawyer as they may not always stand up in court, if challenged. In fact, there are a few reasons why a DIY kit may not be your best option:
It Can Be Confusing – If you've never made a will, it might not be easy to create one on your own. The DIY Will kits sold often have many blanks to fill and do not offer much guidance. This can be problematic as any incorrect information can affect the legality of the document.
Limited Customization – Unfortunately, some DIY Will kits are too simple to be totally effective in the long run. You may only find 2 to 3 pages of standard Will options, which isn't necessarily good if you have multiple beneficiaries that you wish to divide your estate amongst.
It May Not Hold Up In Court – Another problem is that DIY Will kits don't offer much in the way of legal guarantees, even when signed, witnessed and bought through legitimate businesses. So, they can be challenged easily in court, which may happen during a dispute between potential beneficiaries.
Learn more about why it's important to have a Will.
Are There Any Free Government Will Kits?
There is no official free Will kit offered by the government of Canada. However, certain provincial governments do provide downloadable templates for Wills. Luckily, there isn't any preferred online or DIY template for Wills in Canada, so you can choose to get your Will kit through a public or private company. As long as you do research and complete the Will properly, there shouldn't be any issues. If you have a complex financial situation, it may be wise to hire a lawyer.
Find out what happens to your debt when you die.
Where Can You Find the Best Free Will Kits In Canada
There are numerous online Will kit providers in Canada. While some offer Will kits for a fee, others have free options.
CanadaWills
One of the country's leading Will providers, CanadaWills was created by a team of attorneys and lawyers over 20 years ago. They offer Living Wills, Medical Power of Attorney (POA) and Advance Directives. Additionally, they have comprehensive will-based estate plans, which include:
Digital assets
Guardianships
Pet Trusts
Fees – There are no fees to download a Will kit from CanadaWills and you don't have to enter a credit card or buy a subscription. However, donations are always appreciated.
LawDepot
LawDepot is a legal document provider that was formed in 2001. Today, they have more than 10 million users and offer over 150 different legal documents, such as:
Wills and Estates (Last Will & Testament, Power of Attorney, etc.)
Financial (Bill of Sale, Loan Agreement, etc.)
Family (Separation Agreement, Prenuptial Agreement, etc.)
Real Estate (Residential Lease, Equipment Rental, etc.)
Business (Partnership Agreement, Incorporation, etc.)
Fees – LawDepot isn't technically a free website but you can sign up for a one-week free trial to download your Will Kit. Otherwise, subscribing costs $39 a month and single documents range from $7.50 to $49 without a subscription. Remember to cancel your subscription on time if you don't want to keep paying for their services after a week.
Looking for more options? Check out the OM company .
The Free Will Kit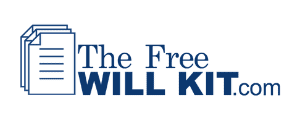 The Free Will Kit originated in the United States but is available in Canada and Spain too. Unlike CanadaWills and LawDepot, they only offer one type of no-cost Will Kit, which includes:
Last Will & Testament
Living Will (directive indicating your chosen end-of-life medical treatment)
Health Care Surrogate Form (POA document for your healthcare custodian)
Fees – True to its name, The Free Will Kit won't cost you a penny but you must be comfortable giving them certain details, like your name, address and phone number. A representative will then contact you to arrange a delivery. While they may try to sell you insurance here, you don't have to buy anything to get your free Will Kit.
Best Online Wills in Canada: Alternatives to Free Will Kits
If you can't find a good free Will kit or an affordable lawyer, there are a few low-cost alternatives in Canada that offer more guarantees, like:
Epilogue Wills
If you're looking for a simple and easy way to create a Will, Epilogue offers lawyer-quality estate documents with their modern, simple, and affordable platform. Founded by two estate lawyers, Epilogue's services are available in 9 provinces (AB, BC, MB, ON, NS, PEI, SK, NB, NL).
With Epilogue, individuals can complete their estate planning in as little as 20 minutes and from the comfort of their own homes (and without any legal jargon). Plus, they offer support via email, phone, and live chat, to answer any questions that come up along the way.
Name A Professional Trust Company As Executor
Epilogue is the first and only Canadian online Will platform that allows individuals to name a professional trust company as the executor of their Will. This may be an appealing option for individuals who don't have someone to name as executor or who don't want to burden a family member with the responsibility. Epilogue works with RBC Royal Trust to make this process possible but there is no need to be a customer of RBC to take advantage.
Options Available
They offer two comprehensive packages for individuals and couples: Will Only and Will + Power of Attorney.
Will Only ($139 for individuals, $269 for couples) – Includes a custom legal Will, burial/funeral wishes form, free updates and a code to register your Will with the Canada Will Registry.
Will + Power of Attorney ($199 for individuals, $329 for couples) – Included the same benefits as the first option along with the ability to appoint someone to manage your health and finances if you're incapacitated.
Use code LOANSCANADA20 to receive $20 off the price of a Will.
Willful Wills
Based in Toronto and Montreal, Willful is a tech company that offers an online platform where Canadians can create a Will without the need to visit a lawyer. You'll have access to educational resources and tutorials as well as customer service to help you navigate through the process of creating a will. Willful offers its service in 8 provinces (AB, BC, MB, NB, NS, ON, QC, SK):
There are three price plans to choose from, with the more expensive plans offering more comprehensive features.
Will Only ($99) – You receive a complete and legally valid Will that will notify key contacts named in your Will.
Will + Power of Attorney ($189) – With this option you'll create a legally valid Will, establish Power of Attorney, list assets, include funeral wishes, and register the location of your will on the Canada Will Registry.
Notary Will ($349) – You get everything that comes with the Will + Power of Attorney options and be able to add up to 6 people. With this option, families can save up to 13% by purchasing as a group instead of individually.
LegalWills.ca
LegalWills is an Ontario-based online Will provider that's been around for more than 20 years. Their services are available in the US, the UK, and every province in Canada. All of LegalWill's Will options include a lawyer-approved legal Will that can be completed from the comfort of your home. LegalWills also offers a 30-day money-back guarantee if you are not 100% satisfied with their service.
LegalWills offers a variety of packages, including:
Last Will and Testament ($39.95) – This package features a personalized, lawyer-approved Will that you can complete, print and sign at home.
Premium Last Will and Testament ($69.95) – A standard Will, plus services like funeral and organ donation options, final messages and keyholder assignments.
Complete Estate Plan ($99.95) – Receive everything from the Premium Last Will and Testament option plus Power of Attorney for Finances and a Living Will (Power of Attorney for Health Care).
Premium Estate Plan ($129.95) – Receive everything from the Complete Estate Plan option plus a life locker and digital vault.
Pros And Cons Of Free Will Kits
Will kits can be a good option for those who have a simple financial situation. But for those who require customization or have extra wishes or funeral wishes, free will kits may not be the best option.
Pros Of Free Will kits
Affordability – If your Will kit isn't free, chances are you'll pay under $50 for it, while a professionally drafted Will can cost hundreds, even thousands of dollars.
Simplicity – Will Kits are meant to simplify the Will creation process. All you have to do is download or print the document and fill in the blanks.
No Legal Aid Required – Though a lawyer can be helpful, you don't need to hire one to create your own Will using an online free Will kit.
Cons
Less Room For Customization – Most free Will kits feature fewer options than regular Wills, which may not fit your lifestyle or the circumstances of your death.
Harder to Update – A free Will kit is often a one-time deal, so if you wish to modify your Will at any point, you might have to fill out an all new template.
Lack of Customer Support – Depending on where you get your kit, you may have to fill in the document alone or with your witnesses, which may be hard.
Issues With Witnesses – The rules for witnesses can vary by province and if your Will is witnessed by an incorrect party, it may not qualify as legally binding.
Easy to Make Contradictions – Leaving an error on your Will or not updating it properly can lead to problems with your estate and disputes among beneficiaries.
Are Free Will Kits Legal?
As you can see, many legitimate businesses can offer you a free and legal Will kit in Canada but there's a big difference between a product that's legally sold and one that's legally binding. For your free Will Kit to be legal in every sense, make sure to:
Be Over the Age Of Majority In Your Province or Territory – Your Will may not be considered legal if you create it when you're under 18 or 19 (varies by region).
Be Of Sound Mind When Creating The Will – The same type of problem can occur if you're considered not sound of mind when creating a Will. Essentially, the Will may not be legal if it is believed that you did not understand the Will or the consequences of it when making it.
Find Two Valid Witnesses – Witnesses must also be of age and of sound mind when signing your will. If the will is typed, their signatures must still be signed in ink.
Sign it Properly – You usually only have to sign at the end of a Will but other areas may require your initials. In fact, initialling each page is smart regardless.
Keep Physical Copies – You can create a Will online but only the original physical copy is official. It's also smart to store copies for your records.
Are Notaries Required For Will Kits?
Will Kits don't have to be notarized to qualify as legally binding in Canada. You and your witnesses simply need to pass the specified requirements. However, you will need a notarized "affidavit of execution" if your estate goes through the probate process. This document can be completed at a later time and isn't required to get a legal will kit.
Free Will Kit FAQs
What is a Last Will & Testament?
Your Last Will & Testament is a legally binding document that you can create before you die. It outlines your final fishes, such as how you want your estate (assets, finances, etc.) to be distributed, who your beneficiaries are and who you appoint as your executor.
Where Can I Get the Best Free Will Kit in Canada?
There are numerous Canadian companies that can offer you a free Will Kit but many experts recommend CanadaWills because they're a well-established network that reaches all provinces. Quebec is the only province where CanadaWills kits aren't free.
Can I Get a Will Kit For Free in Canada?
This depends on where you get your Will Kit. For instance, CanadaWills has a free Will template with zero obligations. The Free Will Kit offers a similar no-cost package but a salesperson might try to sell you insurance, which you aren't obligated to buy either. However, websites like LawDepot may only be free for a limited period.
Do I Need a Lawyer to Create a Legal Will?
No, you don't need a lawyer to complete a standard Will Kit but it's recommended if you're not how the process works or your Will is too basic to hold up well in court when challenged. If you're really worried about either of those risks but can't afford a lawyer, try purchasing a more solid legal Will template from one of the online providers above.
Which Provinces Can I Get Free Legal Wills In?
Before you create your Will, make sure to look up the laws that apply to your province or territory and confirm that your Will Kit provider operates in your region. While companies such as LegalWills and The Free Will Kit offer services coast-to-coast, websites like Willful and Epilogue Wills only operate in 7 or 8 of Canada's main provinces.
Searching For the Right Will Kit?
When searching for a free Will kit, be sure to do your research, there are plenty of free and low-cost options that may suit your lifestyle choices better than others. Remember, your Last Will & Testament is an extremely important document that you should never take chances with, so finding the right free Will Kit is definitely a necessity no matter where you live.