Sprout – Simplify Your Finances
We are extremely excited to announce the launch of our App (currently in Beta) that will simplify & demystify money for Canadians. This is a huge milestone for [Sprout Financial Inc] us and we're excited to get our user's feedback so we can continue to Sprout (pun intended!).
How Does Sprout Help Me?
Sprout promises to help users simplify their financial lives. We do this by allowing you to connect to all of your accounts, any bank or credit union in North America, in one place (Finally!). But we don't stop there. We think it's useless to see all your data and not being able to do anything with it.
We provide a full suite of features that allow you to quickly answer your most common financial questions, "Where is my money going?" "How much do I pay in bank fees?" "How much should I be spending on that?" and many more.
"People today are living pay cheque to pay cheque and have nowhere to turn for un-bias, day to day personal financial management help. Our goal is to give our users a strong financial foundation which they can build on to work towards their financial goals," says Matt Hernandez Sprout's CEO/Founder.

Why You (and Most People) Hate Budgeting
We know most people should be budgeting but they don't. We set out to figure out why budgeting is so hard and sometimes annoying for Canadians. We've applied what we learned from our research and have removed all the friction from what we believe is stopping people from budgeting. We want our users to focus on living each day happily & purposefully and not worrying if they have enough money to go out for lunch.
A few of the most common reasons people don't budget or stop budgeting is that budgets feel restrictive and it's hard to track every penny. After a few days, you miss one thing, then another and by the end of the week, you'll have to spend an hour to update everything. Who wants to do that on a Friday night?
We also found that for most people it takes on average 3-5 hours to set up their budgets. People use all that time to get all their budgets set up only to have an unexpected expense come up and destroy everything. Leaving them feeling deflated and sometimes angry. We know that "life" happens and you have to plan for the unexpected. Easier said than done, until now!
How Does Sprout Fit Into My Life?
Sprout was made to fill a void in the market today. Other Apps claim to help you save money but without a holistic view of your financial picture, you're only getting part of the solution. We want to help you find ways to save money, whether it be cutting back on a specific category of spending or telling you you're paying too much for your cell phone bill. We also want to help you spend wisely by helping you set achievable goals for the things and experiences that you want.
"You can't save money without spending it, and you can't spend money without saving it. It's really the chicken and the egg so you have to learn how to do both well at the same time if you want to be successful," says Matt our CEO/Founder.
Sprout makes it easy for you to gain insights into your finances, like easily seeing your spending categorized, and takes it a step further by allowing you to take action right away. We make it easy to set budgets across multiple accounts for seamless tracking, our smart notifications and alerts will notify you along the way so you know exactly how much you have left to spend and how many days that needs to last. We keep all your bills and payments in one place so you know exactly what's coming up each week. We've simplified creating savings goals and essentially have built a full financial tool that will help you build stronger financial habits by making it fun to dive deeper into your finances. Check out our full list of features here.
We're a Community
We are on a mission to create the most convenient and powerful personal financial management tool available today but we know we can't do it alone. We're counting on our growing community to get us there. Finances have been a very tabu subject for many years, where friends and often families don't talk openly about money challenges or issues they are facing.
A survey conducted by Ipsos cites the number of Canadians who are $200 or less away from financial insolvency every month has climbed to 48 percent.
We want to create an environment where people feel safe to ask the questions they have and to tell their stories because there are many people out there that have the same money problems and issues.
Sprout is also piloting a financial coaching platform, that allows you to connect to your financial coach, In-App, to provide a more hands-on solution for people that require a personalized spending program, debt planning & education, motivation & accountability. "We know that finances cause a great deal of stress in peoples lives and they don't need to go at it alone. People are looking for help with the day to day questions they have and problems they are facing but they just can't find through traditional channels. Now, Sprout will be there with them every step of the way to financial independence ."

You can sign up and get on the waitlist for the Sprout App at www.savewithsprout.com.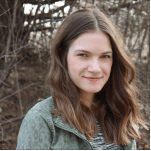 Posted by
Caitlin Wood
in
Money
Caitlin graduated from Dawson College in 2009 and completed her Art History degree from Concordia University in 2013. She started working as a freelance writer for Loans Canada right after University, eventually working her way up to Chief Content Editor. Her work has led to a large expansion of the company's content department and she manages a staff of talented writers who are passionate about educating Canadian consumers about credit, debt, and all things personal finance. With over five ...
---