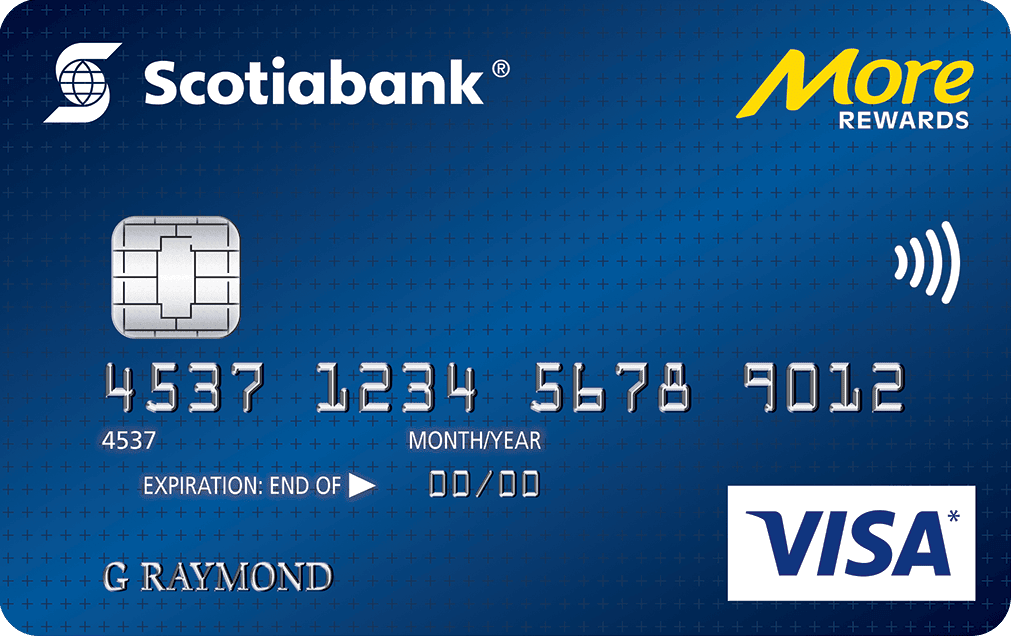 Receive 15,000 bonus More Rewards points when you make your first purchase in 90 days*
Earn 6 More Rewards points for every $1 spent on purchases at participating More Rewards locations
Earn 4 points for every $1 on other purchases everywhere else
There's no limit to the number of points you can earn
Rates, fees and other information are effective as of February 1, 2018. Subject to change.
---
Annual Fee: $0
Rates:
19.99% on purchases
22.99% on cash advances
Credit Score Recommended
good
---
Legal (from issuer): *The 15,000 More Rewards points offer is only available for a new Scotiabank More Rewards Visa Account (the "Account") approved between June 1, 2017 and October 31, 2018 (the "Offer Period"). The 15,000 bonus points will be awarded if a first purchase is made on the new Account within the first 90 days of the Account opening date. Duplicate applications are not eligible for this bonus points offer. One bonus points offer per customer.  Bonus points will be awarded to the applicable More Rewards account within 30 days of the first purchase. This Bonus points offer is limited to one Account opening during the Offer Period per More Rewards membership. In cases where there are both primary and secondary More Rewards Visa Account cardholders, the 15,000 bonus points will be credited to the More Rewards membership account of the primary or secondary cardholder making the first purchase on the new Account within the first 90 days of the Account opening date.   Offer may be extended, changed or cancelled at any time without notice.  More Rewards points and the More Rewards program is owned and operated by Overwaitea Food Group Limited Partnership. For complete details about the More Rewards Program visit www.morerewards.ca. The Bank of Nova Scotia is not responsible for the Program including More Rewards points.