Credit Cards
Find the best tools and information to make the best financing decision here.
Scotia Momentum® No-Fee Visa Card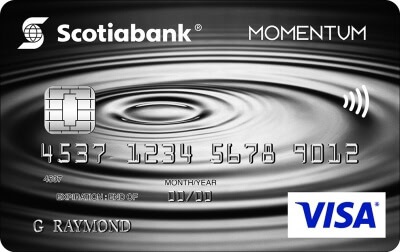 7.99% introductory interest rate on purchases for the first 6 months*
Cash back on everyday spending with no annual fee
1% cash back on eligible gas station, grocery store and drug store purchases and recurring bill payments
0.5% cash back on all other eligible everyday purchases
Rates, fees and other information are effective as of February 1, 2018. Subject to change.
Annual Fee: $0
Rates:
19.99% on purchases
22.99% on cash advances
Credit Score Recommended:
---
Legal (from issuer): * The introductory 7.99% interest rate applies to purchase only (the "Offer"). This rate applies when the new Scotiabank credit card account ("Account") is opened by October 31, 2018 (the "Offer End Date") and will continue for 6 months from that date ("the Promotional Period"). After the Promotional Period, balances at the promotional rate of 7.99% (including any unpaid balances) will increase to the preferred interest rate for purchases that applies on your Account. Offer applies to new Accounts only opened by October 31, 2018. Offer applies only to new Scotiabank credit card accounts opened by the Offer End Date. Former or current Scotiabank credit cardholders that transfer from an existing Scotiabank credit card account or re-open a closed Scotiabank credit card account are excluded from this Offer. Offer may be changed or extended and cannot be combined with any other offer. The preferred annual interest rates for the Account are: 19.99% on purchases and 22.99% on cash advances (including balance transfers, Scotia® Credit Card Cheques and cash-like transactions). Rates and fees are subject to change.