As the years roll by, the status of your credit will become more and more important. After all, having a high credit score and healthy looking credit report are some of the best ways to get approved for a mortgage, buy a reasonably priced car, and earn the lowest interest rates.
Since bad credit can have the complete opposite effect, particularly in an expensive city like Lethbridge, it pays to improve your credit score and report however you can. While that is often easier said than done, you can learn a few techniques if you continue reading the article below.
What Causes a Bad Credit Score?
Let's start with your credit score, the 3-digit number that you'll be given when you begin using credit. Assigned by Canada's two main credit bureaus, Equifax and TransUnion, this number ranges from 300 to 900 and is often used to measure your strength as a credit user when you apply for a new loan, credit card, or line of credit.

The Good Range (660 – 900)
The closer your score is to 900, the better your credit is considered. Typically associated with a good record of payments and few problems with debt on your part, a score within this range will often result in a lender approving you for more credit with a lower rate and more favorable payment plan.
This is especially important for more expensive credit products, such as mortgages and vehicle loans, where a low rate can help you save a bunch of money over time.
Do you know what the surprising perks of having good credit are? Find out here.
The Mid Range (600 – 659)
If you occasionally pay a credit bill short, late, or miss it entirely, it's known as "defaulting" on said product. You may also fall within this range if you're in the process of recovering from a debt settlement or other related financial issue.
Either way, this type of infrequent negative behavior will gradually cause your credit score to drop into the mid-range, wherein prospective lenders will deem you riskier. As a result, interest rates will start to climb and larger, more favorable credit products will be further out of reach.
The Bad Range (300 – 599)
Unfortunately, a totally opposite effect can occur as you start experiencing the other financial problems that frequently lead to bad credit, otherwise known as a credit score that's somewhere between 300 and 600. A score this low could be due to any number of incidents, including but not limited to:
Consistently defaulting on your active credit products

Taking on too much debt or using up too much of your available credit (for revolving products like cards and lines of credit).

Falling victim to fraud or identity theft.

Leaving uncorrected errors showing up on your credit report.

Going through a recent consumer proposal, bankruptcy, or other delinquency.
The Final Result of Bad Credit
No matter what the exact cause of your bad credit was, the ultimate result of bad credit will be relatively the same. Since you've may be prone to defaulting on your credit products in some way, the majority of prime lenders, like banks and credit unions, will not be willing to approve you, at least not for a large or reasonably priced product.
At this point, your only option will likely be to apply with a subprime lender, such as a private or alternative source, or one that deals specifically with bad credit clients. On the bright side, while bad credit products can be more expensive, any good payments you make will gradually improve your credit score.
Are you more interested in good credit or having no debt? Check this out.
What Affects Your Credit Score?
In order to further improve your score, it helps to get a better picture of the 5 factors that Equifax and TransUnion use to calculate it. Although some factors have a heavier influence than others, each makes up a partial percentage of your score, which fluctuates according to how your credit accounts are handled.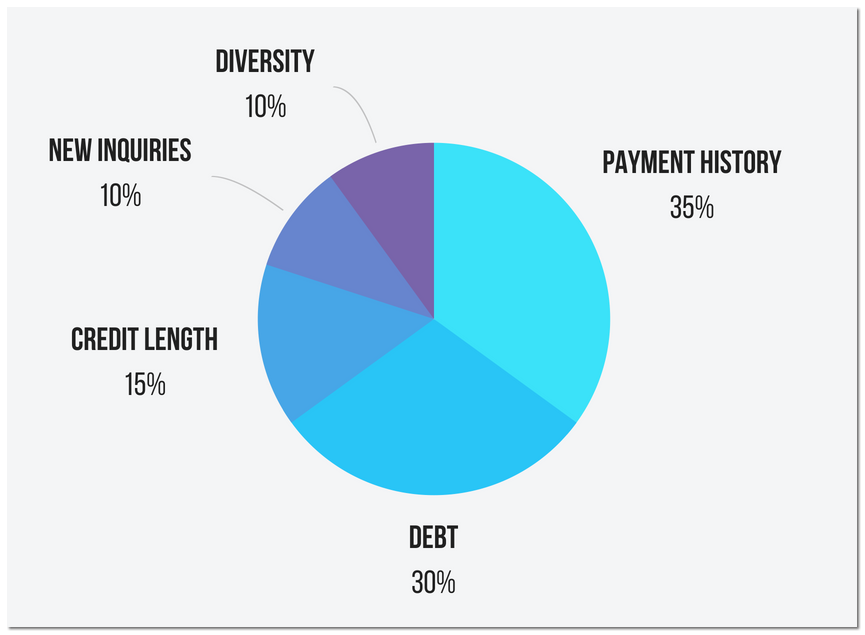 Payment History (35%)
Your payment activity has the largest impact on your credit score. Simply put, the better you are at paying your credit products on time, the more your credit score will increase. Lenders can also view your payment history when they access your credit report and may use it to weigh your approval conditions.
Debt Owed (30%)
The amount of credit you've borrowed also plays a major role in how your score is calculated. The more unpaid debt you carry from month to month, the worse the negative effect will be. This is particularly apparent for products that have revolving credit limits, such as credit cards. Try to stay under 30-35% of your available credit for the best results. For fixed products like loans, just pay your bills on time and in full to avoid any problems.
Credit History (15%)
The third most important factor is the age of the credit accounts you're currently using. In this case, the older and more responsibly used your accounts are, the more of a positive impact they will have on your score. For instance, using the same credit card for several years is much healthier than consistently applying for then canceling new ones.
Credit Inquiries (10%)
Another reason that it's not good to frequently apply for new credit is that each application, where a hard credit check is performed, can lead to a small decrease in your credit score. Although some lenders don't perform a credit check when you apply, those that do will be able to examine your credit report, thereby adding a hard inquiry to your credit history. Since each hard inquiry leads to a slight drop in score, it's better to wait a few months between applications.
For everything you need to know about credit checks, check this out.
Credit Mixture (10%)
It's definitely not healthy to take on more credit than you can handle. However, having a variety of account types on your credit report can have a small but positive impact on your score. If all you've been using is a credit card, but you feel that you can handle the upcoming responsibility, your score can increase if you throw a loan or line of credit into the mix. Again, this will only happen if you make your payments responsibly.
What Information is Featured on a Credit Report?
As we mentioned, potential lenders will have the opportunity to request a copy of your credit report from either bureau when you apply for a new credit product of any kind (learn how to read your credit report here). Both Equifax and TransUnion will compile a slightly different version of your report when you start using credit.
A credit report contains pieces of personal information, such as your name, date of birth, address, and social insurance number. It also features your credit-related elements, like your history of payments, record of debts, as well as the credit ratings that each of your active accounts has been given.
If you want the best chances of getting approved for large amounts of credit, adjustable payment plans, and affordable interest rates, it's essential to have a clean looking credit report, which you can achieve by taking the proper precautions, such as:
Request your report at least once per year (the first copy is free) and check it for signs of error, fraud, or identity theft.

Pay down your debt on time and in the fullest amounts possible.

If you can't afford full payments for your revolving products, try to at least make your minimum monthly payments to avoid further penalties.

Don't apply for too many new credit products within the same year, especially if you already have bad credit or are being denied for some other reason.

Diversify your credit products, but don't take on more debt than you can comfortably manage.

Did you know that bad credit can affect your daily life? Click here to learn more.
How Can Credit Improvement Be Achieved?
If your credit is bad or at least not as healthy as you'd like it to be, the good news is that there are plenty of ways to improve it (including the tactics listed above). Be sure to set your expectations appropriately because, depending on the current state of your credit, total improvement can take some time and effort to obtain. That said, it will surely be worth the struggle and can be achieved if you're willing to try hard.
Remember, much of your credit-related damage can be attributed to poor financial habits. So, if your credit score isn't completely ruined yet, you may be able to increase it by simply reversing those habits.
Start with some of the following positive habits:
Create a detailed monthly budget and reduce any non-essential costs.

Earn and save as much income as possible, then track your spending properly.

Request for your bank to set up automatic payments and savings (if necessary).

Consolidate the debts with the highest interest rates first.

Fully pay off, then cancel any credit products that may be harming your credit with too much debt.
If your situation is more extreme, you can also try some of the following products and programs, any of which can help you eliminate debt while building credit:
Debt consolidation loan

Debt consolidation program

Debt settlement

Credit rehab savings program

Secured credit card

Guarantor loans (co-signer required)

Credit counselling
Some credit building products, such as debt consolidation loans often require you to have decent credit to be approved. In that case, it's best to improve your application by:
Finding a stronger credit user to cosign it.

Offering up your car, home, or another asset as collateral (this lessens the risk for the lender and makes you more creditworthy).
Why all Canadians should be monitoring their credit, click here.
Looking for Credit Help in Lethbridge?
No matter what the reason, improving your credit is important. Whether you have bad credit or you're just looking to obtain the best results for a new credit product, rest assured that Loans Canada can help. Contact us today for more information about our credit building products and other financial solutions!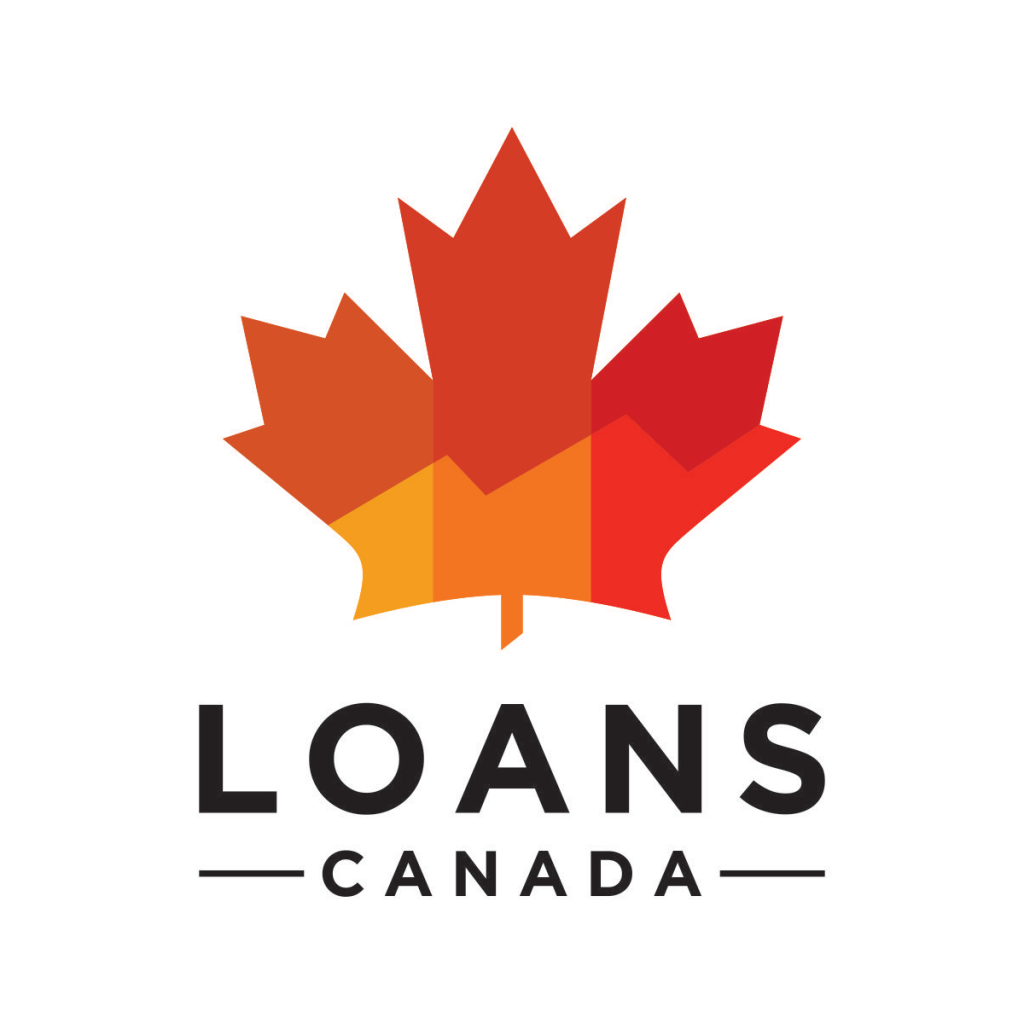 Posted by
Bryan Daly
Bryan completed the Cinema, Video, and Communications program in Dawson College and holds a Bachelor's Degree in English Literature & Creative Wri...